Succulents are all the rage for three reasons: homeowners wanted more water-wise plants; interior designers started turning this planting-world oddity into a home decor trend; and aspiring gardeners discovered these plants have an easy learning curve.
These three groups turned to succulents because of their ingenious water storage. Most succulents can store water in their stems, roots, and leaves for months at a time. In fact, according to Wikipedia, "many succulents are able to thrive in dry conditions, and some are able to last up to two years without water depending on their surroundings and adaptations."
If you haven't jumped on the succulents bandwagon, a good place to start this gardening obsession is with the least toxic, most hardy of the bunch. Here are five succulents that are safe for family and pets.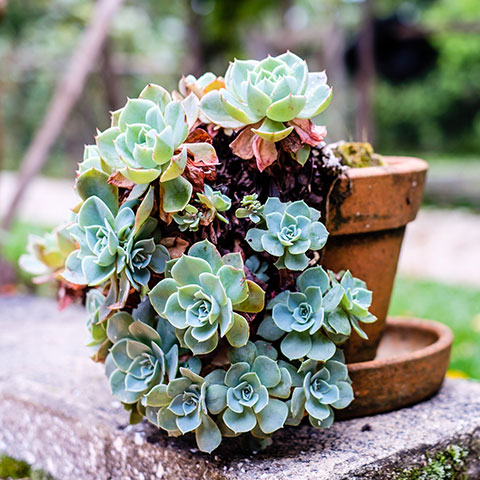 Hen and Chicks
This name refers to several kinds of succulents, including species from the genera sempervivum and echivera. Typically small, these succulent plants do best in well-drained, rocky soil. The outer leaves of some species will rot if they are kept wet. They can grow in light shade, but grow best in direct sun. Because a lot of species fall under the "hen and chicks" category, check with your local nursery that the one you want is safe for pets and children.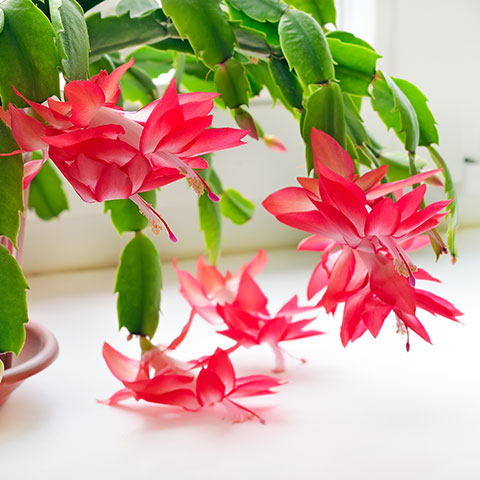 Christmas Cactus
This plant gets its name because of when it blooms--late in the year. It needs evenly moist soil rich in humus. It also needs watering more regularly than most succulents. Its pot should have drainage holes in the bottom, with a water tray underneath. Remove excess water from the tray. An east-facing window is best since it will have mild light and some direct sunlight. Use fertilizer every two weeks once buds form. If your cactus isn't flowering, it may need to be moved to a cooler, darker place.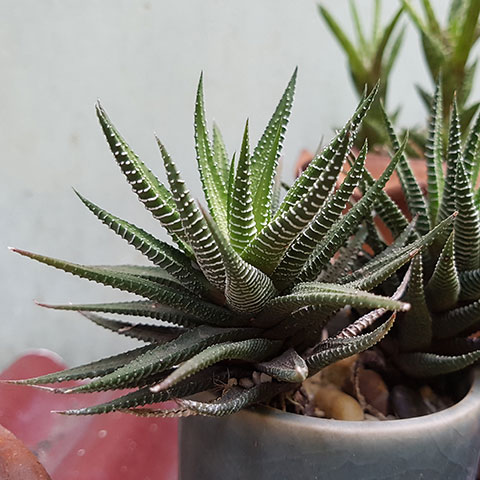 Zebra Haworthia
This succulent, also called zebra plant, or zebra cactus (even though it is not actually a cactus), is a small, slow growing plant. It needs good drainage and should be placed in a window that gets plenty of sun. Like most succulents, it needs little water--be sure the soil is completely dry before next watering. If you notice yellowing leaves, you may be overwatering.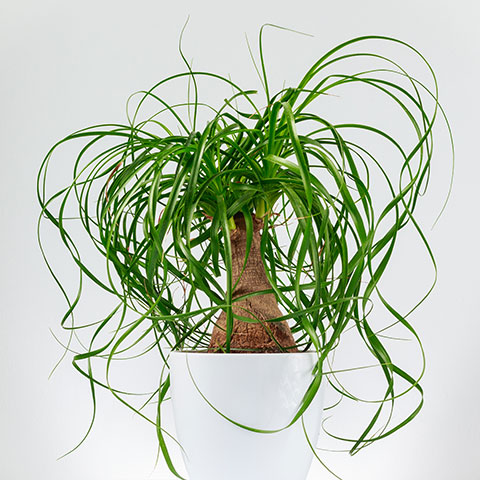 Ponytail Palm
This plant needs to be watered only occasionally during the winter and only when the top couple of inches of soil are dry during the rest of the year. Ponytail palms like a lot of light and a warmer room temperature, except in wintertime, when they prefer temperatures to be slightly cooler. Set them near a south- or north-facing window where sunlight streams in unimpeded.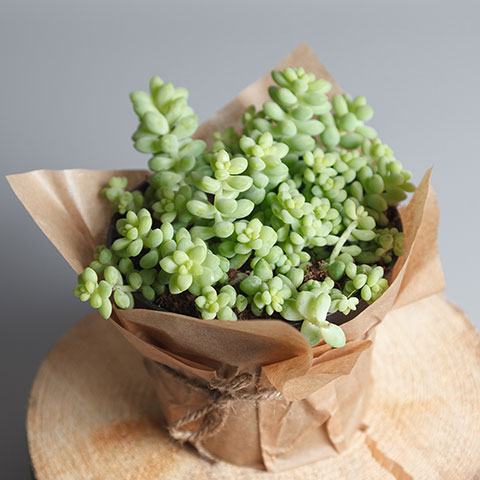 Burro's Tail
This succulent also goes by other names, including Donkey's tail, Horse's tail, and Lamb's tail. Burro's tails grow best in hanging baskets or on a table where the stems can hang down freely. They can take years to reach full maturity and can grow as long as 4 to 6 feet. They like a lot of sunlight and need regular watering during the spring and summer growing season, but be sure the soil is completely dry between waterings.
Succulent Resources
If you have other indoor succulent plants you like and want to check to see if they are safe for pets, you can check the ASPCA searchable list of plants poisonous to pets.
Here are some helpful, general succulent watering instructions.
Check out this website to learn more about succulents.
Want to add still more healthy greenery to your home, beyond the addition of these succulents? Here are more safe houseplants for your home.