If you're looking for a no-fuss houseplant that doesn't require a lot of care, consider the mighty succulent! Succulents are popular for three reasons: they're easy on your water bill; they come in a variety of amazing colors, shapes, and designs; and they're easy to maintain.
Succulents have the unique ability to store water in their leaves, stems, and roots for months at a time. Some varieties can even last up to two years without a drink, making them the perfect plant for children who want to try out their green thumb but may not remember to keep up on regular watering. Luckily, there are plenty of beautiful, hearty succulents to choose from that are non-toxic and safe for people and pets. So go ahead and browse—and be sure to scroll down for some helpful succulent resources worth exploring.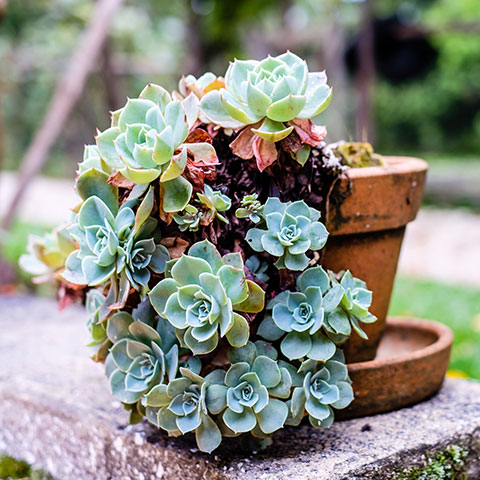 1. Hen and Chicks
This name refers to a group of easy-to-grow evergreen succulents that form a distinct pattern: smaller rosettes (chicks) grow around the larger mother plant (hen). Typically petite, these succulents do best in well-drained, rocky soil; the outer leaves of some species will rot if kept wet. They can grow in light shade but prefer direct sun. Because many species fall under the "hen and chicks" category, be sure to double-check with your local nursery that the one you want is safe for pets and children.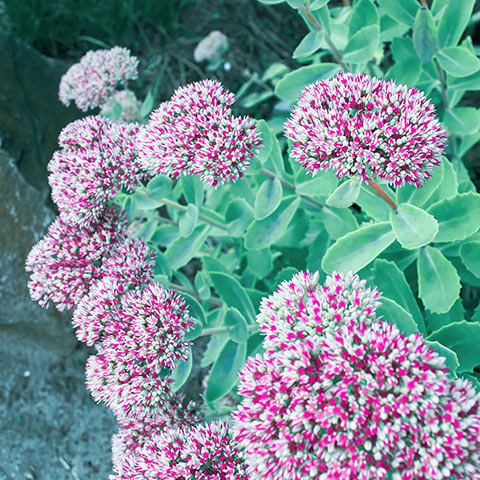 2. Sedum
Sedum succulents are generally grouped into two categories: creeping and clumping. Clumping hybrids grow about 3 feet tall while creeping ones stay low to the ground. Sedum are evergreens and look beautiful displayed in hanging baskets or tall planters where they can drape over the sides. They're also popular in rock gardens. Extremely drought tolerant, they love full sun. If you grow yours in a planter, only water it when the soil is fully dried out.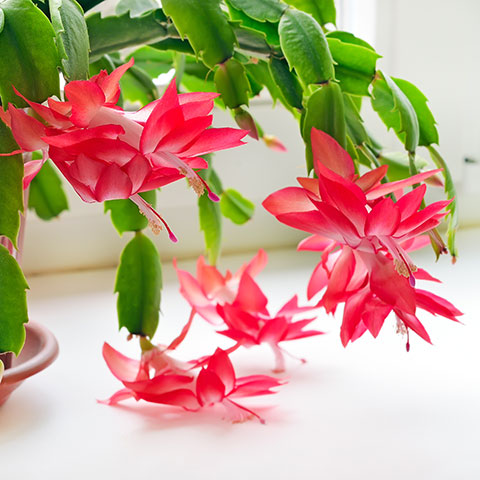 3. Christmas Cactus
The elegant Christmas cactus gets its name because it blooms late in the year. It needs moist soil that's rich in humus, and fertilizer every two weeks once buds form. Because it requires watering more regularly than most succulents, its pot should have drainage holes in the bottom, with a water tray underneath that you can easily empty. An east-facing window is ideal because it typically has bright yet indirect sunlight; however, if your cactus isn't flowering, it may be receiving too much light.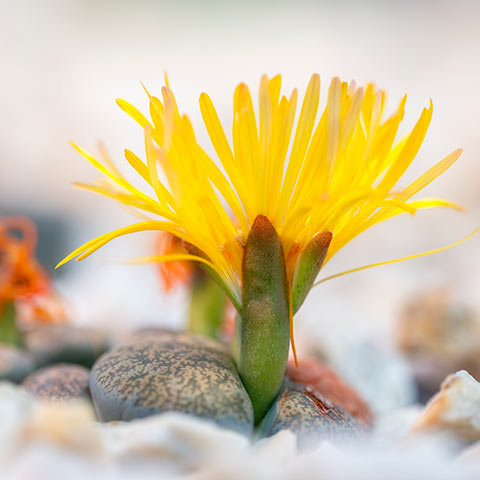 4. Lithops
These slow-growing, stemless succulents feature thick leaves that grow in pairs, resembling little pebbles. They bloom in late fall to early winter; a single flower is pushed up from the space between the pair of leaves. Lithops need about 4 to 5 hours of bright, direct sunlight a day. Use well-draining soil if planting in pots, and sandy compact soil if planting in the ground. These beauties don't need much water, and you can skip watering altogether when they're dormant.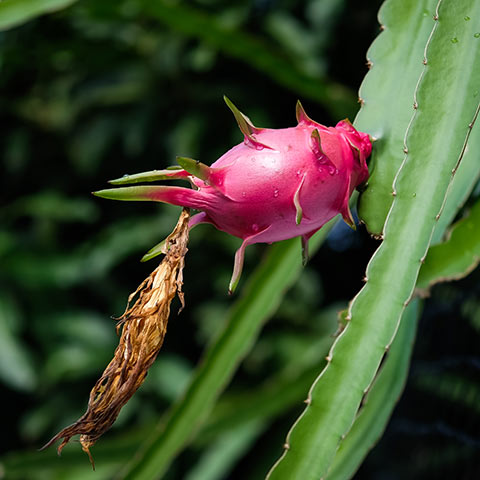 5. Dragon Fruit
This vibrant cactus has brilliant, colorful flowers and is often used as an ornamental vine. The white fleshy fruit is tasty and nutritious, packed with vitamins B and C, and is popular in salads, desserts, and smoothies. These succulents need full sun for at least 6 hours per day. Outdoor planting is best since they can grow very large and need a warm sunny spot to thrive, but they're very drought resistant and require little water.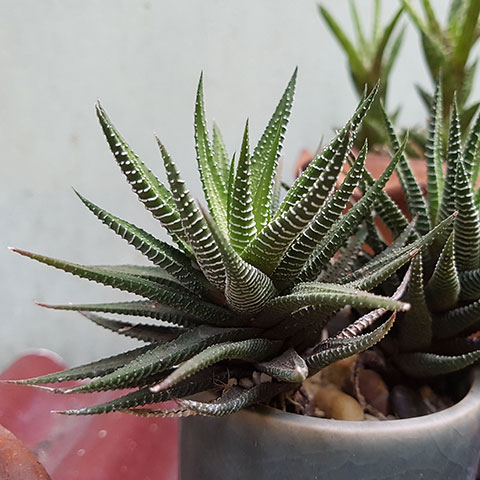 6. Zebra Haworthia
This type of succulent, also called a zebra plant or zebra cactus (even though it's technically not a cactus), is a small, slow-growing plant. It requires good drainage and should be placed near a window that gets plenty of sun. Like the majority of succulents, these graceful plants don't need much water—be sure that the soil is thoroughly dry between waterings. If you begin to notice yellowing leaves, chances are that your plant is getting too much water.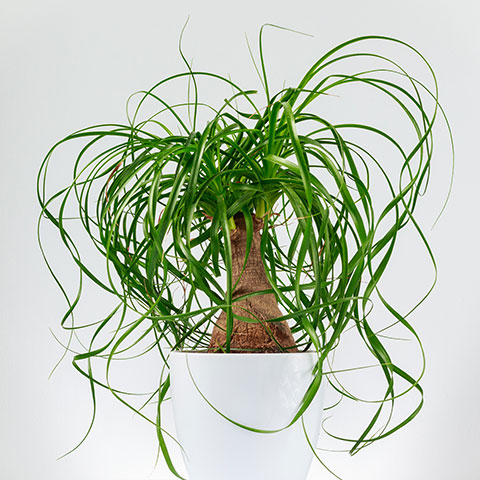 7. Ponytail Palm
It may look like a palm, but the ponytail palm is actually part of the agave family of succulents. This dainty plant needs watering only occasionally during the winter—and during the rest of the year only when the top couple of inches of soil are dry. Ponytail palms prefer a lot of sunlight and a warmer room temperature, but in the wintertime, they like a slightly cooler climate. Place them near a south- or north-facing window where sunlight can freely stream in without any obstructions.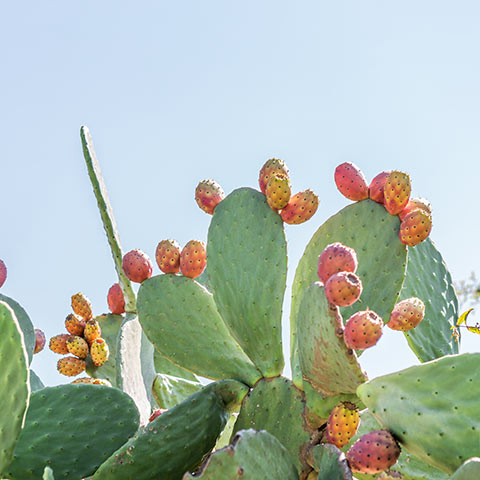 8. Prickly Pear
You may have heard of this popular succulent used as a medicinal salve through the centuries to treat sores, injuries, and other ailments. This cactus features flat, oval leaves, sometimes with spines, and can reach up to 18 feet tall and 10 feet wide. Prickly pears love full sun and are extremely drought tolerant. If you live in a region that frequently rains, you don't need to water them at all. Yet during hot summer months, give them water occasionally, especially when the soil feels dry.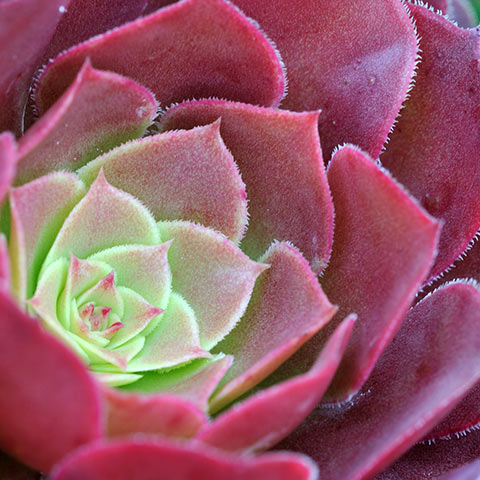 9. Aeoniums
This genus includes approximately 35 succulent species that come in a range of textures and sizes, spanning 5 inches to 6 feet and displaying pretty rosettes. If you grow them in outdoor pots, bring them inside when temperatures dip. Because of their beauty and color, aeoniums are popular in rock gardens and as ornamental plants. Place them in partial-to-full sunlight, since intense sun exposure can cause black "sunburn" spots.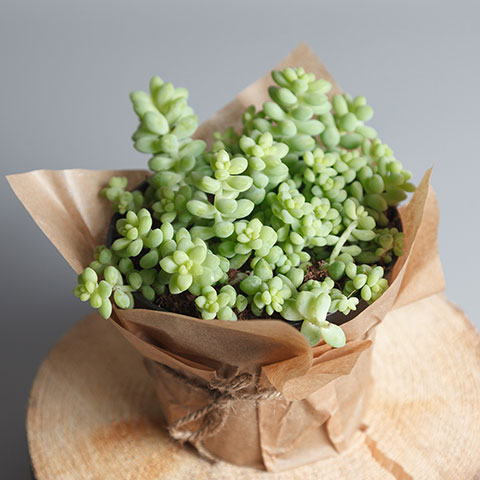 10. Burro's Tail
This succulent also goes by other names, including donkey's tail, horse's tail, and lamb's tail. Burro's tail grows best in hanging baskets or on a table where the stems can hang down freely. They can take years to reach full maturity and can grow as long as 4 to 6 feet. They love lots of sunlight and need regular watering during the spring and summer growing season, but be sure the soil is completely dry between waterings.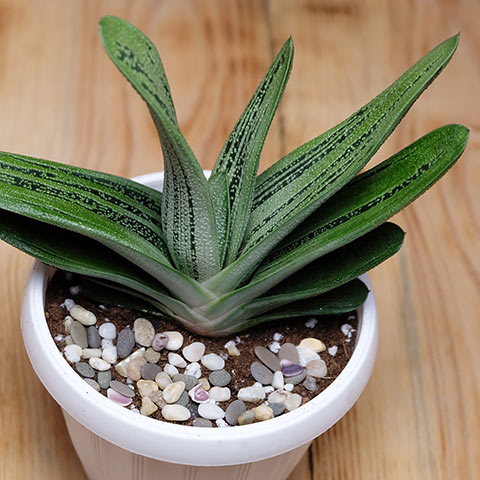 11. Gasteria
This popular aloe-like succulent includes about 80 different species and features straight leaves in a variety of sizes and patterns. Most are stemless, and their compact shape makes them ideal for indoor growing. They don't need frequent watering, and the only maintenance required is making sure your potting soil is well-draining to avoid root rot. Place gasteria plants in a spot with bright, indirect sunlight, and avoid any area with direct hot afternoon sun.
Succulent Resources
If you own other succulents and want to know if they're non-toxic and safe, check the ASPCA searchable list of poisonous plants.
Here are some helpful, general succulent watering instructions.
Check out this website to learn more about succulents.
Want to add more healthy greenery to your home in addition to succulents? Here are more safe houseplants for your home.