Whether you're planning to make your home wheelchair accessible, or are interested in some simple aging-in-place home modifications or bathroom modifications, you'll be happy to know that aging-in-place remodeling doesn't always have to be costly or time-consuming. In fact, if you're handy, you can tackle many home modifications yourself. Read on to learn about many of today's most popular and effective home safety modifications for making a home accessible and safer.
1. Install Ramps
Wheelchair-accessible ramps aren't just for wheelchairs. People who use walkers also benefit from ramps, as do those who are unsteady on their feet. After all, even with the aid of a banister, navigating steps can be difficult when balance or strength is a concern. In these situations, ramps make it easier for people to enter and exit buildings, providing added safety and convenience.
Ready-made ramps are available in a variety of materials and styles, and you'll even find foldable ones that can fit in a car's trunk for portability. If you are a DIY type, you can also check out our guide and learn about how to build a wheelchair ramp over existing steps.
Alternatively, many professionals specialize in this type of aging-in-place remodeling and are knowledgeable in ADA ramp specification guidelines. They can help you customize ramps for your front entry, back entry, and any side entries, and offer recommendations on combining design features with functionality. From a creative standpoint, this route offers more options for you to consider, especially if you want your ramps to blend in with your home's particular style.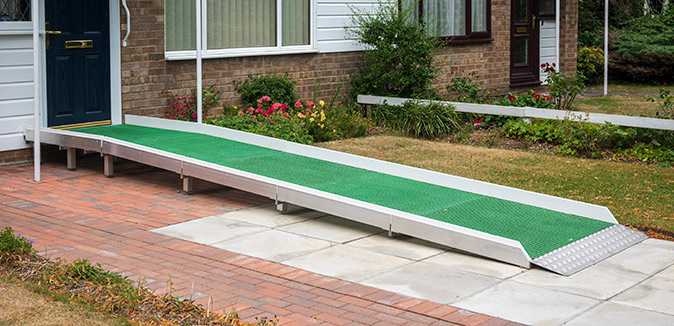 2. Adjust Cabinetry, Counters, and Shelving
Visibility and accessibility can be difficult for someone who uses a wheelchair. That's why one of the most practical ways of making a home accessible is by modifying cabinetry, counters, and shelving, along with other workspaces commonly used.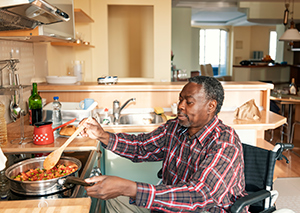 In the kitchen, sinks and counters can be lowered to make them more wheelchair accessible, and frequently used appliances such as microwaves can be moved from the back of a countertop to a more open area within easy reach.
You will likely need to hire a professional for some of these home modifications, but before you do, it's a good idea to go from room to room throughout your home and list all of the adjustments you'd like, so they can be done all at once. Consider the shelving units and hanging rods in each closet, built-in desks and work areas, and any other spaces in your home that may need to be modified.
3. Add a Stair Lift
A stair lift is one of today's best home accessibility solutions for those struggling with mobility or strength. Stair lifts help people move up and down stairs from the comfort of a chair. The mechanism is a customized, motorized railing system that is typically installed at the base of a stairway, next to the wall. You sit on the specialized chair, which attaches to the rail, and it gently lifts you up and down the staircase.
Stair lifts come in a variety of configurations to accommodate both straight and curved staircases and even staircases with landings. Keep in mind that purchasing a stair lift requires a good deal of research on your part. You have many options to consider, and prices vary depending on how elaborate a system is, the installation required, the weight capacity, and upgrades such as armrests, seatbelts, swivel seats, remote controls, call buttons, and more.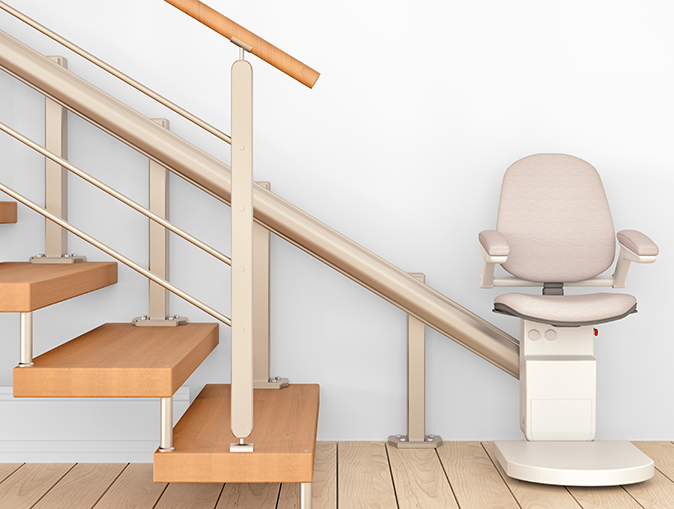 4. Upgrade Floors
Of all the home safety modifications you can make, this may be one of the most important. That's because falling, slipping, and tripping are common causes of injury. If your home has carpet, make sure it's no more than half an inch thick. (You'd be surprised how many people trip over the carpet.)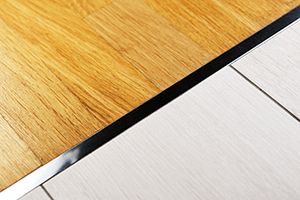 To smooth out flooring transitional areas (where one type of flooring material meets another) and correct for slight differences in floor heights, install transition strips. These create harmonious movement between different flooring types and are especially useful for preventing tripping and making spaces more wheelchair accessible—and they're available in many designs and materials to match your home's decor.
On stairs, carpet typically provides natural traction. However, on wood or tile stairs, applying traction tape is one of the most critical home modifications you can make. Simply cut it to match the size of each step and press it firmly in place. You can also use traction tape to minimize the risk of slips and falls on outdoor decks, patios, entryways, pool areas, and other potentially slippery surfaces.
In the bathroom, look into ADA-compliant anti-slip flooring, which has a value of 0.60 for the static coefficient of friction (SCOF), a certified accepted measurement standard for slip resistance. If you have ceramic tile, you can purchase an ADA-approved anti-slip coating and apply it to the tiles with a paint roller. The coating generally lasts about 3–5 years so you'll need to reapply it, but it's an easy, affordable, and quick DIY bathroom modification project compared with replacing the flooring altogether.
5. Remove or Secure Rugs
You may love your rugs, but they're some of the worst offenders when it comes to stumbles and falls. Rugs tend to slip and slide around and can bunch up and create a tripping hazard. Removing them altogether is one of the best and easiest home safety modifications, but if that's not possible, try this: Affix rug gripping tape generously around the underside perimeter of each rug to tightly secure it to the floor and prevent sliding.
Quick tip: Make sure all cords from smart devices, lamps, appliances, and other items are tucked safely out of the way. Whenever possible, choose cordless lamps, lights, and appliances.
6. Install Grab Bars
When you think of ADA home modifications, grab bars might instantly come to mind. That's because virtually anyone with mobility, strength, or balance worries can benefit from strategically placed grab bars. As far as home modifications go, they're quick and easy to install, and you can put them just about anywhere you need a helping hand. Popular spots are near a toilet or in a shower or bathtub surround, but consider installing some near a bed or a favorite chair or sofa, or even in a closet to help with dressing and undressing.
Grab bars are one of the rare aging-in-place home modifications where style and home décor considerations should not come into play. In other words, safety and strength should be your main concern. You may love the pink floral plastic grab bars or leopard-print suction grab bars you viewed online but choose the plain metal ones instead.
Wall-mounted metal grab bars install securely with mounting bolts and anchors and are incredibly sturdy. Install them into the wall studs, not the sheetrock, for added strength. This goes for tile shower installs as well as installs on interior walls. You may need to add a wood plank behind the drywall if the location of the wall studs doesn't match up with the right spot for your grab bars. In that case, hire a professional who is knowledgeable in ADA compliance to install your grab bars, since if they're not mounted securely and correctly, they could come loose and cause a fall or injury.
Be sure to choose ADA-compliant grab bars with a weight capacity that safely supports the weight of the person who will be using them. After installation, affix anti-slip grip tape around the grab bars, for extra security.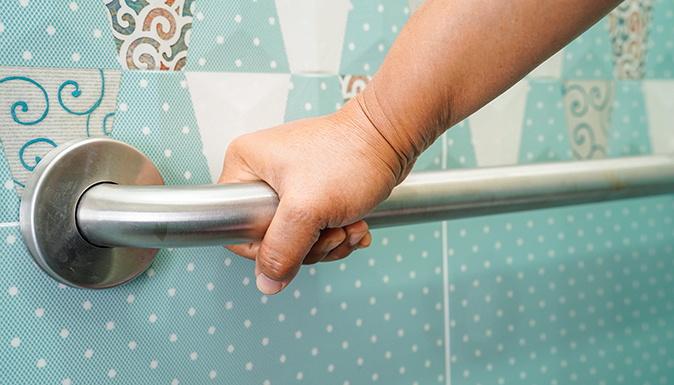 7. Replace Faucets, Doorknobs, and Hardware
Replacing faucets, doorknobs, and cabinetry hardware might not be considered a major aging-in-place remodeling job, but for someone struggling with gripping, the benefits can seem just as dramatic. Throughout your home, replace hard-to-grip cabinetry hardware like knobs with pulls that are easier to operate. Replace doorknobs with levers, which are simple to use, very elegant, and available in an array of styles and finishes.
Touchless faucets are also smart home modifications that can make a big difference. Easily installed in bathroom and kitchen sinks, touchless faucets are incredibly sanitary and fabulous for people who have difficulty grasping and reaching. Foot pedal controls are another option when you're considering home modifications for people with disabilities. Best of all, they typically work with the faucets you already have, while allowing for easy hands-free operation.
8. Get Chair and Seat Lifts
When considering home modifications for people with disabilities or aging-in-place home modifications, chair and seat lifts should be at the top of your list. They allow people to retain their independence and mobility, yet also be safe.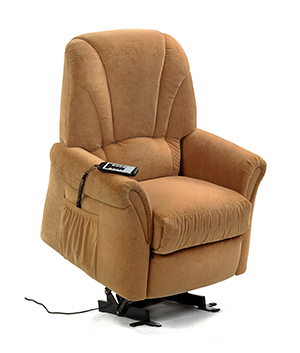 A seat lift is essentially a seat attached to an electric or self-powered tilting mechanism. The seat lifts and gently tilts you forward to help ease you out of a chair and into a standing position.
Most seat lifts are portable, so you can place them on your favorite armchair, an office chair, or wherever you like, making them extremely versatile. They come in a variety of colors, so you can match your seat lift to your room décor. Look for one with a non-slip bottom to prevent the seat from sliding out. Good quality seat lifts are wrapped in thick memory foam so they're not only fashionable but also very comfortable.
You can also buy chair lifts where the lifting mechanism is built right into the chair, usually a recliner. Whereas a seat lift functions like a standalone seat insert that tilts you upright into a standing position, a chair lift raises and tilts the entire chair. You can find a large selection of these chairs online or in local specialty furniture stores, and they vary in comfort and functionality. Some are available with upgrades like heat and massage, lumbar support, cup holders, eating trays, side storage pockets, and more.
9. Make Shower and Tub Home Modifications
One of today's most common aging-in-place home modifications is installing a walk-in or roll-in shower:
A walk-in shower has a significantly lower entry threshold lip, typically less than 3 inches, making it easier to step over—and you may even be able to eliminate the lip altogether, depending on the scope of your bathroom remodel.
Roll-in showers eliminate the raised lip by design, making them wheelchair accessible.
When considering a walk-in or roll-in shower as part of an aging-in-place remodeling project, there's a lot to consider, like the placement of grab bars, adding seats and/or benches, choosing no-slip flooring, and more, so it's important to work with a reputable company.
Walk-in tubs are also popular bathroom modifications that help people enjoy the relaxation of a bath while minimizing risk. Many models come with hydrotherapy jets and a wide door that make them wheelchair accessible. You can even purchase deep-soaking tubs featuring aromatherapy and chromotherapy (colored light therapy). At a minimum, make sure the unit you select has durable grab bars, an ADA-compliant built-in seat, and slip-resistant textured flooring.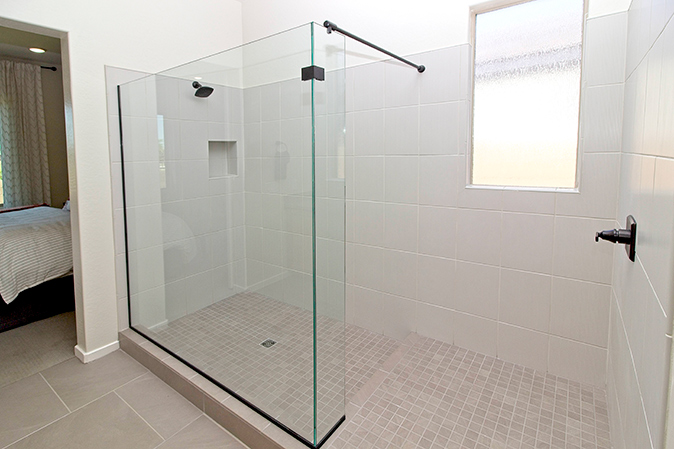 Quick tip: Install anti-scald showerheads and faucets throughout your home to prevent sudden bursts of hot water from emanating when the cold water suddenly is redirected due to a toilet flushing or a washing machine filling up with water.
10. Set up a Personal Emergency Response System
Personal emergency response systems (PERS) traditionally rely on call buttons integrated into wearable mobile devices such as necklaces, bracelets, and watches. When the button is pressed, an alert is automatically sent to a 24/7-monitored emergency response center.
Many of today's systems also incorporate sophisticated features, such as:
Voice activation
Two-way communication capabilities
Fire/smoke and carbon monoxide exposure
Automatic fall detection
Some integrate GPS tracking, which uses satellite-based technology to track a person's location via their wearable or smart device. Another available option is geofencing, which is a technology that creates a virtual geographic boundary and triggers an alert if a wearable or mobile device ventures beyond it.
For a person with cognitive challenges, consider a PERS that alerts an outside party (like an emergency contact) when the system needs charging. "Medication reminder' capability is also helpful to ensure that all scheduled medications are routinely taken as directed. If you're considering a PERS as part of an 'aging-in-place home modifications' plan, it's important to carefully research different systems, since they can vary significantly along with the cost.
11. Integrate Assisted Domotics
Assistive domotics (from 'Domus,' meaning house in Latin, and robotics) represents a new arena in technology-rich aging-in-place home modifications. It's a branch of home automation that focuses on improving elderly people's lives and keeping them safe, independent, and comfortable at home, and is also among the top home modifications for people with disabilities.
In a home outfitted with assisted domotics, sensors and video cameras track movement and activity within and around it. Interior doorways and hallways equipped with motion sensors send an alert if someone is in a room longer than normal, indicating a potential danger. Sensors on exterior doors trigger an alert if someone ventures outside. Sensors on medicine cabinets and automated medication dispensers offer reassurance that someone has taken their meds as scheduled. GPS tracking and video feeds can document activity and report it to an emergency contact.
Voice-activated and/or smart device-enabled lighting, entertainment systems, thermostats, garage doors, appliances, and more make it easy for people with mobility or cognitive challenges to better manage their households, or for someone remotely to do it.
With so many home modifications to choose from, you'll need to do your research when opting for this type of system. It's also a good idea to schedule time with a certified aging-in-place specialist who can come to the home and help outfit it to meet your particular needs.
Consider Home Warranty Protection
Home warranty coverage is another smart component of a good 'aging-in-place home modifications' plan. When a covered home appliance or system unexpectedly breaks down, a quick service request online or by phone is all it takes to schedule one of our prescreened service providers to come repair or replace it. Learn more about our home warranty coverage and the convenience and peace of mind it provides. You can also get a personalized home warranty quote.