You rely on your plumbing system to work efficiently and quietly. So when you experience water-flow issues or hear undesirable noises coming from the plumbing, while bothersome to daily life, those issues can also be signs of air in water pipes. Having air in water lines may not sound serious, but if left unchecked, the trapped air in pipes can potentially create a blockage, building pressure within the pipes. Water pressure near this obstruction can cause pipes to vibrate fiercely, damage fixtures, and disconnect your pipes over time.
If you suspect that there is air in the water lines, the good news is you don't need to call the plumber, if you're ready to meet the issue head-on as a DIY pro. The following guide explains what causes air in water pipes and shows you how to get the air out of water lines. Grab your plumber's belt, and let's burp your pipes!
What Does Air in Water Lines Sound Like?
Identifying signs of trapped air in pipes shouldn't be too difficult, especially when the sounds catch you off guard with random gurgling sounds or prolonged vibrations. But if you think you have an issue with air in water lines and you don't notice these more obvious sounds, start by listening to your plumbing system. Air in water pipes also can have light sounds like hisses or small pops, so listen carefully.
Now, sounds can come and go as regular use may help solve small pockets of air. However, if you hear these noises consistently, it is a sign that your plumbing system may need treatment. All of these types of noises act as distress signals from your pipes to you. It is also a good practice to check your system often to avoid a call to the plumber for help with bigger repairs.
What Causes Air in Water Pipes?
Before we walk you through the steps on how to get the air out of water lines, it's helpful to understand the many ways air gets trapped in pipes.
The main cause of air in water pipes often is either the installation of new pipes or modifications to existing ones in your home. These repairs allow air bubbles to enter your pipes and generate small air locks (a pocket of air that prevents the flow of water from passing through a pipe). The air gets trapped in the high points of your water-supply system and impacts the water pressure at the tap or faucet.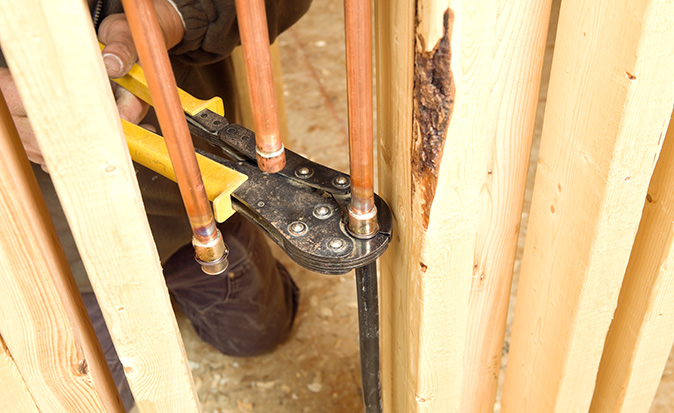 If you have construction or repair work happening in your neighborhood, this could introduce air in the water lines. Most often when your town or city works on your neighborhood's water lines, you get sputtering faucets and occasional noisy pipes. This is due to air infiltrating your water pipes. So sneaky.
Another cause of air in water pipes is when the main water supply shuts off. Metropolises often shut off the local water supply for other types of maintenance and repair work not tied to plumbing concerns.
In rare instances, if your water heater's anode rod becomes corroded, air can form in your pipes. If there is corrosion, you will know it when you smell a foul odor coming from the water. Also, look for murky and dirty residue in the water flowing through the taps.
Overheating the pipes also can form air bubbles. Evaporated hot water cannot leave the pipes properly, which helps cause trapped air in pipes.
Removing the Air in Water Lines
If you have determined that there is air in the water lines, you have a few simple steps to remove all the air from your pipes and bring peace to your plumbing system.
1. Turn off Your Main Water Supply
As with most plumbing projects, it's important to turn off your main water supply first. Switch off the water supply at the main water valve, which is often found in the basement along the foundation. This is the most important step in removing air in water pipes. Turning off the valve stops the external water supply to your home, allowing you to drain the existing water in your plumbing system.
2. Twist all Faucets a Half Turn and in Order
Next up is to open every channel that water uses to get from pipes into your home. This process creates a path for the air to leave the plumbing system.
To start this process, turn on all your faucets, twisting the tap only halfway. Spinning the tap halfway ensures the water has a consistent flow and avoids putting too much pressure on the taps. Also, it is important that you start this process in order, with the faucet closest to the main valve first and turn on the farthest one last.
Apart from faucets and taps, you also need to switch on all appliances connected to your water supply, including washing machines, dishwashers, and showers. When you follow this process, you'll leave no pipe "unburped."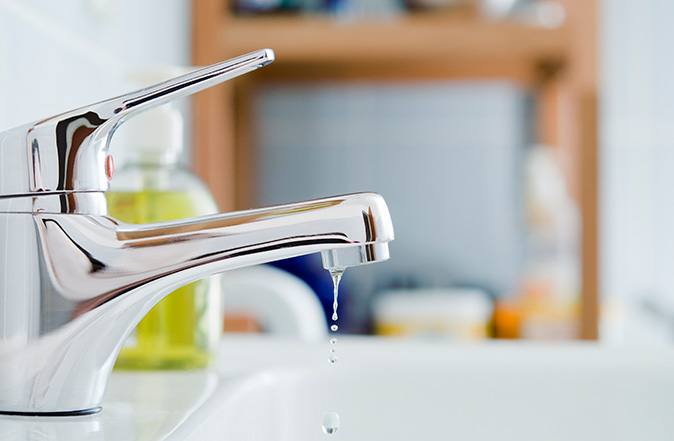 3. Flush the Toilets
The next step is to wait for all the faucets to tap out. This should not take too long, but it depends on how much water was in your water lines at the time you switched off the main valve. Once the faucets stop running, you should also flush all toilets in your home until there's no more water left in the tanks.
4. Let it Flow, Let it Flow, Let it Flow
With everything flushed from the water pipes, it's time to turn the main water-supply valve back on. Leave the faucets and taps open and turn on the main water supply. Let the water flow through your faucets for 10 to 12 minutes. While the water runs, listen for a steady stream of water without any noises coming from your pipes.
Once you have a steady stream without any noises, you can turn off all the faucets in the reverse order that you turned them on. This time you will want to start with the furthest faucet from your main water supply and work towards the closest one. And voilà, you should not have air in water lines any longer.
If sounds do persist after these steps, you may have a bigger problem and should call a professional plumber to inspect your plumbing system.
Make Sure Your Plumbing is Covered with a First American Home Warranty
Checking your home for air in the water lines is one of many helpful maintenance tips that can keep your plumbing system running well. A First American home warranty can also help protect your plumbing system when covered items fail. Our plans can also cover many other home systems and household appliances. Learn about what our home warranty plans can protect in your home.
If you recently bought a home, you can also add a real estate home warranty up to 60 days after your closing. Contact your real estate agent or get a home buyer's warranty quote.
If you already own a home, you can get a personalized quote on our home warranty plans for homeowners.
DIY Plumbing Resources
As your DIY skills and prowess grow, you learn that a plumber isn't always needed for every job. Here are plumbing tips and resources to keep you in the know about any plumbing issues you may encounter: