Planting an August Garden for a Fall Harvest
After harvesting your early-maturing bounty of summer vegetables, such as salad greens, radishes, peas, and spinach, August is the time to start planting crops for a fall harvest. Many root crops, greens, and other vegetables will keep growing when temperatures drop into the low 40s, and some even tolerate first frosts. More than a handful of different vegetables can thrive in cooler weather conditions. Kale, and many other greens, for instance, can survive cold temps down to about 20° F. And you can store many late-summer vegetables after a fall harvest for future consumption. Here are vegetables you can plant in mid- to late-summer for a fall harvest. Be sure to check the harvest time when you buy your seeds. Harvest times can vary quite a bit for different varieties.
90-100 Day Crops
Plant these crops in mid-July and August for a fall harvest.
Root Crops
Globe onions Parsnip Carrots Beets Rutabaga
Leaf Crops
Fava bean Peas Brussels sprouts Cabbages Cauliflower
60-90 Day Crops
These crops take 60-90 days to mature and should be planted by mid-August.
Root Crops
Turnip Leek Kohlrabi Bunching onions
Leaf Crops
Swiss chard Collards Winter cauliflower Early cabbages Broccoli
30-60 Day Crops
These crops take 30-60 days to mature and should be planted by mid-September.
Root Crops
Radishes
Leaf Crops
Kale Leaf lettuces Spinach

If you're planning on a fall garden, you need to know the first frost dates for your area. This will help you determine the best time to plant the variety of plants you want for your garden.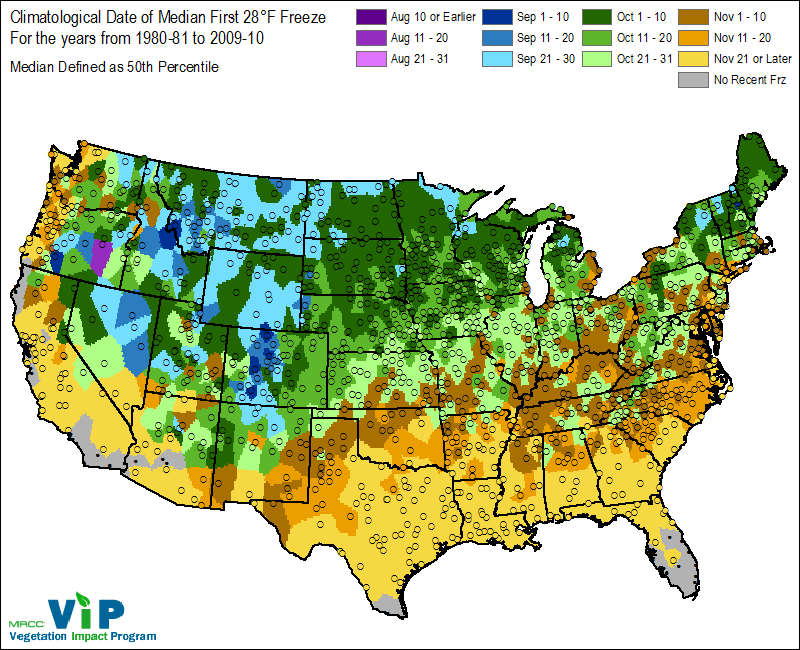 Image source: weather.gov
Pro Tips for Harvest Gardens
Basil and cilantro are fast-growing herbs that are ready for harvest about two months after sowing the seed. Garlic planted in September produces the biggest bulbs the following July, so after harvesting a late-maturing crop, you can plant garlic in that space. If you have a summer garden, before you sow in these second crops, turn over the soil and mix in some balanced fertilizer to replace the nutrients earlier plants have used. Ideally, wait 10-15 days before seeding the second crop, and be sure to remove the debris as completely as possible. Debris in the soil from the first planting, like stems or roots, can cause problems with seed germination if it isn't removed or allowed to break down.
More Resources for Growing Your Garden