Adding a new backsplash will instantly refresh the look of your kitchen. But you may think that tackling a project like this means saving up a small fortune first. Or that DIY-ing a new kitchen backsplash must require some super-human creativity to craft a design, cut and set the material, and so on, right?
Nope
Installing an inexpensive backsplash is in fact a home project you can take on with ease. All you need is a little inspiration and a few good DIY backsplash ideas.
A Quick, Low-Cost Backsplash Solution
Fortunately, you have a diverse range of choices when it comes to inexpensive backsplash materials. The most cost-effective of these is wallpaper's cousin: peel-and-stick tile. If you decide that a peel and stick backsplash is the best choice for your budget, keep in mind that only two materials in this category—gel, or vinyl—can really keep you on budget. Other peel-and-stick options are available, such as metal, glass, and stone veneer, but these can increase your cost.
The Appeal of a Peel and Stick Backsplash
Other than price, one of the biggest appeals of installing a peel and stick backsplash is the sheer abundance of styles, colors, patterns, and designs you can choose from—literally, the sky is the limit here.
Another peel-and-stick plus? You can usually wrap up your backsplash tile project in less than a day.
What's more, you probably already own most of the tools you'll need (think box cutter). Any others will be inexpensive to purchase (think cutting mat). There's no messy, heavy machinery to deal with, like a wet saw, no grout to apply, and no contractor to hire. Just set aside one DIY day over a weekend and you can give your kitchen your own special flair.
There is one more compelling reason to choose peel-and-stick tile for your backsplash: it's the quickest way to cover ugly or cheap backsplash tile, particularly if you are renting a place, or you plan to move from the home you own within a few years.
Bottom line: No matter which type of peel-and-stick design you choose, if creativity is more important to you than price, and you don't want to spend a lot of time on this project, you can stop reading and start looking for the peel and stick backsplash that best suits your style. When it comes to kitchen backsplash ideas on a budget, you won't find a better option.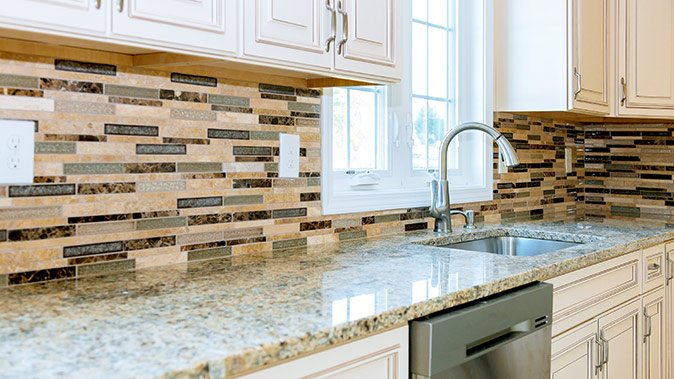 Pro Tip: The name, peel-and-stick, implies "easy," but just like wallpaper, there's little room for error. It's a good idea to practice applying this type of tile first. As with any tile you purchase, you should always order ten percent more than the square footage you need to cover an area. That way, you can then use some of the extra material to practice and get a feel for working with it.
Good practice areas include the back wall of a spare closet, an inconspicuous section of wall in the garage, or another out-of-sight spot in your home. You can also practice on a section that will eventually be hidden by an appliance, such as the area where you'll place a microwave, coffee maker, or perhaps a toaster oven.
More Inexpensive Backsplash Materials to Consider
If you're not quite sure about a peel and stick backsplash, or you want to find out about other inexpensive backsplash materials first, a great place to start is online. You can search for lower-cost backsplash ideas such as painted tile, chalkboard paint, waterproof wallpaper, and acrylic or vinyl wallpaper. Any of these ideas also can help you keep your costs down while giving you fun and unique ways to integrate a new kitchen backsplash into your home.
Do you have existing tile and a strong creative streak? Research online for how to use stencils of your choosing to paint a pattern on tiles behind a kitchen sink or cooktop. If photography is your passion, try acrylic wallpaper, to which you can then apply a favorite photo and create a truly personalized kitchen backsplash.
For additional DIY backsplash ideas to explore online, check out the list below. Next to each material is a quick pro-and-con note to help you choose the right one for your project.
Kitchen Backsplash Ideas on a Budget
Mosaic tile sheets: consistently popular style, but can look busy depending on where it's placed
Metal tile and metal laminates: more textures, sizes, and finishes than ever, but not scratch-proof
Thermoplastic: few tools needed so a great option for DIYers, but can be a costly material
Brick or stone veneer: old-school looks, and budget-friendly
Subway or brick tile: staying power as a timeless look, at a lower cost
Glass tile: can be a tougher DIY install, and glass can break, but the style is very contemporary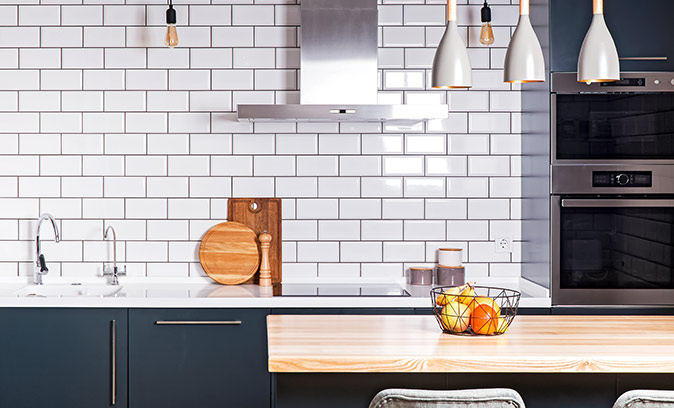 Backsplash Materials if Your Budget Has Wiggle Room
If your budget has some flexibility, you have many additional materials to consider. Keep in mind that most of them will require the use of tools, some of which you will likely have to rent, such as a wet saw. Do your research to determine your comfort level—a DIY kitchen backsplash can become progressively more difficult if you choose one of the materials on the list below, although they are all beautiful, durable options.
And remember, while the list does not include what you might call cheap backsplash tile ideas, it's organized by price, from lowest to highest, based on the likely cost per square foot for each type of material. Of course, your price will vary depending on where you live and the square footage of your project. If you are backsplashing only a small area, you may find that your cost per square foot is not out of reach, even for the more expensive choices.
Kitchen Backsplash Ideas on a Friendly Budget
Stone: durable, classic, natural look, but undertones can make it hard to match to countertops
Reclaimed wood: enduring, gorgeous look, but requires maintenance and not easy to clean
Ceramic: endless colors, patterns, and textures, but known to be a more porous tile
Porcelain: a less-porous type of ceramic, but be sure to use the right type of adhesive thinset
Travertine (limestone) tile: rustic style still has appeal, but its porousness requires more sealant
Glass panels: modern, durable, and expensive, but it's an option that might require a pro
Copper: shimmery, sleek, and versatile, but will the metal backsplash trend persist
Stainless steel: spectacular appeal, but fingerprints are an enduring and common problem
Granite, quartz, and marble: the most expensive threesome, but they each have an enduring beauty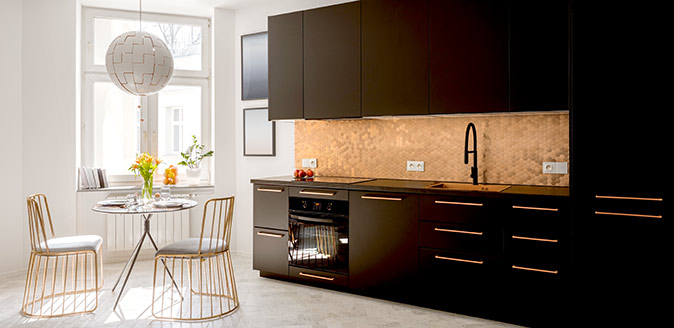 Ask Yourself These Questions Before You Shop
If you've decided on a material for your new kitchen backsplash, you may be ready to head online or to your local hardware store to buy what you need. But first, ask yourself these four questions to help you be as prepared as possible about the direction you plan to take.
Should the tile cover one area, or your entire kitchen?
If your goal is to create a new backsplash that instantly draws eyes, install the tile only in that space. However, designers often suggest that tiling the entire room in a smaller kitchen can make the room seem larger. Of course, more tile equals higher costs. The image on the right shows a fully tiled kitchen but without a distinctive backsplash design.
Will the tile size you like work well with the size of your kitchen?
Often, when you use a larger size backsplash tile in a small kitchen, it can also help the room seem bigger. The opposite can also be true: using smaller tiles in a larger kitchen can help the room feel smaller, but also warmer and more relaxing. Think about the size of your space when you're selecting tile.
Do you want the backsplash tile to extend to the ceiling?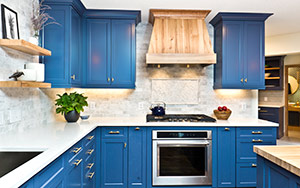 This somewhat newer kitchen design trend—extending the tile to the ceiling (often called a "waterfall effect")—is stunning, but it will impact your project cost. Depending on your space, you may want to consider tiling only one area to the ceiling, but even this can create dramatic appeal—not to mention keeping your costs down. The image on the right shows a fully extended backsplash tile.
Do you want the kitchen backsplash to match the countertops?
If you want your new backsplash to be the focal point of your kitchen, be sure to use a different material than your existing solid surface, stone, or quartz countertops.
Reminder: If you intend to do more than just add a new kitchen backsplash—that is, if you also plan to add brand-new quartz countertops—your new kitchen counters need to go in first!
Ready to Put These DIY Backsplash Ideas to Work?
Now that you have thought through these backsplash ideas and tips, you're all ready to get to work so you can complete this high-reward, low-fuss home project. And just imagine… your stunning new backsplash tile or peel and stick backsplash will be the subject of conversations for years to come as you gather with family and friends to show off your DIY handiwork. After all, you deserve the rewarding feeling a new kitchen backsplash can give you—not to mention being able to say you did it yourself.