A backyard camping trip can be a lot more fun than the real thing – there's no easier or less expensive way to spend time with family and friends. The best parts are you don't have to worry about wild critters getting into your food, campground fees, and you have indoor plumbing and a shower when you need it. Smell the fresh air, listen to the sounds of wildlife, do a little stargazing, all from the comfort of your own backyard. Before you head outdoors, though, make sure you have everything you need make the most of your "trip" to your own backyard.
Set a Few Expectations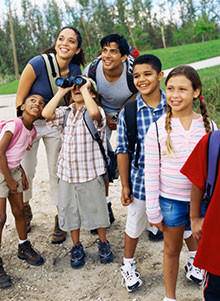 First of all, set up some rules and expectations for your family and yourself. This will help the younger ones who might not understand why they can't go watch TV after dinner. Try to view your campout as a real away-from-home trip.
Make a pact to not go in the house unless it is to use the bathroom.
No phones, tablets, or hand-held games. Bring your own board games or cards, guitars, and other items that are non-technological.
Go for a hike in the neighborhood and experience the nature around you. Explore the rocks, bugs, trees, leaves, birds, and clouds - or turn your hike into a treasure hunt!
Backyard Camping Supplies
Be prepared with a few basic items to make sure you have everything you may need to make the most of your backyard camping adventure.
Outdoor tent or pup tent
Overhead shade or umbrella
Kitchen camping gear and utensils
Barbecue or fire pit
Sunscreen
Insect repellent
Flashlights and batteries
Nonperishable food and snacks
Water
Outdoor clothing
Books and games
Hygiene essentials
Campground and outdoor games and toys
Some comforts of home for small children (pillow, battery-powered nightlight, security blanket, etc.)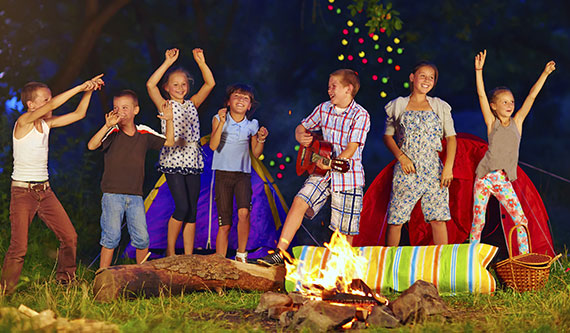 Setting Up Your Campground
Set up your campsite first thing in the day so you'll have everything you need without going inside to make it feel as much like a real campsite as possible.
Set up your tent, firepit area, cooking area, and rest areas.
Set up an outdoor trash bin to keep your campsite clean. This will also minimize trips inside and make it easy to clean up when it's time to "go home". Pack a cooler with the things you would normally eat while camping. This is your refrigerator for your stay at the campsite.
Cooking Around the Campfire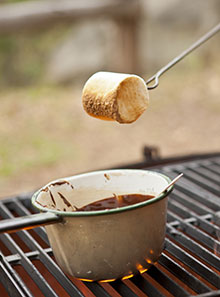 If you plan on building a real fire, check first to make sure you can legally do this in your neck of the woods. Be safe and practice common sense when children are around an open fire. Make sure you have a fire extinguisher or hose nearby.
If you own a grill, barbecue, outdoor fireplace or firepit, you're good to go! Otherwise, you can borrow a portable grill, barbecue, or buy a small and inexpensive one for the trip. Plan ahead to make some easy camping meals. Check out Pinterest for some great camping cuisine inspiration.
Don't forget the quintessential camping food: S'mores! Why not try a new take on the old favorite?
Activity Time
Have a few activities planned that the whole group can take part in and also some activities that the kids can do on their own like coloring or reading a book. Here are a few fun group activity ideas:
Go on a hike around your neighborhood.
Roast marshmallows and make s'mores over a campfire.
Tell a "group story". While sitting around the campfire, have each person say a few lines of a story before the person next to them takes over. The story will probably wind up being more funny than scary, but hey, isn't that more fun anyway?
Singing around the campfire. It might sound silly but it's still a really fun thing to do especially if you sing group-oriented songs.
Backyard games: check out these fun games and activities.
Take a nature-walk with flashlights, either in your yard or in your neighborhood.
Get comfortable and gaze at those bright lights in the sky. Print out a star map and locate constellations.
Bed Time
Lightweight sleeping bags are usually fine during the summer but be sure to have extra blankets just in case. If you don't have sleeping bags, here are a few other ideas:
An outdoor lounge chair or cot
A hammock
An air mattress
A bunch of pillows and blankets pushed together to form a bed
The ground — it's only one night
Finally, be sure to bring a camera to capture your camping trip memories. Have fun.