What is the Right Water Heater Temperature?
You probably don't think too much about your water heater, unless you take a shower and run out of hot water. Or worse, if the water is too hot and causes scalding. You can adjust the temperature of your water heater, but should you?
While you may think water heaters have a standard recommended temperature, it's not that simple. Some manufacturers factory-set their water heaters at 120°F (49°C), while others are set to a default 140°F (60°C). The Department of Energy recommends setting a water heater to 120 degrees to save on energy costs, and the Consumer Product Safety Commission advises the same temperature to prevent scalding. OSHA (the Occupational Safety and Health Administration) recommends setting the temperature to at least 122 degrees to help prevent the growth of harmful bacteria.
Should I Change the Water Heater Temperature?
There are several factors you may want to consider to determine the most appropriate water heater temperature for your home:
Safety
Cost
Energy efficiency
Hot Water Kills Harmful Pathogens
Legionella, the bacteria that causes Legionnaires' disease, can become a health concern when it grows in home water systems. Water heaters maintained below 140 degrees and that contain scale and sediment may foster Legionella growth, according to OSHA. Luckily, most healthy people exposed to Legionella do not get sick, but before you decide to turn up the temperature dial on your water heater, read on.
Hot Water Can Scald
Hot tap water is a primary cause of burn injuries and deaths. Scald burns can be a real hazard, especially if you have young children or senior adults in the home. These two age groups are at the highest risk for scalds: Young children, because their skin is thinner, and the elderly because they can be less sensitive to temperature and may be slower to respond to scalding water.
The CPSC warns that adults may suffer third-degree burns if exposed to 150-degree water for as little as two seconds. Burns can also occur with a six-second exposure to 140-degree water or with a 30-second exposure to 130-degree water. Even if the temperature is 120 degrees, a five-minute exposure could result in third-degree burns.
Minimize Risk with Anti-Scald Devices
So how do you negotiate the opposing risks of bacteria growth and potential scalding? Newer homes typically have anti-scald devices, but if you live in an older home, you can add anti-scald guards and devices to showerheads and tub spouts to help avoid dangerously hot water. Talk to a plumber about installing a thermostatic mixing valve (also called tempering or anti-scald valve) that limits the max temperature coming out of your water heater.
Will Changing the Water Heater Temperature Save Money?
The temperature at which you set your water heater can definitely make a difference in your home energy bill.
The water heater is one of the largest single costs on a home energy bill, with estimates ranging from 17 to more than 25 percent of your monthly energy costs.
According to the Energy Department, turning down your water heater temperature significantly reduces the costs of standby losses – heat lost from the water heater into the surrounding area. Set at 140 degrees or more, your water heater can waste anywhere from $36 to $61 annually in standby heat losses. More savings can be had by using a lower temperature for tasks including clothes washing, taking showers, and dishwashing. The Energy Department estimates these consumption savings may amount to more than $400 per year.
What is My Water Heater Temperature?
On most tank water heaters, and some tankless, you won't be able to tell the temperature just by looking at the temperature dial, as most are simply marked from "Low" to "Hot" (or "Very Hot.") If you have your water heater manual, the default temperature should be noted. If not, simply search the internet for the brand and type of water heater and its "default temperature."
However, the water heater's default temperature isn't necessarily the temperature that is coming out of your taps. To be safe, check your tap water temperature.
How to Check Your Tap Water Temperature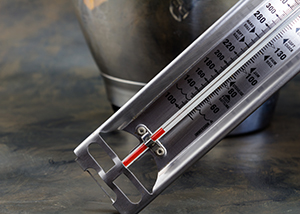 Do not use your hot water for at least two hours before testing. If you have a tankless water heater, you can skip this step.
Let the hot water run for at least three minutes. Test the temperature with a candy, meat, or water thermometer.
Adjust the temperature on your water heater thermostat. Repeat steps 2 and 3 until you reach the desired temperature.
Wait a full day to allow the water temperature to change, then test again. You can skip this step for a tankless water heater.
Pro Tip: When you find the temperature you want, mark the spot on your water heater's temperature dial with a permanent marker.
Find the Right Water Heater Temperature
The "right" temperature for your water heater is really an individual one – for your own level of comfort, any safety concerns, your monthly bill, and energy efficiency concerns.
Home Warranty Coverage for Water Heaters
Regular maintenance of your water heater can help prevent breakdowns and may even extend the life of the unit.
The most diligent care, however, may not be enough to prevent a problem with your water heater. A home warranty can protect your budget from unexpected repair or replacement costs when appliances like your water heater stop working. Learn about the many other appliances and home systems you can cover with a home warranty plan, or get a quote today.