Do you have a bathroom with a case of the blahs? Maybe it's a bit dingy and uninspiring, or born in a design era long gone? If you're not able to spring for a remodel, don't worry, a budget-friendly refresh can do the trick.
Make a prioritized list of what needs updating and/or refreshing. Next, tackle necessary repairs such as leaks, recaulking, and wall patching. Give your bathroom space a good cleaning, including the grout, walls, ceilings, and so on. You may find the exhaust fan's annoying rattle and underperformance was because of dust and debris buildup and doesn't need replacing after all.
Now you've literally got a clean slate ready for adding the brilliance.
Bathroom Refresh Ideas
Accessories
Area Rugs

New floor coverings offer a great opportunity to add texture and color. Whether you choose area rugs for their soft and spongy comfort, or for their non-skid, highly absorbent style, it's more than looks that count here—be sure to factor in function.

Art

The right piece of art can be the inspiration and palette for your bathroom design, whether you prefer bold, tranquil, or anything in-between. If moisture is an issue, consider your choices carefully; a sealed metal wall sculpture or unframed acrylic canvas may hold up better than framed prints under glass.

Shower Curtain

This simple change can make a big impact. If the selection available doesn't fit your taste, look for a "non-shower" curtain and hang together with a clear shower curtain liner. If you've got an unattractive glass shower door, artfully cover it with a decorative curtain on the outside.

Soap Dispenser or Dish

Step it up with an attractive, refillable dispenser instead of the one-use, disposable plastic bottle. When you have limited countertop space, consider a chic, wall-mounted dispenser or soap dish.

Towels

Quality counts. Luxurious feel and great colors don't have to be expensive if you shop around. Quality saves money in the long run, too. Low-quality towels lose their shape and softness through multiple washings and will need to be replaced more often.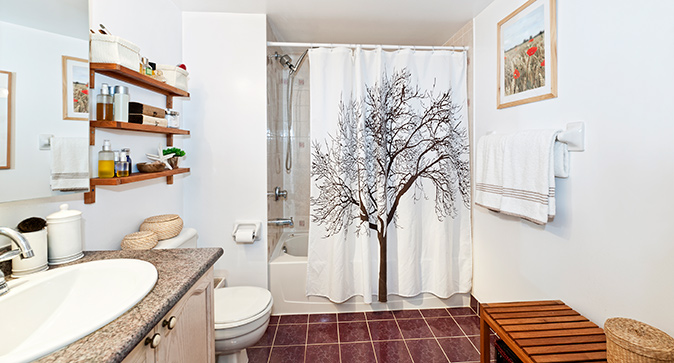 Storage
Baskets and Crates

Solve storage needs for small accessories or large towels with baskets and crates that can be hung on walls, set on shelves, or placed on the floor. Update crates with paint, a distressed look, or leave natural to fit your style.

Shelves

Take advantage of your bathroom's vertical space. Strategically placed floating shelves add a clean, modern look and offer space to display artful items or essentials. A hanging cabinet or ladder shelving over the toilet is a great use of otherwise wasted space.

Towel Hangers

Explore the design opportunities beyond the traditional towel bar and ring, such as metal stands, heated bars, mounted hooks or knobs, in-cabinet pull-outs, and wall-mounted swing-outs.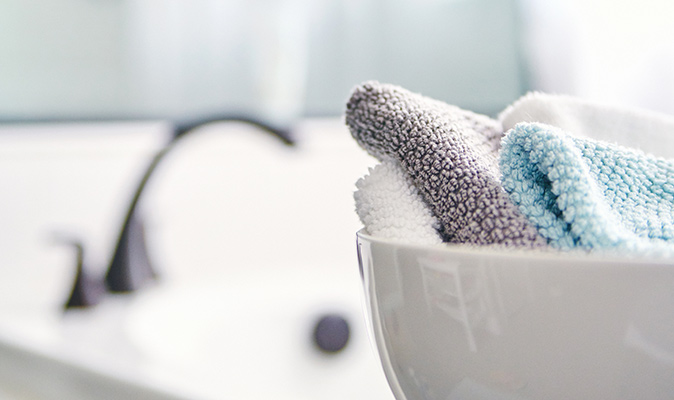 Walls
Paint

Painting is one of the easiest and most affordable bathroom updates. For a high-humidity area, use a mold-resistant primer and paint. Do you have an accent tile that's unattractive or outdated? Check out a DIY painting kit (but be sure to check that it's recommended for areas with humidity).

Accent Wall

Create an accent wall or add wainscoting with materials like tile, shiplap, beadboard, or reclaimed wood.

Mirrors

Visually open up and brighten your space. Ornate or simple, framed or unframed, a mirror is an essential décor element. For added function, consider a mirror-front cabinet, or a swing-arm, magnifying mirror.
Hardware/Fixtures
Cabinet Hardware

There's a seemingly endless variety of materials and finishes to choose from to update cabinet knobs and pulls. If you have exposed hinges, and it's not a character feature you like, switch them to concealed hinges for a cleaner, updated look.

Faucets, Showerhead, and Drain Cover

The bathroom faucet is an impactful design element. Limit your choices to styles that fit existing sink, shower, and tub if you're not replacing those items.

Lighting

Update fixtures with the right type of bulbs for the specific task area. For vanity lighting, do a little research on proper positioning and brightness to create even lighting that doesn't cast shadows. Add dimmers if possible for adjustability and ambiance.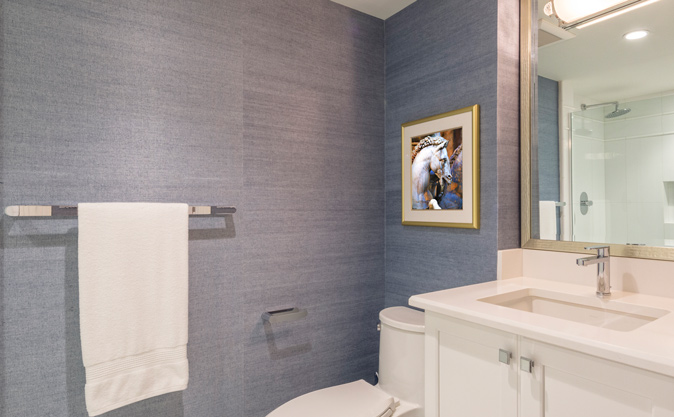 Miscellaneous
Exhaust Fan

Choose quality and check the sound rating. Be sure it's installed properly and vents to the outside.

Toilet Seat

Looking for the latest? Get a new toilet seat offering features such as lights, auto-cleansing, heat, or deodorizing. Seriously.

Seating

If you've got the space and a need, add a unique vanity stool or teak shower bench as a practical accessory.

Switch Plates

Many colors and styles of switch plates are available. Most switch plate covers can be painted. Look up online tutorials for proper steps to get a quality finish. Outlets can be painted as well. Follow directions carefully regarding cutting power and application instructions.