Adding a wheelchair ramp to a home is one of the most helpful updates to make for anyone who wants to safely age in place. If you or a loved one struggles with mobility, you'll find tips and advice in this guide on how to build a ramp for wheelchair, motorized scooter, or walker, to make the house easier to enter. Even if your home has entry steps or stairs, you can convert them into a wheelchair accessible ramp.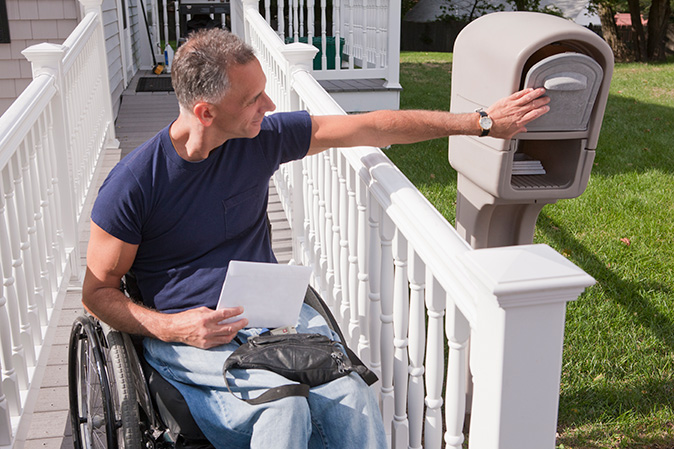 How to Build a Ramp Over Stairs
As the population in the United States ages, many families are seeking ways to comfortably stay in their own homes instead of moving to an assisted living facility or care home. If you are looking for resources on learning how to build a wheelchair ramp over existing steps, you'll find helpful information here:
Building a wheelchair ramp over stairs is a project that can be a challenge, depending on your DIY knowledge and skills. You may want to hire a professional, who likely will be familiar with the proper wheelchair ramp slope needed for a ramp that meets the Americans with Disabilities Act (ADA) recommendations. (Although ADA guidelines aren't required for residential construction, they are recommended for safety reasons.)
Here are some basics questions to consider before building a ramp for stairs: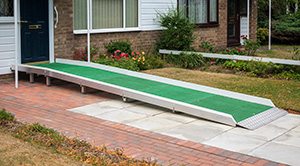 Will the ramp be permanent or temporary?
How long will it need to be?
Is there enough space for landings?
What is the ramp's rise?
What is the ramp's weight capacity?
What are the required building or safety codes?
Some of the tools you may need to build a wooden ramp for stairs include:
Measuring tape and level
Plywood or deck material for the ramp "floor" and landings
Lumber for posts, joists, and ramp edges, treated if the ramp will be outdoor
Folding framing square or protractor
Screws of various lengths galvanized for outdoor use
Carriage bolts or similar fasteners
Wood glue
Cutting tools: circular saw, table saw, hand saw, jigsaw
Hammer drill and concrete anchor screws
Keep in mind that this ramp will be used by people of various mobility levels, including those who struggle with steps, and use canes, walkers, scooters, or wheelchairs. It will need to be sturdy, level, and non-slip. It also may need landings at the top and bottom, handrails on both sides, and safety edges to prevent slips over the side.
There may be other building or safety codes required for your area. Local contractors should know the requirements or you can visit your city or county's building department for details.
While every project's specifics and dimensions will be different, you can follow this general outline on how to build a wooden ramp:
To-Dos Before You Begin Building a Wheelchair Ramp
Measure the total height from the door sill to the ground. This is your rise. The ADA maximum recommended wheelchair ramp slope is 1:12, meaning for every one inch of rise you will need 12 inches of ramp length, or for every one foot of rise, you'll need 12 feet of ramp. A ratio of 1:16 is considered an even more comfortable slope for unassisted wheelchair users.
For example, standard stairs are about 7.5 inches high. A typical rise for three stairs, then, would be 22.5 inches. Using the ADA guideline, the ramp would need to be 22 feet.
Here is a handy calculator to help you determine how long your ramp will need to be. Also, consider ADA guidelines for handrails and landing size. Ramps should be at least 36 inches wide.
Build the Wheelchair Ramp
Some builders use decking or heavy lumber for the ramp. Others use plywood. If you're going that route, use a circular saw to cut three sheets of 3/4-inch plywood, enough to form the total length of the ramp. Glue and screw the three sheets together for each ramp segment. (Some builders only use one sheet of plywood for shorter ramps.)
Also cut three pieces of 3/4-inch-thick plywood into five-foot lengths, glued and screwed together, to serve as a landing at the top of the ramp. Landings must be at least as wide as the ramp and at least 60 inches long to allow space for a wheelchair to turn around, according to ADA guidelines. (For more ADA safety modifications you can make to a home, read our guide to 11 Essential Aging-in-Place Home Modifications.)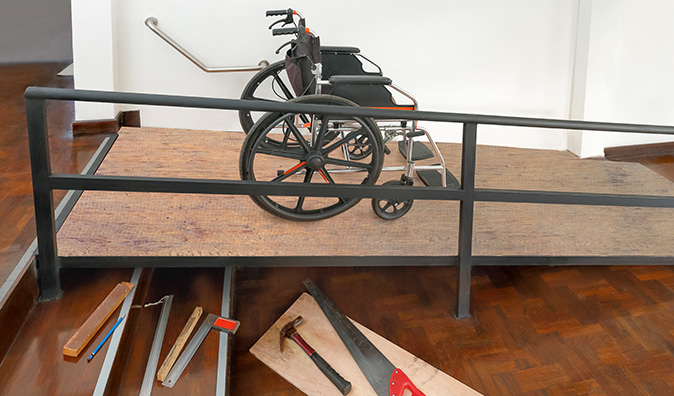 Support the Wheelchair Ramp
Cut wood joists (2x6s are recommended) to the length of the ramp. You may need to cut notches to create a flush fit at the top where it meets the threshold and the length of the existing steps underneath. You'll also have to cut an angle along the bottom of the joists where they will rest on the floor or ground. Secure the joists to the existing door threshold, which may be wood or concrete. Use the appropriate screws or brackets.
Sink Posts to Secure the Ramp and Side Railings
You may be digging post holes in the ground or securing posts to concrete. Make sure the posts on both sides are tall enough to support railings between 34 and 38 inches above the ramp's surface. Posts can be spaced as far as eight feet apart, but check your local codes to be sure, and some codes require spindles between posts for safety. Use carriage bolts to attach posts to your support joists. You may need cross-bracing as well.
Lay Ramp for Stairs and Place Rails
Once your posts are secure, place your plywood ramp in place and secure, or screw in your deck material or lumber treads. Top your side posts with your desired rail material – 2x4s, deck railing, or more decorative options. To prevent falls, add a non-slip surface, spindles, a guardrail, or a "bumper" along the bottom edge of the ramp.
Built correctly, your new ramp should be safe, strong, and last for years.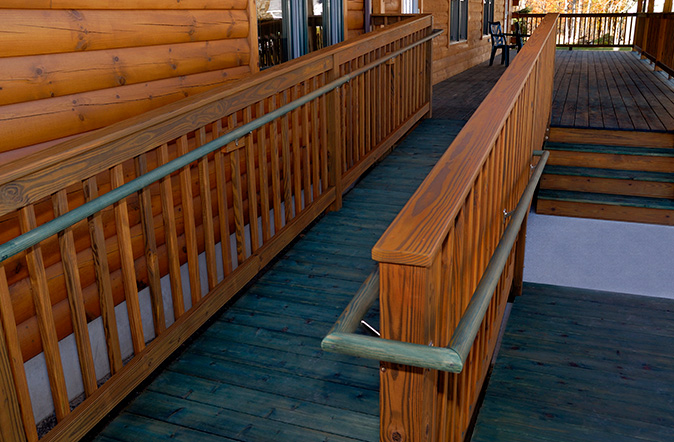 You may also want to watch these videos on different types of DIY ramp projects to pick up other helpful tips:
Non-DIY Wheelchair Ramp Options
If you do not want your wheelchair ramp plans to be a DIY project, you have the option to install a pre-made ramp you can purchase from a home improvement store or medical supply store. The choices include a wide range of products that can cost from a few hundred dollars to several thousand and vary in size and complexity.
Another option is to type "used wheelchair ramps for sale near me" in a browser window and you may find one that is in good condition. This can be a helpful alternative if your need for a ramp is temporary. Be sure the used wheelchair ramp is well-made, sturdy, and safe to use.
Protection for Your Home Systems and Appliances
Homeowners are on their own when it comes to paying for expensive repairs that inevitably arise around the house. First American home warranty plans can cover the repair or replacement of many home systems when they break down, including plumbing, electrical, and heating, as well as appliances such as the dishwasher, oven, and water heater. Find out more about the protection you can enjoy with our home warranty plans or get a free quote in minutes.