House hunting can be fun, but it can also be stressful. When you're out looking at lots of houses in a short amount of time, it can be hard to remember all the details about each home later. To help you stay focused as you evaluate each house, we've created a Buyers House Hunting Checklist. Use this checklist to track important details and what you liked (and didn't like) about each house.
After you have visited several houses, you'll have all the details about each one at your fingertips to help you decide on the right one on which to place an offer or which ones you want to go back to view a second time before you make a decision. Yes, the home you choose to buy needs to give you a positive feeling, but the best decisions usually come from tapping into both your emotions and logic.
And once you have made your decision and it's time for the home inspection, be sure to take our Home Inspection Checklist along as you accompany the inspector to personally document the home you're buying. You can itemize any problem areas or needed repairs for potential negotiation with the seller before closing.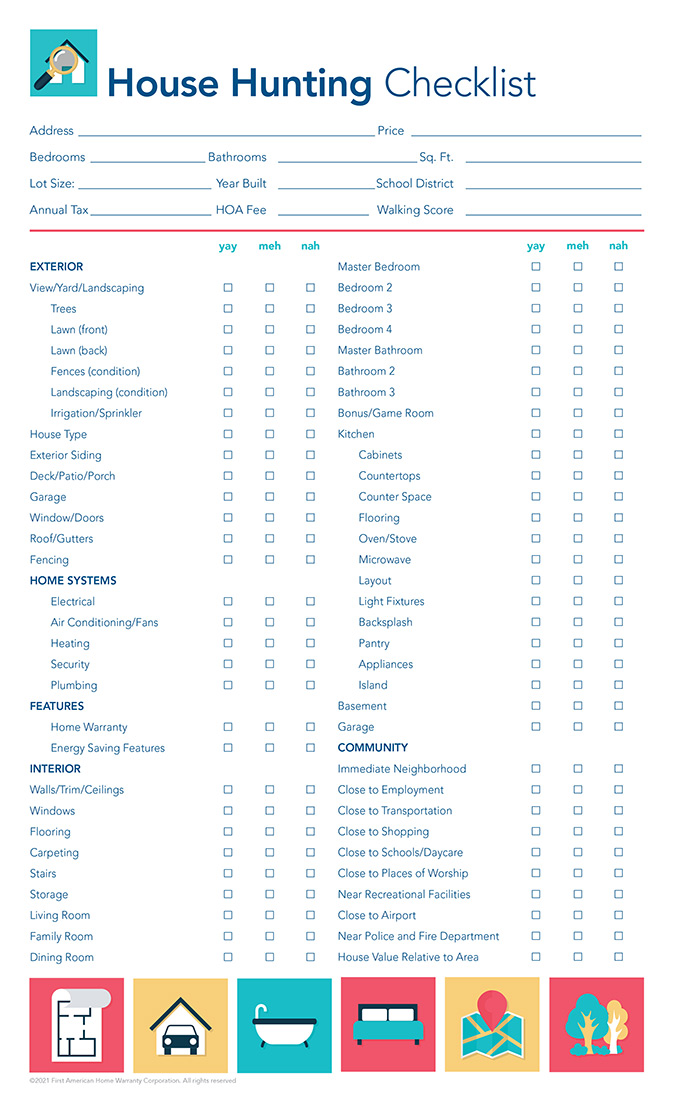 First Time Home Buyer Tips
How Much House Can I Afford to Buy?
What to Ask Your Home Inspector at the Inspection
What is Title Insurance and Why You Need It
How Much Are Closing Costs for Home Buyers?
What Can Homebuyers Expect in the Closing Process?
Final Walkthrough Checklist and Tips for Home Buyers
From House Hunting to Homeownership: See More Resources
EXTERIOR
View, Yard, Landscaping:
Trees
Lawn (front)
Lawn (back)
Fences (condition)
Property (condition)
Irrigation and Sprinkler System
House Type
Exterior Siding
Deck, Patio, Porch
Detached Garage, Shed
Fencing
HOME SYSTEMS
FEATURES
INTERIOR
Walls, Trim, Ceilings
Flooring
Stairs
Living room
Family room
Dining room
Primary Bedroom
Secondary Bedrooms
Primary Bathroom
Secondary Bathrooms
Powder Room
Bonus, Game Room
Attached Garage (one/two/three-door)
Kitchen:
Cabinets
Counter Space
Flooring and Carpeting
Microwave
Layout
Light Fixtures
Pantry
Island
COMMUNITY
Immediate Neighborhood
Close to Employment
Close to Transportation
Close to Shopping
Close to Schools, Daycare, Parks
Close to Places of Worship
Near Recreational Facilities
Close to Hospital and Airport
Near Police and Fire Department
House Value Relative to Area
Home Warranty Plans for Home Buyers
Home warranty coverage is a valuable investment for first-time home buyers. When a covered appliance or home system unexpectedly breaks down, homeowners can simply contact First American Home Warranty to schedule one of our prescreened service providers to diagnose and either repair or replace it. If you have recently closed on a new home, you have up to 60 days from your closing date to get access to special home buyers coverage and pricing just for home buyers. Find out more about our plans and get a quote.
FAQs for Home Buyers
Here are some answers to your questions about First American home warranties.
What Is a Home Warranty?
Home warranties are renewable service contracts offering protection for a home's major systems and appliances. First American offers protection to buyers, sellers, and current homeowners. If you're purchasing a home, a home warranty can increase your peace of mind, knowing you can protect your budget when covered items unexpectedly break after closing.
Do I Need a Home Warranty When I Buy a Home?
Home warranty coverage is the best way to protect your budget against expensive home system and appliance failures. A home warranty can also take the stress and hassle out of repairing or replacing home systems and appliances when they break down.
What Are the Benefits of a Home Warranty?
With a First American home warranty, when a covered system or appliance fails, if we can't repair it, we'll replace it. We have a network of independent pre-screened service providers and technicians and we are committed to providing you with outstanding service and value.
What Does a Home Warranty Cover for Home Buyers?
A home warranty covers repair and replacement of many crucial home appliances and systems that you use every day. When you buy a new home, you qualify for special pricing and expanded coverage at or within the first 60 days of your closing. See what's covered in our home warranty plans for home buyers.
Why Choose First American Home Warranty?
First American is a leading provider of warranties for homeowners, home buyers, and home sellers with the experience and strength of an industry leader. For more than 35 years, First American has provided quality protection for home appliances and systems across the nation. See how much we spent last year alone to repair or replace covered items nationwide, for homebuyers just like you.