Buying a home in today's competitive market can be a daunting prospect. When the sale finally closes, it can be a relief, as well as a little intimidating, especially if you're a first-time home buyer. You've budgeted for your new mortgage—but do you have a game plan for tackling home repairs? Not only do you have to find someone to take care of repairing or replacing home systems and appliances when they break down, but you've also got to pay the bills.
Have Help Ready When Things Break
When it comes to common reasons behind buyer's remorse, some of the top regrets people have about buying a home include expensive home maintenance and repair costs, and losing the convenience of simply calling the landlord to get things fixed. Even when you love your new home, it can be hard not to feel frustrated with the headache and expense of dealing with everything from a leaky faucet to a failing dishwasher or a suddenly broken HVAC system.
"I wish I could call the landlord when something breaks."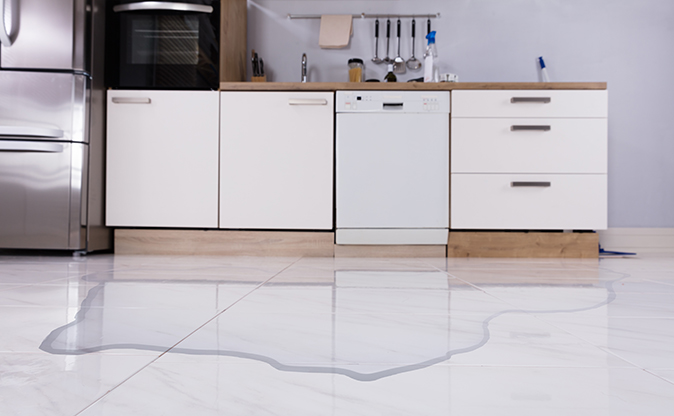 It's natural when owning a home to have at least a few moments of wondering: "Did I make the right choice?" However, you don't want those concerns to turn into full-blown buyer's remorse. This is where a home warranty plan for home buyers can help. Unlike homeowners insurance that covers damages or losses caused by peril (such as fire, theft, or storm damage), home warranties cover many of your new home's major appliances and systems. When they inevitably fail due to normal wear and tear, your home warranty coverage can help protect your budget from costly repairs and replacements.
(Learn more about the differences between homeowners insurance and a home warranty, and why you need both.)
How Coverage Works
With our home warranty coverage, getting something fixed is about as easy as contacting your landlord. When a covered home appliance or system breaks, you contact us. We'll assign a service provider to diagnose and either repair or replace the covered item. Here's how it works:
Request Service

Sign in to your online account or call us to place your service request.

Schedule an Appointment

A qualified service provider from our prescreened network will contact you to schedule a mutually convenient appointment.

Repair or Replace

The service provider will confirm coverage, then diagnose the problem and either repair or replace your covered item.

If it's a simple repair, it can typically be fixed at the first appointment. If parts or equipment need to be ordered, or the repair is more complex, additional visits may be needed to complete the repair or replacement.
What Home Repairs Can Cost Without a Home Warranty
Last year, First American Home Warranty spent over $213 million* to repair or replace home appliances and systems for homeowners like you. Here are some of the average costs we paid to fix covered items.**
| | Air Conditioner | Heating System | Plumbing | Electrical System | Oven/Range | Water Heater | Refrigerator |
| --- | --- | --- | --- | --- | --- | --- | --- |
| REPAIR | $915 | $823 | $505 | $480 | $1,134 | $1,388 | $1,074 |
| REPLACE | $3,842 | $3,634 | $1,407 | $2,496 | $3,460 | $2,051 | $3,500 |
Whether you're a first-time home buyer or a seasoned homeowner when your budget is stretched and savings are exhausted from buying a home, trying to put aside even more money can be challenging. Most new home buyers simply don't have extra money to save each month, so a costly repair or replacement bill can often trigger a case of buyer's remorse. Even if you buy a newer house or a home with newer appliances and systems, things can break unexpectedly, often when you least expect or can afford it.
What a Home Warranty Can Cover
Here are some of the home appliances and systems that a home warranty can protect:
APPLIANCES
Kitchen refrigerator
Washer & dryer
Oven, range & cooktop
Dishwasher
Built-in microwave
Garbage disposal
Trash compactor
HVAC SYSTEMS
Central air conditioning
Heating system
Ductwork
Thermostats
PLUMBING SYSTEM
Stoppages
Leaks and breaks
Water heaters
Toilet tanks & bowls
Sump pump
MORE SYSTEMS
Electrical system
Central vacuum
Ceiling, attic & exhaust fans
Garage door openers
Pool & spa equipment
Well pump
Other Ways to Avoid Buyer's Remorse
Find a Good Agent
A savvy real estate agent who has your best interests at heart can make all the difference in the home-buying process. These days, buying a home within your budget will likely involve trade-offs. A good agent can help you navigate the process and establish and focus on your priorities.
Make a List, and Check It Twice
Use a checklist to help identify what you need and want as you search for and visit homes. It can help you stay focused as you evaluate each house. Here is a comprehensive home viewing checklist you can use to track important details and what you liked (and didn't like) about each house you visit.
Remember: Location, Location, Location (and Layout)
To prevent buyer's remorse, it's important to focus on the important things that aren't easy to change: location and layout. You can change many things about a house after it becomes yours, but the location isn't one. If a quiet neighborhood or short commute are high priorities for you, don't lose sight of these. Similarly, it's usually difficult and expensive (or sometimes impossible) to change a home's layout.
Pay Attention to Your Home Inspection
When buying a home, your inspection report can help you better understand your home's physical structure and components. It should detail the age and condition of your home's systems and appliances and point out needed maintenance and possible repairs you should plan for. See how long home systems and appliances last.
In a competitive market, it can be tempting to forgo inspections to make your offer more attractive, but unless you are prepared for the unexpected and have a financial cushion, it can be a risky move. Let your real estate agent guide you.
Include a Home Warranty When You Buy a House
A great way to minimize risk, maximize budget protection, and prevent buyer's remorse is to purchase a home warranty when you buy your new home. You get special pricing and coverage for home buyers, plus all these valuable home warranty benefits from First American:
Budget protection from costly repair and replacement of covered items
An easy, time-saving way to schedule service providers when covered items break
The security and convenience of unlimited service requests via phone or online 24/7
Coverage that lasts for a year or more after closing
Just bought a home? You can add a real estate home warranty up to 60 days after your closing. Contact your real estate agent or get a home buyer's warranty quote.
Already own a home? We also have home warranty plans for homeowners.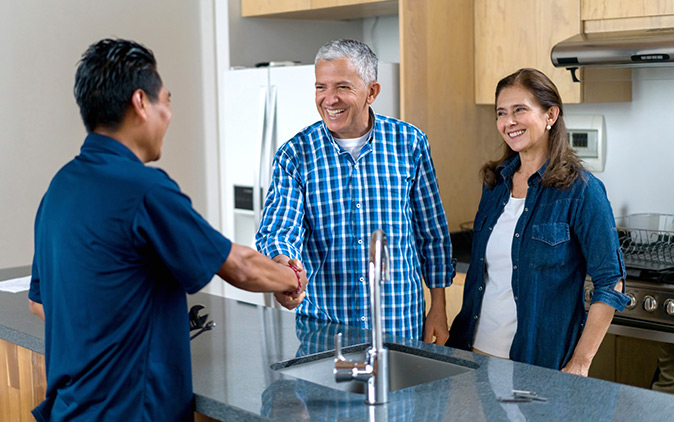 FAQs for Home Buyers
Here are some answers to your questions about First American home warranties.
What Is a Home Warranty?
Home warranties are renewable service contracts offering protection for a home's major systems and appliances. First American offers protection to buyers, sellers, and current homeowners. If you're purchasing a home, a home warranty can increase your peace of mind, knowing you can protect your budget when covered items unexpectedly break after closing.
Do I Need a Home Warranty When I Buy a Home?
Home warranty coverage is the best way to protect your budget against expensive home system and appliance failures. A home warranty can also take the stress and hassle out of repairing or replacing home systems and appliances when they break down.
What Are the Benefits of a Home Warranty?
With a First American home warranty, when a covered system or appliance fails, if we can't repair it, we'll replace it.*** We have a network of independent pre-screened service providers and technicians and we are committed to providing you with outstanding service and value.
What Does a Home Warranty Cover for Home Buyers?
A home warranty covers the repair and replacement of many crucial home appliances and systems that you use every day. When you buy a new home, you qualify for special pricing and expanded coverage at or within the first 60 days of your closing. See what's covered in our home warranty plans for home buyers.
Why Choose First American Home Warranty?
First American is a leading provider of warranties for homeowners, home buyers, and home sellers with the experience and strength of an industry leader. For more than 35 years, First American has provided quality protection for home appliances and systems across the nation. See how much we spent last year alone to repair or replace covered items nationwide, for homebuyers just like you.
---
*Paid invoices net of service fees in 2022, prior to deductions and/or rebates.
**Based on actual invoices paid by First American Home Warranty in 2022 prior to service fees, deductions, and/or rebates; costs may vary in your geographic region. Items listed may be optional or not available on some plans.
***In some instances, Homeowner and First American may agree to payment of cash in lieu of repair or replacement. Payment will be made based on First American's negotiated rates with its suppliers, which may be less than retail. Please review the sample contract for specific coverage, terms and limitations.