You can always find a carrot cake welcoming a springtime table, and we've gathered traditional recipes along with a few variations for you to try. Our carrot cake cookies have all the flavors of carrot cake in cookie form – including a dollop of cream cheese icing. How about a carrot cake with the cream cheese baked right in, as with our carrot cake cheesecake? For a breakfast treat, be a little daring and try some carrot cake waffles.
Carrot Cake with Pineapple Filling and Cream Cheese Frosting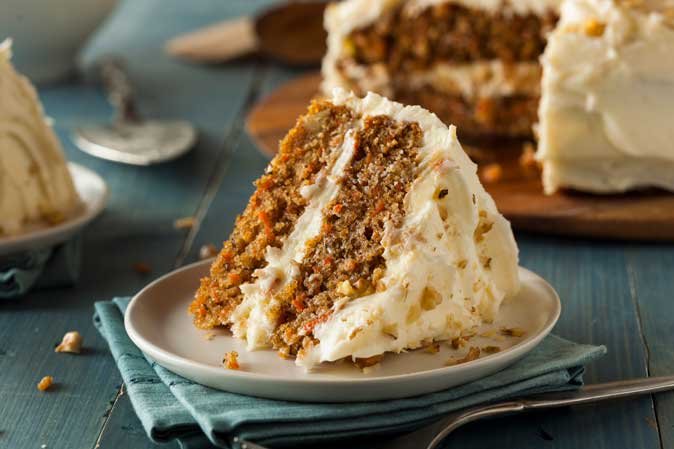 Cake Ingredients:
2 cups sugar
½ cup vegetable oil
¼ cup apple sauce
3 eggs
¾ cup buttermilk
1 tsp vanilla
2 cups finely grated carrots
1 cup flaked coconut
15-oz can crushed pineapple, drained well
2 cups flour
2 tsp baking soda
2 tsp cinnamon
1½ tsp salt
1 cup chopped pecans
Filling Ingredients:
15-oz can crushed pineapple with juice
¾ cup sugar
⅓ cup butter
6 tbsp. flour
Frosting Ingredients:
½ cup butter, softened
8 oz cream cheese softened
1 tsp vanilla
4 cups powdered sugar
Directions:
Preheat the oven to 350 degrees and line two 9-inch cake pans with parchment. Coat each pan lightly with cooking spray. Combine the ingredients from sugar to drained pineapple and mix until fully combined. Stir in the flour, baking soda, cinnamon and salt; then fold in the pecans. Pour batter evenly in the pans and bake for 50-55 minutes or until a toothpick comes out clean. Cool for 15 minutes and remove from pans to cool completely on rack before filling and frosting.
For the filling
Whisk the filling ingredients in a sauce pan over medium heat until it starts to bubble. Turn the heat off and cool completely in the fridge. When filling and cake are cool, top one cake layer with filling and place second layer on top.
For the frosting
Beat the butter and cream cheese until light and fluffy. Add the vanilla and mix again. Slowly add the powdered sugar a cup at a time until fully incorporated. Frost the cake as desired.
---
Carrot Cake Cheesecake
Carrot Cake Ingredients
Cooking spray for pan
1 1/2 c. all-purpose flour
1 c. sugar
1 tsp. cinnamon
1 tsp. kosher salt
1 tsp. baking soda
3/4 c. canola oil
2 large eggs, beaten
1 1/2 c. grated carrots (from 1 large)
1/2 c. raisins
1/2 c. chopped pecans or walnuts
Cheesecake Ingredients
2 8-oz. packages cream cheese, at room temperature
3/4 c. sugar
1/4 tsp. kosher salt
1 1/2 tbsp. all-purpose flour
1/2 tbsp. pure vanilla extract
2 large eggs
1/2 c. sour cream
Frosting Ingredients
1 c. powdered sugar
4 tbsp. butter, softened
4 oz. softened cream cheese
1/2 tsp. pure vanilla extract
Chopped pecans or walnuts, for garnish
Directions
Preheat oven to 350° and grease a 9" springform pan.
Make carrot cake mixture:
In a large bowl, combine flour, sugar, cinnamon, salt and baking soda. Stir in oil, then add eggs and mix until combined. Add carrots, raisins and nuts and mix until combined.
Make cheesecake mixture:
In a large bowl using a hand mixer or in the bowl of a stand mixer using the whisk attachment, beat cream cheese and sugar until smooth. Stir in salt and flour. Mix in vanilla and eggs, beating 1 minute between each addition, then add sour cream.
Assemble cheesecake:
Pour 2/3 carrot cake mixture into prepared pan and smooth top with spatula. Top with spoonfuls of 1/3 cheesecake mixture, then pour over remaining carrot cake mixture. Top with remaining cheesecake mixture and smooth top with a spatula. Bake until center is only slightly jiggly, 1 hour. Let cool completely, 1 hour, then transfer to the fridge to cool, 4 hours, or up to overnight. Run a knife around inside of springform pan and unmold from pan. When ready to serve, make frosting: Beat sugar, butter, cream cheese and vanilla until smooth. Frost cheesecake, then garnish with pecans or walnuts and let chill, 10 minutes, before serving.
---
Carrot Cake Cookies with Cream Cheese Icing
Cookie Ingredients:
1/2 cup unsalted butter melted
1/3 cup light brown sugar packed
1/3 cup granulated sugar
1 large egg yolk at room temperature
1 cup all-purpose flour
1/2 tsp ground ginger
1/2 tsp ground cinnamon
1/2 tsp salt
3/4 cup old fashioned rolled oats
3/4 cup finely grated carrot packed, from about 1 large carrot
2 Tbsp very finely chopped raisins
3/4 cup very finely chopped pecans (for rolling)
Icing Ingredients:
2 oz cream cheese at room temperature
2 oz unsalted butter at room temperature
1/4 - 1/3 cup icing/confectioners' sugar
For garnish: 2 Tbsp very finely chopped pecans
Directions
In a large bowl, whisk together the melted butter, brown sugar, white sugar and egg yolk. In a separate bowl, whisk together the flour, ginger, cinnamon and salt. Stir the dry mixture in to the butter mixture until combined. Mix in the rolled oats, carrots, and raisins. Cover bowl with plastic wrap and refrigerate 30 minutes. Preheat oven to 350F. Roll chilled dough in to 1 1/2-inch balls. Roll balls in chopped pecans and place on a parchment lined baking sheet about 2-inches apart. Bake in preheated oven for 10 minutes. Remove from oven and using the bottom of a measuring tablespoon, press in to cookies to make an indentation in the middle of each cookie. Return cookies to oven and bake a further 10-13 minutes, or until starting to turn golden in spots. Remove from oven and transfer to a cooling rack to cool completely. Prepare icing by beating together the butter and cream cheese. Beat in 1/4 cup of the icing sugar, or more to taste. Using a piping bag with a round tip, pipe a small mound of icing in the indentation of each cookie. Sprinkle icing with a bit of finely chopped pecans. Make 1 dozen cookies.
---
Healthy Carrot Cake Waffles
Ingredients:
2/3 cup almond flour
1/3 cup coconut flour
1/4 cup arrowroot starch
1 tsp salt
2 tsp baking powder
1 cup shredded carrots
2/3 cup crushed pineapple
3 eggs
1/4 cup coconut palm sugar
1 tsp vanilla
1/4 cup coconut oil
1 tbsp cinnamon
1/2 tsp ginger
1/2 tsp nutmeg
1/2 tsp ground cloves
1 cup almond milk
1/2 cup chopped walnuts
Maple syrup
Honey Cinnamon Cream Cheese
8 oz cream cheese
1 tbsp honey
1 Tsp cinnamon
Directions:
Waffles: Turn on waffle iron and wait for it to heat, spray with oil to prevent sticking. In medium bowl, whisk together flours, spices, baking powder, and salt; set aside.
In separate bowl whisk together sugar, coconut oil, and vanilla until combined. Add eggs and mix in until combined. Add almond milk and mix thoroughly.
Whisk in dry ingredients.
Fold in pineapple, shredded carrots, and walnuts.
Once waffle iron is ready, pour in 1/4 of batter and allow to cook until indicator comes on letting you know they are done.
Remove to serving plate.
Top with Honey Cinnamon Cream Cheese.
Honey Cinnamon Cream Cheese Beat together cream cheese, honey, and cinnamon until combined and softened. Pipe or dollop mixture on top of waffles. Drizzle on maple syrup and top with extra chopped walnuts.