Carving jack-o'-lanterns and decorating dining tables with centerpieces of pumpkins and gourds is fun, but as the weather turns cold, the Halloween season is also a great time to make some homemade pumpkin soup. This Halloween we picked our two favorite pumpkin soup recipes to share. The first, a delicious Pumpkin Curry Soup, is a favorite for its rich and earthy blend of savory and sweet spices. The second, a roasted Pumpkin Sage Soup, offers just the lightest touch of sage so as not to overpower its partner, yet fuses the two flavors perfectly. We hope you enjoy making these as much as we did:
Pumpkin Curry Soup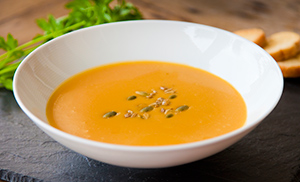 Ingredients
1 can 100% pure pumpkin (15 oz.)
1 cup light coconut milk
2 large fresh garlic cloves, minced
1 small yellow onion, chopped
3 tablespoons olive oil
3 cups low-salt chicken or vegetable broth
1 teaspoon curry powder
1/4 teaspoon ground coriander
1/4 teaspoon crushed red pepper flakes
Salt and pepper to taste
Roasted, or raw pumpkin seeds for garnish
Directions
In a soup pot, cook chopped onion in olive oil over medium heat until soft and translucent. Add garlic and cook a few more minutes. Stir in broth, curry powder, coriander, and red pepper flakes.
Cook over medium-high heat, stirring until the mixture just comes to a boil. Cover and simmer for 20 minutes, stirring occasionally. Add the pumpkin and coconut milk. Whisk well and simmer another 5 minutes uncovered.
Puree until smooth with an immersion blender, or food processor/blender. If you're using a food processor/blender, be careful to puree in very small batches and allow steam to escape while blending. Return the pureed soup to the pot and reheat to serving temperature. Add salt and pepper to taste before serving.
Garnish with pumpkin seeds. Enjoy!
---
Pumpkin Sage Soup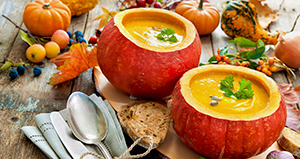 Ingredients
4 medium sugar pumpkins
1 tablespoon olive oil, or butter
3/4 cup shallots, diced
3 cloves garlic, chopped
4 cups vegetable stock or chicken broth (low sodium recommended)
1 tablespoon fresh sage
Salt and pepper to taste
Low fat sour cream and fresh sage leaves for garnish (optional)
Directions
Make the bowls: Preheat the oven to 400 degrees F. With two of the pumpkins, use a paring knife to cut a large circle around the stem of each pumpkin (make a zigzag cut, if desired). Remove the lid and scoop out the seeds and fibers. Sprinkle the inside of each with 1/2 teaspoon each sugar and salt. With the remaining two pumpkins, cut them in half vertically and scoop out the seeds. Place all the pumpkins and lids on a baking sheet; roast until tender, 35 to 50 minutes, depending on their size, until tender.
When the pumpkin is cooked and cool enough to handle, use a spoon to scoop out the flesh of the vertically cut pumpkins. This should make about 5 cups. Save the other 2 to use as bowls.
Make the soup: Heat the butter (or olive oil) in a large soup pot over medium heat. Add the shallots and sauté for about 4 minutes. Next, add the garlic and sauté for another minute or so until tender. Stir in the pumpkin, vegetable stock, or broth, sage, and salt and pepper. Gently bring ingredients to a boil, then cover pot and simmer on low, for 15 minutes. Pour mixture into a food processor/blender or immersion blender and puree until soup is a smooth texture. Add salt and pepper to taste. Pour into pumpkin bowls and garnish with a dollop of sour cream and place sprig of fresh sage on top. Serve immediately. Thank you to Skinnytaste for the sage inspiration.