Ceiling fans are a great addition to any room in your home—adding year-round comfort and style. What's more, they're "considered the most effective types of fans," according to the U.S. Department of Energy (DOE), compared to table fans, floor fans, or window fans. That's because ceiling fans circulate air by producing a draft, also known as a "wind-chill effect." Essentially, as a ceiling fan increases the airflow in a room, it creates the perception of a cooling effect in summer.
And, as you will see, that cooling effect, when combined with running your air conditioner, can make a real difference in the summertime in enhancing your home's comfort.
You've likely heard that you should change the way your home's ceiling fans rotate when the seasons change. Let's look at ceiling fan direction in summer vs. winter:
Stay Cooler in the Summer
By default, your ceiling fan will turn to the left (counterclockwise) and push air down. This is the direction you should set your ceiling fans to during the summer months. The blades push cooler air down, and the increase in airflow creates a breeze (often called a downdraft) that helps evaporate moisture from your skin and makes you feel cooler.
Changing the direction in this way does more than simply improve air circulation in rooms with a ceiling fan. In fact, the DOE also says, "If you use a ceiling fan and air conditioning unit simultaneously, you can raise your thermostat setting by 4 degrees without a change in comfort."
Why is that 4-degree difference important? Energy companies typically recommend that homeowners set their thermostats to 78 degrees in the summertime to help reduce energy use. For homeowners in areas where outside temperatures regularly reach into the 90s and 100s, a 78-degree thermostat setting may not adequately cool their homes. If you live in one of those hotter regions and have ceiling fans installed in your home when you switch your ceiling fans to the counterclockwise (summer) direction, you can then set your thermostat to 78 degrees and it can feel like 74! Moreover, that small degree of difference can also help lower your utility bills and save you money in warmer months.
Circulate Warmer Air in the Winter
In the winter, you should reverse the direction of your ceiling fans, setting them clockwise and running them at low speed. That's because you're not trying to create a breeze; instead, you're just trying to circulate warmer air. Because warm air rises, when you run your ceiling fan clockwise, it creates an updraft that pulls cooler air up to mix with and push down the warmer air trapped at the ceiling. According to the DOE, this can help you save as much as "15 percent on your heating costs" and keep your house more comfortable when it's cold.
Advantages to Ceiling Fans
A ceiling fan has many advantages, from the simple way it can complement a room to the added illumination that many types can also provide. And with an endless variety of styles and blade sizes to choose from, you can easily find a ceiling fan that accentuates the décor of virtually any room in your home.
If you plan to purchase a ceiling fan, keep in mind that selecting the right blade size is important. Larger blades obviously can circulate more air, but blade size should be proportionate to a room's dimensions. Most family and living rooms, and many primary bedrooms, can accommodate oversized ceiling fan blades, but they would be an overstatement in a smaller room.
Ceiling height in the home also matters. Most manufacturers recommend 8-foot ceilings at a minimum to accommodate a ceiling fan. Check out other buying tips below.
Besides comfort, the biggest advantage to the proper use of a ceiling fan is its positive effect on energy use and cost, especially in summer. When shopping for a ceiling fan, look for the bright yellow ENERGY STAR sticker on the model you're considering--a fan with this sticker is certified to be "…60% more efficient than conventional fans."
Other ceiling fan advantages include:
Convenience: Ceiling fans can operate via remote, light switch, and from a smartphone.
Value: Ceiling fans often year-round savings in energy bills when used correctly.
Safety: Unlike table or floor fans ceiling fans are safer for children and pets, for obvious reasons.
Quiet: Ceiling fans, like most appliances, have noise ratings, and many can run whisper-quiet.
Sleep: On hot summer nights, a ceiling fan can be a cooling alternative to running the AC, and on cold winter nights, can help push the warmer air down.
How to Change the Direction Your Fan Rotates
Adjusting your ceiling fan is an easy task. If you have a remote control for your ceiling fan, check to see if it has a reverse button. If so, problem solved! If not, almost all fans have a switch on the side of the motor housing that allows you to change the direction it rotates.
When Ceiling Fan Direction Depends on the Room
Ceiling fan direction is not only a seasonal consideration. Sometimes, there are specific situations or locations in your home where a ceiling fan should be set in a certain direction. For example, if your home has high or cathedral ceilings, you don't need to adjust the direction when the seasons change; simply keep it on the counterclockwise (summer) setting year-round. Ten-foot or higher ceilings provide less opportunity for you to feel that "wind-chill effect," so there's no benefit to changing a ceiling fan to a clockwise direction when winter arrives.
Other tips on ceiling fan direction:
If you live with a smoker, a ceiling fan set in a clockwise direction can create an updraft, pulling smoky air away from you.
If you have a porch or pergola with a ceiling fan, setting it counterclockwise and creating a downdraft effect can help keep flying insects away.
If your kitchen or dining room table sits below a ceiling fan, set it clockwise at the lowest setting so that when you serve hot food, the circulating air won't cool your cuisine too quickly.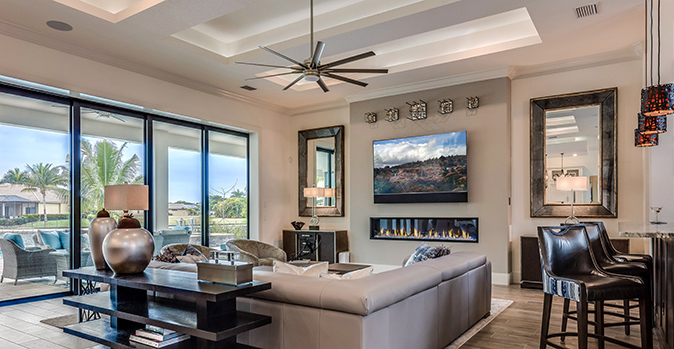 Cool Ceiling Fan Energy Tips
A ceiling fan uses about 2% of the energy that a central air conditioner uses (an average of 75 watts vs. 3,500 watts)

It costs less than a penny per hour to run a ceiling fan.

You won't feel the wind chill effect of a ceiling fan when you leave the room, so turn it off to save on energy.

Keep your ceiling fan running smoothly by regularly cleaning the dust off the tops of the fan blades. This will help prevent blade imbalances that can stress the fan motor.
Adding Ceiling Fans in Every Room
After reading this far, you may be thinking it would be good to buy ceiling fans for every room in your home that doesn't have one. Here are buying tips as you weigh the many ceiling fan options to consider for each room in your home:
Remote vs. switch vs. smartphone operation
Type and design of lighting (bright or muted; dimmable; center fixture or multi-bulb design)
Finish (choose from wood to brass to bronze, to nickel, and much more—and don't forget about color options)
Indoor vs. outdoor use (porch ceiling fans need to be wet-rated*)
Blade décor and number of blades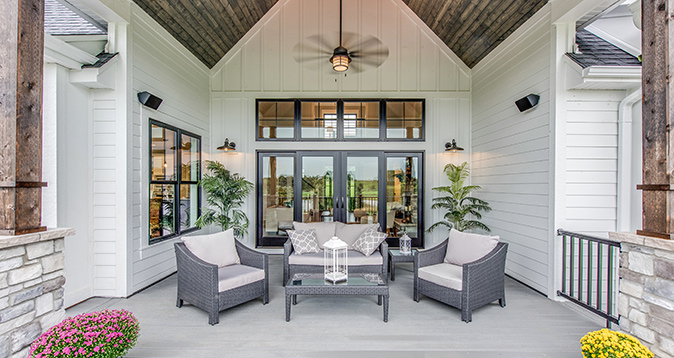 *Pro tip: There is a difference between "damp-rated" and "wet-rated" ceiling fans. The former cannot be used in outdoor areas if they will be exposed to rainy or snowy weather. You should look for wet-rated ceiling fans for a porch or gazebo.
Ceiling Fan Repairs
Did you know a First American home warranty covers the repair and replacement of ceiling fans, as well as attic and exhaust fans? Learn more about all the home systems and appliances that you can protect with a home warranty.