February 19 is Chocolate Mint Day, a day recognized by the U.S. National Confectioners Association. It's a day worth celebrating! The flavor of cool refreshing mint, paired with chocolate, is a perfect combination. Mint chocolate chip ice cream, Thin Mint Girl Scout cookies, Chocolate mint candy, as well as Chocolate-mint cakes and pies are some of the most popular pairings. Peppermint is a common mint paired with chocolate. You can grow your own peppermint, as well as most mint plants – they are easy to grow, and can be grown indoors. There is even a Chocolate Mint plant. This variety can be grown indoors or outdoors, but should be contained in a pot if grown outdoors. It will spread and take over quickly! If you don't have fresh mint, don't worry, many chocolate mint recipes don't require fresh mint – peppermint extract, crème de menthe, or mint flavored chocolate are commonly used flavorings.
Here are a few mint-tastic recipes.
Mint Chocolate Chip Cookies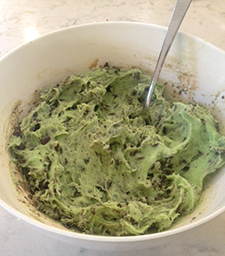 These cookies have a subtle mint flavor, a nice compliment to the dark chocolate. If you prefer a more minty cookie, just increase the peppermint extract or use only mint dark chocolate instead of a combination of mint chocolate and semi-sweet chocolate.
Ingredients
2 1/2 cups all-purpose flour
1 teaspoon baking soda
1 teaspoon salt
1 cup (2 sticks) butter, softened
1 ½ cups granulated sugar
1 teaspoon vanilla extract
1/4 teaspoon peppermint extract
2 large eggs
Green food coloring
1 cup chopped mint dark chocolate (I used two, 3oz. mint dark chocolate bars, 72% cocoa)
1 cup NESTLÉ® TOLL HOUSE® Semi-Sweet Chocolate Morsels
Directions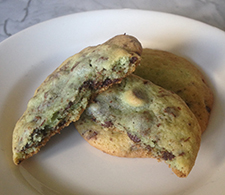 Combine flour, baking soda, and salt in a small bowl and set aside. Beat butter, granulated sugar, vanilla, and peppermint extract in a large bowl until creamy. Add eggs, one at a time, beating well after each. Gradually beat in flour mixture. Add green food coloring, several drops at a time, until the color looks like mint chocolate chip ice cream. Stir in chopped mint dark chocolate and semi-sweet morsels. Drop large spoonfuls onto ungreased baking sheet. Bake for approximately 8-9 minutes. The edges should be light brown. Let sit on cookie sheet one minute before placing on a cooling rack.
Mint Chocolate Ice Cream Cupcakes
Ingredients
Devil's Food cake mix
Mint Chocolate Chip ice cream
Whipped cream (homemade or whipped topping)
¼ cup mini semi-sweet chocolate chips
Directions
Preheat oven and prepare cake mix according to package directions. Put cupcake liners in muffin tin.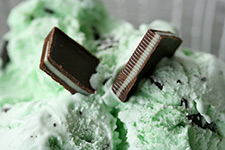 Spoon one or two tablespoons (depending on your desired cake to ice cream ratio) of prepared cake batter into each liner. Bake for 10-15 minutes or until done. Remove from oven and cool completely. When cool, spread ice cream on top of each cupcake. Place in freezer for about an hour to set. When ready to serve, spoon, pipe, or use aerosol whipped cream to top cupcakes. Garnish with mini chocolate chips.
Mint Chocolicious Smoothie
Ingredients
1/2 Banana, medium
1 cup baby leaf spinach, fresh or frozen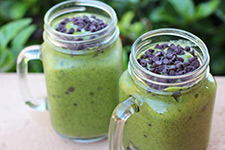 1/2 cup almond milk
1-2 tsp stevia (to taste)
1 tbsp semi-sweet chocolate chips (or more!)
1/8 tsp. peppermint extract
2 tbsp whey protein powder, chocolate or vanilla flavor
1/4 cup plain yogurt
1/2 cup ice cubes
Directions
Thoroughly blend all ingredients together in a smoothie blender. Adjust to taste. Enjoy with a straw to get all the chocolate bits at the bottom!