Deck Your Home with Boughs of Holly (or Magnolia, or Spruce, or...)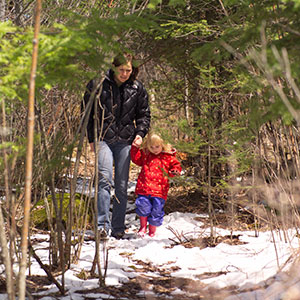 When you think of childhood holidays, what memories come to mind? One of mine is of winter walks through a holly tree grove near my childhood home. I'd go there now, if I could, to find what I'd most want to use to create a homemade holiday wreath.
Turns out, the traditional materials that adorn the holiday wreaths we see today grew out of what nature had been providing to us regionally. That is, we used what grew where we lived to make what became our traditional holiday wreaths. Magnolia wreaths harken back to Southern wreath-making traditions; Fraser fir wreaths started in the Blue Ridge and Appalachian mountain range; the bright red of the American holly tree berries became a staple for wreath making along the east coast and into the Midwest and Texas; Blue Spruce wreaths became as widespread as the tree itself in the Rockies, stretching north into Wyoming and Idaho; and Eucalyptus wreaths became the natural choice in western states like California and Arizona.
New Traditions for Homemade Holiday Wreath Making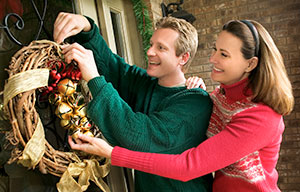 Why not start a new holiday wreath-making tradition? Yes, you can always buy the raw materials to create a homemade version that replicates a traditional wreath – stores carry bulk leaves of magnolia, fir, spruce, eucalyptus, and more. But why not create your own DIY holiday wreath with greenery you can find growing in your own backyard?
Don't have a backyard, or nary an evergreen tree nearby? You could take a walk in a nearby wood to look for natural additions for your wreath. No matter where you live, you'll find a bountiful natural world not too far away. Keep in mind that when you gather backyard greenery, you should do so with thoughtful pruning of those trees or shrubs. And use the same care in the wood, treating plants as if they were in your own yard.
The Best Greenery for a Homemade Holiday Wreath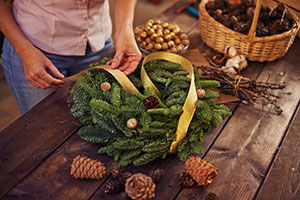 Depending on where you live in the U.S., here are types of trees, plants, and shrubs that make great natural base materials for your DIY holiday wreath. Bear in mind that some of these may dry out more quickly than others may – a consideration depending on whether your homemade holiday wreath will be for outdoor or indoor decoration.
American Holly
Blue Spruce
Boxwood
Cedar
Cypress
Eucalyptus: Silver Dollar, Seeded
Firs: Douglas, Noble, Balsam, Fraser, Silver
Juniper
Magnolia
Mountain Laurel
Olive tree
Pine, White, Ponderosa, Scotch (Scots)
Quince
Redwood
Thuja (Green Giant), A.K.A., arborvitae
Adding Nature's Colors to Your Wreath
You've gathered enough greenery, but what about adding some natural, contrasting color to your homemade holiday wreath? Here are some of the best fall or winter plants to look for:
Bay laurel leaves
Crabapple fruit
Heather
Holly berries
Lavender
Mistletoe berries
Pine cones
Rosehip
Rosemary
Wild persimmons
Winterberry
Winter heath
You may need to plan ahead and dry some of these plants before adorning your wreath with them. Others, like holly berries, will dry out quickly when used on indoor displays.
Using the white berries that mistletoe produces can also have an ecologically helpful outcome for certain trees. Alder, maple, walnut, birch, white fir, conifer, and oak trees often have mistletoe growing in their branches. Mistletoe, while a Christmas and Holiday tradition for many, is a parasitic plant to these trees that draws out water they need to thrive. If you have a tall, sturdy ladder and no fear of heights, trim the mistletoe from your trees to use on your wreath—your tree will thank you.
Want your new tradition to be all-natural right down to the wreath ring? You may also find some types of vines in your yard that can make great material for a homemade wreath ring. Look for grape, ivy, honeysuckle, or wisteria vines. You can quickly find instructions for making a sturdy vine wreath ring on the Web.
Give the Gift of Your Creativity
You may discover that your little corner of the natural world provided you with enough green material to make more than one holiday wreath. If so, consider giving your homemade creations as gifts as well. While creating your own homemade holiday wreath can become a wonderful family tradition, it also can be part of gift-giving for friends and family that you visit during the holidays. Your homemade holiday wreaths also will be fresher and last longer than anything store bought. And you friends and family will know you took the time to create a holiday wreath just for them. Happy Holidays!