With a little planning, you can create a wonderful container garden that's as attractive as it is useful, adding to the beauty of your space or landscape, while also providing a bounty of fresh vegetables and herbs.
Whether you have a small space, are new to gardening, or only want to use a small area of the yard, you'll find there are many great reasons to grow your garden using container pots:
Convenience
Step out your kitchen door to grab a tomato or snip off some basil. Nothing is more convenient than having your garden right at hand.
Sun
Sometimes the sun you need to grow your garden only shines on a patio, deck, or the edge of the driveway. If you live in an apartment or condo, containers may be the only way to access the sunny space available.
Less Water
It takes less water to keep a few pots irrigated than to water a garden on a plot of land. In fact, catching water that would otherwise be wasted can make gardening in pots more efficient and water wise. Keep a watering can by the sink and every time you are running water and waiting for it to warm up, capture that cool water in the can for watering your containers.
Perfect Soil
The soil where you live may be heavy with clay or contain too much dry sand. Growing plants in potting mix makes plants grow faster and remain healthier, giving you the most yield for your effort.
Accessible
Containers are appealing to the young and old alike. Children will find success in growing because of the good soil and easy-to-reach pots – they can also take charge of a pot on their own. Likewise, containers are appealing to older gardeners or physically challenged gardeners because less bending is required and the project is a manageable size. You may only need to help with the initial set up because of the weight of large pots and bags of soil, but once a container garden is growing, most anyone can manage it.
Container Types
Terracotta
Terracotta clay pots have been used for generations. They can be affordable in smaller sizes and often come with embellished designs. They will break if dropped or exposed to freezing temperatures. Avoid using them in hot climates as clay dries out quickly and absorbs heat more readily than other materials.
Glazed Ceramic
Offering a wide range of colors, glazed ceramic containers are durable and come in an array of styles. They can be fairly winter hardy but can also be expensive and heavy to move.
Plastic
Affordable, durable, and lightweight, with so many styles and colors to choose from, plastic containers a great choice for cold or warm weather areas.
Wooden
Rustic and natural, wooden containers and half barrels make great containers. They will last several years but as they age they become more difficult to move.
Concrete
Of all the choices, concrete pots are the most durable. They are also the heaviest so plan on placing them in a permanent spot. They can also be quite costly.
Other Containers
Why not think outside the container? Try using unusual containers you already have to add a distinct or charming touch to your garden area: little red wagons, old wooden tool boxes, wash tubs, colorful rubber rain boots, desk or dresser drawers… anything you can think of can become a container.
Watering Your Garden
Flowers and vegetables in pots need lots of water. In general, plants need the equivalent of 1 inch of rain each week to moisten the soil to the desired depth, but vegetables in containers usually need more because pots dry out more quickly. Vegetables, which are at least 90% water, will not grow well unless they are watered regularly. Herbs are generally more drought tolerant, except for the large leafy varieties like basil, which can wilt quickly.
The Tools You Need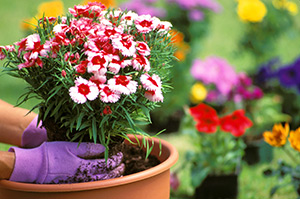 Ready-to-use drip systems that include emitters for several pots are readily available at nurseries and garden departments in home stores. Water isn't wasted with a drip system and the soil stays properly moist. If you prefer watering with a can or a hose, try a watering wand with a breaker nozzle. The wand allows you to reach pots with ease. The breaker nozzle looks like a shower head and turns a hard stream of water into a gentle cascade.
Other Gardening Aids
Mulching the top of the pot prevents evaporation from soil. Use fine bark, or in humid climates, consider white pebbles that dry out quickly. Water drains through potting soil quickly, so provide a saucer or other reservoir underneath every container to catch the drainage. Use a potting soil that contains a wetting agent to be sure that the soil stays uniformly moist.
Additional Gardening Resources