Do you have a funky smell or odor in your kitchen? You may think it's the sink, but your dishwasher might be the culprit. Are your dishes coming out of the dishwasher a tad grimy? Is the dishwasher not draining properly? Maybe you have done all you can to remedy it, but nothing has worked. There is one important step that is easily and often overlooked: cleaning your dishwasher filter.
What is a Dishwasher Filter?
A dishwasher filter prevents small, soggy bits of food from clinging to your newly cleaned dishes, and it keeps the drain from clogging. And yes, your dishwasher does have a filter, which means it needs routine maintenance checks, much like a filter in your car or the home furnace. The dishwasher filter plays a huge role in keeping your dishwasher running efficiently for years to come; thus, regular cleaning is a must.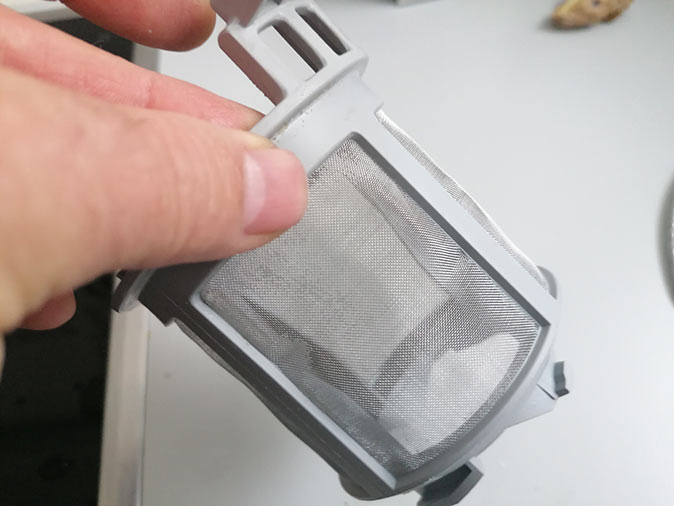 Is My Dishwasher Filter Manual or Self-Cleaning?
Knowing how old your dishwasher is will help you determine whether you should clean the filter manually or not. The good news is there are only two types of dishwasher filters with which to be concerned: older models (pre-2010) which are self-cleaning, and newer models (2010 and newer) which require manual cleaning.
You may be hoping your dishwasher is of the older variety to avoid manual labor. However, the older model's self-cleaning option is not as desirable a feature as you might expect. The self-cleaning process makes older dishwashers noisy and loud, as many contain a grinding mechanism that minces up food bits. If your dishwasher is pretty silent, it's safe to say you have a newer model. (If you are uncertain about your dishwasher's age, consult your owner's manual.)
Although newer models do require manual cleaning, the process is not that time-consuming, or difficult. Follow these five steps to clean your dishwasher filter.
1. Finding and Accessing My Dishwasher Filter
Your dishwasher's filter is located on your dishwasher's tub floor. You'll find it around the base of the bottom spray arm or in one of the back corners of the dishwasher tub. To access your dishwasher filter, pull out the lower rack to expose the bottom. Once you found its location, look carefully at the filter.
The dishwasher filter can look one of two ways: a circular plastic grid or series of holes that cover the filter (older, self-cleaning models), or a cylindrical-shaped tube that looks like modern water pitcher filters (newer, manual cleaning filters). Some newer models also have a secondary, lower flat filter found below the cylindrical one. Both will need to be removed for cleaning.

2. How to Remove the Filter
Some filters will require tools to unscrew them, but most simply twist off. Use a flashlight to look closely at the top of the filter in your dishwasher as many will have arrows to indicate the direction to turn it for removal. You can unlock the filter by giving it a quarter-turn clockwise (or counterclockwise depending on your model) and gently pulling it out. If your dishwasher has a lower filter, it has a hole in the middle through which the cylindrical one is installed. Typically, this lower filter is not locked in place. Simply lift the lower filter and pull it forward to remove it.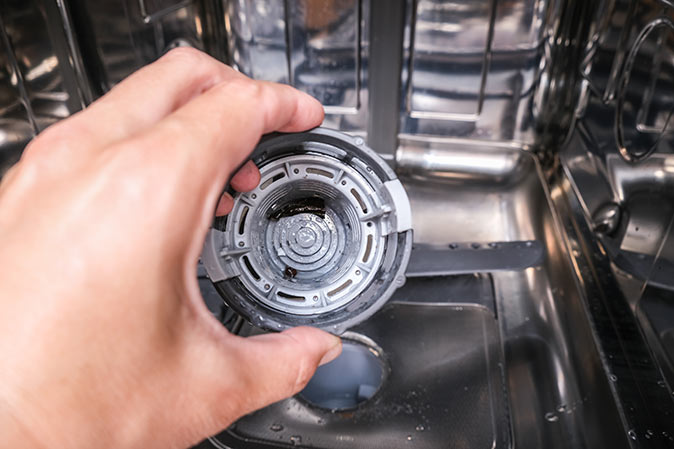 3. How to Clean a Dishwasher Filter
To clean your dishwasher filter (or filters if you have a lower filter), mix warm water and a mild detergent in your sink or a bucket and soak the filter for a few minutes. This helps break down any grease buildup or stuck-on particles. Next, grab a soft brush, toothbrush, or sponge and gently scrub the filter inside and out to remove any stubborn bits of food.
Thoroughly rinse the filter with warm water, until the water coming through the filter is clear. Otherwise, soak and scrub again until the water runs clear. Then, let the filter dry in a dish rack or on a hand towel.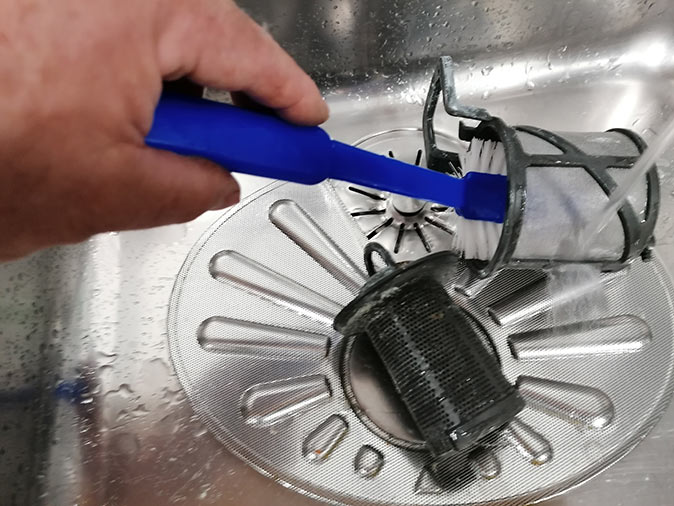 4. How to Clean the Bottom of a Dishwasher
While the filter dries, look at the area where the filter nests (you may need a flashlight again to properly inspect the area). Clear away any food particles and spot clean with a damp cloth. There's nothing better than a fresh, clean filter going back into a clean home.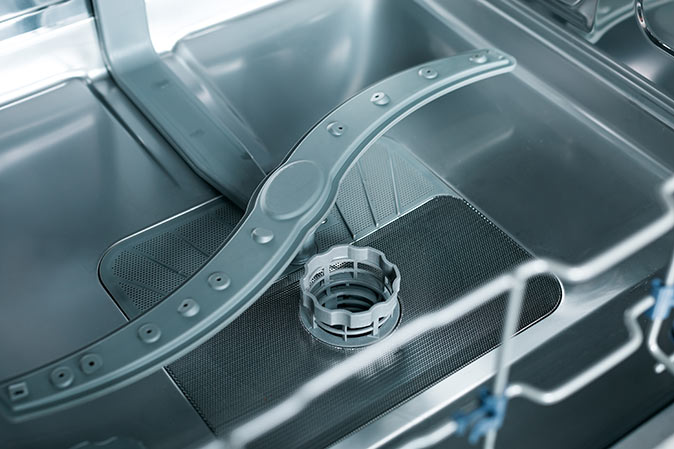 5. How to Put the Filter Back into Place
Once everything is clean and dry, put the filter back together in the opposite way you took it out. If you have two filters slide the lower filter in first, then slide the upper filter back in and twist it to lock. A loose-fitting filter could potentially damage your dishwasher, filter, or dishes. Ensure the filter is securely in place. And, voila! Just like that, your filter and dishwasher are like new.
Pro Tip: In between dishwasher filter cleanings, or when it's difficult to find time to clean your dishwasher filter on a regular basis, some dishwasher manufacturers recommend running a wash cycle periodically using white vinegar as a DIY dishwasher cleaner. Before you clean your dishwasher with vinegar, check your owner's manual first.
First, empty the dishwasher. Then pour one to two cups of distilled white vinegar into a dishwasher safe bowl, place it on the top rack, and run a cycle. This step does not replace regularly cleaning the filter, but it can be helpful in between dishwasher filter cleanings.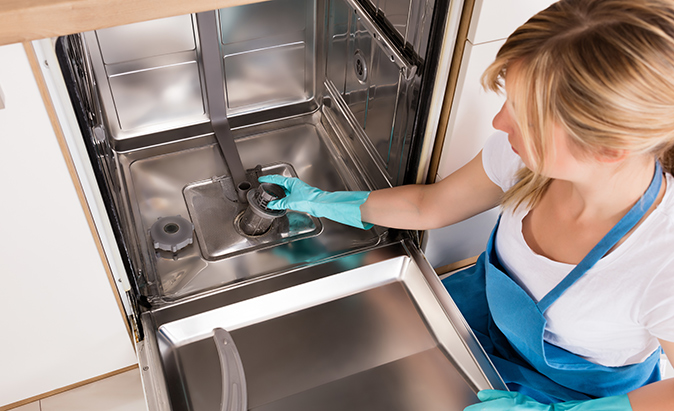 Dishwasher Filter Maintenance
Depending on your usage and pre-load habits, manual filters require cleaning once per month for efficient results. How often you need to clean the dishwasher filter depends on how dirty your dishes are before you load them. One dishwasher manufacturer, for example, lists helpful recommendations for how often to clean the filter based on whether you:
Rinse dishes before you load
Scrape food debris before you load
Load dishes without any rinsing or scraping
You can view this handy list of filter cleaning recommendations, but you should also consult your owner's manual for the proper cleaning schedule based on your model.
If you put off cleaning your filter, it is important to pay attention to sights and smells—like dishes that feel gritty, bits of food left behind, the dishwasher not draining, or unpleasant odors. Those can be reminders that it is time to clean your dishwasher filter.
Other tips to ensure your dishwasher runs efficiently and helps the filter remain clean for longer periods include:
Rinsing off food particles before setting them in the dishwasher
Loading the dishwasher correctly
Using the appropriate detergent
To keep your dishwasher running well, it's also important to clean and maintain other parts of your dishwasher.
Home Warranty Protection for Your Dishwasher
Good maintenance can also extend the life of your dishwasher and keep it working well past the average life of this vital home appliance. Even with regular filter cleaning, having home warranty coverage can help if the dishwasher, as well as other appliances and home systems in your home, suddenly break down. Learn more about First American home warranties, the appliances and systems that our home warranty covers, or simply get a quote.