Dishwasher maintenance is one of the most neglected household tasks—which is a big deal since the dishwasher is one of the most used appliances in American homes. For this hard-working machine to continue running at its best, it's important to keep a well-maintained and clean dishwasher.
Why is Dishwasher Maintenance Important?
It may seem silly to learn how to wash dishwashers, since their job is to wash plates, glasses, and other items. But most homeowners have experienced this familiar scenario: you've just run your dishwasher; you open the door, and everything looks good, but as you begin to put away your dishes, you notice they aren't quite as sparkling clean as usual. There may even be some filmy residue left behind on the interior walls and tub. While this could be the result of ineffective detergent, it may be time to give your dishwasher a deep clean. So, how do you clean your dishwasher?
When it comes down to it, cleaning a dishwasher can be a messy job. Food debris, mineral deposits, and even bits of garbage like price stickers can build up in your machine, which can leave dishes less than sanitary. These buildups can also factor into bigger issues, like odors, leaks, and even breakdowns. Ensuring your dishwasher is regularly cleaned and properly maintained can extend its life and may also save you money by avoiding repairs or replacement for as long as possible.
Steps for a Sparkling Clean Dishwasher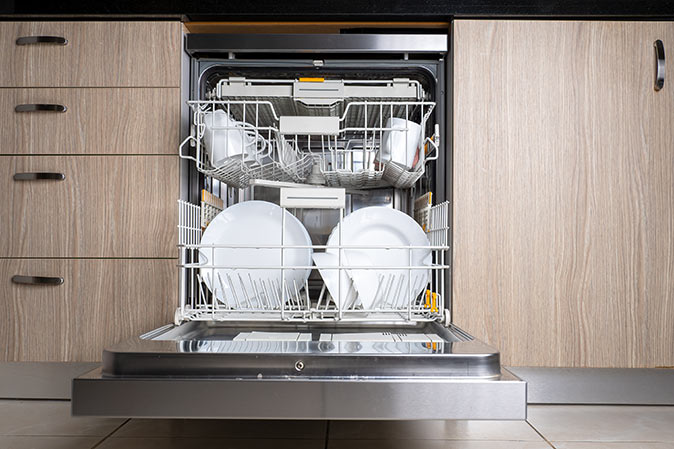 Follow these steps to clean a dishwasher roughly every three months to keep your dishwasher performing at its best:
1. Run a Full Cycle on an Empty Dishwasher
Pour a cup of distilled white vinegar solution into your empty dishwasher before running a cycle. This solution helps to loosen food debris, water, and mineral deposits, and any other residue from inside the tub. You can also place the vinegar solution in a bowl and leave the bowl upright on the top shelf.
2. Clean Dish Racks and Flatware Holder
Remove the dish racks and silverware holders from your machine and clean them in warm soapy water. As you do this, inspect them for any cracks or other signs of wear and tear. If they're rusty or broken, it's time to replace them.
3. Clean Inside the Dishwasher
Use warm, soapy water to clean the dishwasher basin's walls, back, and bottom. You may want to invest in a long-handled brush to easily reach the back walls and tight corners. Next, scrub the detergent dispenser - this is a prime spot for buildup to accumulate. An old toothbrush or scrub brush can help remove any caked-on detergent or water deposits.
4. Clean the Arms and Nozzles
Your dishwasher's spinning arms are designed with holes that spray water during the washing cycle. These holes can fill up with hard water deposits or become clogged with food and debris. Clearing these holes is an essential part of cleaning the dishwasher. If your dishes aren't thoroughly cleaned, a clogged sprayer arm may be the culprit. Use a pipe cleaner or small brush to clear these openings and test the arms to make sure they spin correctly.
Some dishwashers also have a spray nozzle at the bottom, which looks similar to the spinning arm. Mineral deposits can also form in this nozzle, so use a toothpick or pipe cleaner to clear any buildup. You can also consult your dishwasher manual for cleaning instructions.
5. Clean the Filter
Not all dishwashers have filters, but if yours does, it will be located at the bottom of the dishwasher. You can remove this filter to clean, rinse, and allow it to dry before replacing. You may need to consult your manual for this step, or you can read our in-depth Dishwasher Filter Guide to learn how to clean dishwasher filters.
6. Clean the Drain
Your dishwasher's drain - also located at the bottom of the tub - is another area susceptible to clogging. It's important to clean the drain regularly to ensure dishes are clean and to avoid leaks and backups. Visually inspect the drain area, removing any visible debris, and use a wet sponge to clean the area and remove mineral deposits.
7. Scrub the Door
The edges of the dishwasher door create a haven for food debris. As you load the dishwasher, food or drink remnants often fall or splash around these edges. Since they don't get cleaned during the dishwasher cycle, these parts tend to accumulate gunk over time. Use an old toothbrush to loosen up stubborn debris, and then use a warm soapy sponge to thoroughly clean the dishwasher door.
8. Clean the Door Gasket
A dishwasher gasket or door seal is the rubber or silicone strip running along the inside perimeter of your dishwasher door. It creates a tight seal between the door and the tub to prevent water from leaking during the cycle. It also helps to maintain the proper temperature for sanitation. It's important to keep this piece clean by regularly wiping it down with a damp cloth. If you notice the gasket doesn't seem to be sealing properly, or appears worn out, it's time to replace it.
9. Run the Dishwasher Again
Now that you've loosened up any remaining residue and wiped down the surfaces inside your dishwasher, run it again to ensure all those food particles and mineral deposits are washed away. Repeat these steps every few months to keep your dishwasher working its best.
Other Maintenance Tips for a Clean Dishwasher
If your dishwasher has a "cancel" or "drain" button, press it every time a cycle completes. This will clear all the water from the drain hose and prevent smelly bacteria from growing. It will also help prevent mineral deposits from clogging the drain.

Run your dishwasher regularly. Doing so helps prevent buildup in the spray nozzle and arms. It may also mean you don't need to clean your dishwasher as often.

Spare your budget from surprise expenses with a First American home warranty that protects covered appliances, such as the dishwasher. Get a free quote today to see how we can help.
Learn more about Dishwasher Home Warranty Coverage.