The dishwasher is one of the hardest working appliances in the kitchen. And as one of your essential home appliances, you will likely notice right away when your dishwasher starts acting up. One common problem is when the dishwasher won't drain.
If your dishwasher won't drain completely or is taking longer than usual, it's time to troubleshoot.
Several issues can disrupt a dishwasher's normal flow and function, but you may not have to call the plumber yet. Sometimes the problem is easy to fix. Here are tips on how to unclog a dishwasher.
1. Run Your Dishwasher Again
If you've noticed that your dishwasher isn't draining, don't panic, it could be a one-time thing. Maybe the dishwasher inadvertently shut off, disrupting the cycle. So, if you see water pooled at the bottom, it could be that your dishwasher didn't complete its drain cycle.
Rerunning the dishwasher usually fixes the issue. You also can check whether your appliance has a "cancel" or "drain" button—most dishwashers now have one. If you're not sure, check your user manual or search online for the dishwasher's make and model for information on this. If the manual has a troubleshooting section, be sure to review that section as well.
2. Clean the Dishwasher Filter
You may not realize that your dishwasher has a filter, but most do, and it can quickly get clogged with food debris, water deposits, and bits of garbage. Regularly cleaning the filter, which is located at the bottom of the dishwasher, can help prevent clogs. Consult your manual and our dishwasher filter guide for helpful tips, especially if you are removing the filter for the first time.
If there is standing water in your dishwasher, use a wet vac to siphon any excess water before removing the filter. Once you have removed the filter, simply hand wash it in warm, soapy water. An old toothbrush can also help remove any hard-to-clean spots. Rinse thoroughly under warm running water. Do the same if your dishwasher has a secondary filter. Let both filters air dry before placing them back in the dishwasher.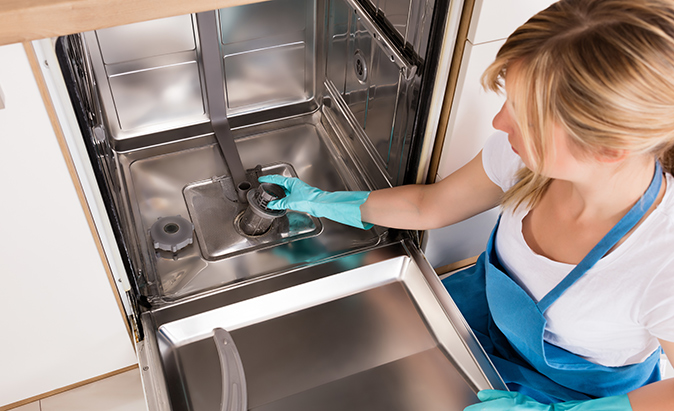 3. Clean Inside and Around the Drain
While you have the filter removed, you should also clean the area around the mouth of the drain, as well as inside the drain, where the filter is housed. Food debris and gunk can build up quickly both around and inside the drain, particularly if the filter has not been cleaned in some time. Use a flashlight to get a better visual inside the drain and then simply use a wet sponge to wipe and clean up debris. Run the dishwasher again.
Not the DIY type? You can also hire a pro to service your dishwasher's filter and drain.
4. Check the Dishwasher Air Gap and Drain Hose
If you have a dishwasher that's not draining and the previous steps have not fixed the problem, you may have a clogged dishwasher due to the drain hose.
Your dishwasher drain hose can be set up in one of two ways: through an air gap or with a high loop. An air gap is a device that stops dirty drain water from flowing back into your dishwasher.
In some areas, an air gap is not required. In this case, your dishwasher drain must have a high loop that suspends the drain hose from the top of the cabinet to use gravity to prevent backflow. The hose may be hanging down or it may be tangled, causing a blockage.
If the drain hose is not tangled, check to see if it is clogged. You can remove the rubber hose that runs from the dishwasher (or air gap) to the sink drain or garbage disposal, and use a dowel to check for and clear any debris. Before you begin, make sure to turn off the power to the dishwasher.
If you see no issues with the dishwasher's drain hose, next check your disposal. The drain hose is usually connected to the garbage disposal that may be where the blockage is located.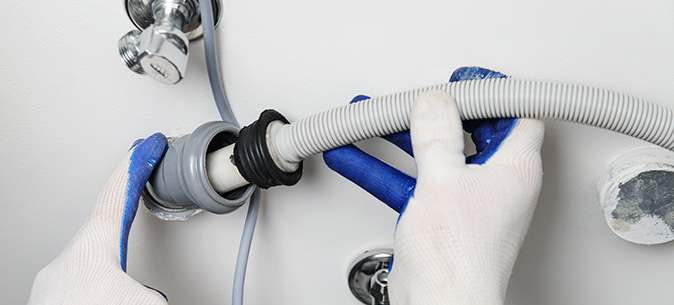 5. Run the Garbage Disposal
If your dishwasher won't drain, the next prossible culprit may be the garbage disposal. Most dishwashers are connected via the drain hose, which runs out to the garbage disposal drain. If your garbage disposal unit contains food sludge, unground food, or foreign objects, neither appliance may drain adequately.
Try running hot water down your sink drain and run your garbage disposal again. This could be what helps get your dishwasher draining again.
If you notice that your disposal is blocked, and these solutions don't work, it may be time to call your plumber.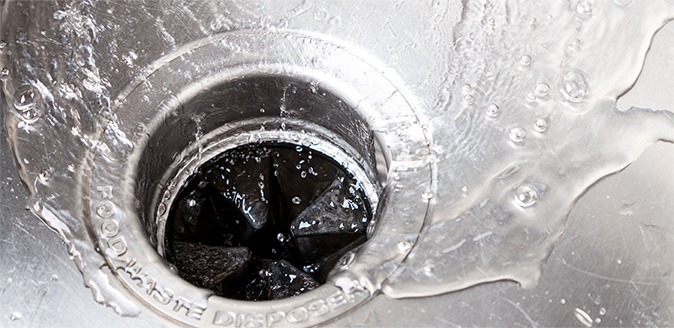 Here are more helpful tips on safely maintaining a garbage disposal and cleaning your dishwasher.
Reminder: Load the Dishwasher Correctly
Loading a dishwasher may seem simple enough, but there is a right and wrong way to do it, with some models being more sensitive to how or where you place dishes and utensils on the dish racks. Check your dishwasher manual for the correct loading techniques. Sometimes, when the water isn't draining from a dishwasher, it just might be oversized dishes or utensils that caused your dishwasher to interrupt mid-cycle and water to pool at the bottom.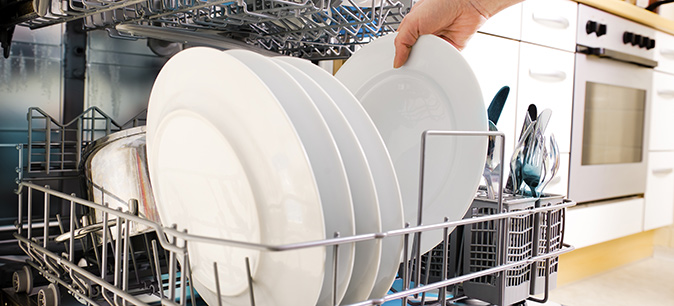 Often, trying one of these five steps may be the solution for fixing a dishwasher that won't drain. However, if your dishwasher drain problem lies in a faulty part, such as a broken pump, you may need to call a professional to replace your appliance altogether.
Help When Your Dishwasher Breaks
A home warranty from First American can protect your budget when appliances like your dishwasher, or other crucial appliances and home systems break. Learn more about what a home warranty covers or get a home warranty quote.
Maintenance for the Dishwasher and Other Appliances
For tips on how to create a maintenance list for your dishwasher and the other major appliances in your home, check out this article.
---
The contents of this article are provided for general guidance only. First American Home Warranty does not assume any responsibility for losses or damages as a result of using this information.