Moms love a handmade Mother's Day gift, especially if it's made of chocolate. Here are three decadent yet simple gifts she'll enjoy that say "Mom, I love you!"
Chocolate Bark with Edible Flower Petals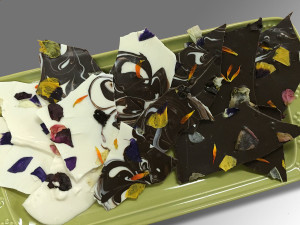 Ingredients
8 ounces high quality white chocolate
8 ounces high quality bittersweet chocolate, 60-75% cacao
Edible flower petals, torn into small pieces
1 cup chopped dried fruit, such as apricots, golden raisins, or cranberries (optional)
Directions
In a double boiler or a bowl set over a pan, melt the 2 chocolates in separate heatproof bowls set over simmering water. Stir regularly until smooth and completely melted. Do not overheat the chocolate. If the bottom of the bowl is too hot to touch, then the water is too hot. While the chocolate is melting, tear the flower petals into smallish pieces and chop the dried fruit into ¼-inch pieces.
Line a baking sheet parchment paper or foil. Pour the melted white chocolate over ½ of the paper and spread to form a rectangle. Pour the dark chocolate on the other half of the sheet and spread to form a rectangle, touching in the middle with the white chocolate. Using a knife, swirl through the middle of the chocolates where they meet to create a nice marble effect. Swirl in an area about 2-3 inches each side of the center where the chocolates meet. This way you will have pieces of white chocolate, dark chocolate and a swirled mix of both.
Sprinkle the petals and fruits over the chocolate, lightly pressing in to make sure the petals adhere. Place in the refrigerator for 30 minutes. Remove from the refrigerator and let come to room temperature. Break the bark in large pieces and serve at room temperature.
---
Dark Chocolate Truffles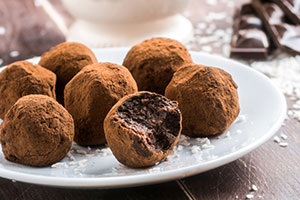 Ingredients
10 ounces bittersweet chocolate, chopped fine
1 tablespoon unsalted butter
1/2 cup heavy cream
1 tablespoon light corn syrup
1/4 cup Grand Marnier or orange flavored liqueur
½ - 1 cup cocoa powder
Directions
Place the chocolate and butter in a medium size glass mixing bowl. Set aside. Heat the cream and corn syrup in a small saucepan over medium heat until simmering. Remove from the heat and pour the mixture over the chocolate and butter; let stand for 2 minutes. Using a heavy whisk, stir gently and slowly in a circular motion until all the chocolate is melted and mixture is homogenized into a smooth and creamy texture. Stir in the Grand Marnier. Pour the mixture into an 8 by 8-inch glass baking dish and place in the refrigerator for 2 hours.
Using a melon baller or teaspoon, scoop out the chocolate and lightly drop into the cocoa powder, a few at a time. If using a spoon to scoop the chocolate, drop the scoops of chocolate into your hand and lightly roll with both hands until ball-shaped and then drop into the cocoa powder. Gently roll them around in the powder until thoroughly coated and remove to a sheet pan lined with parchment paper and return to the refrigerator for 30 minutes.
When ready to serve, place each truffle into a paper candy cup and package in a nice box for gift-giving (keep refrigerated until serving) or place on a pretty serving plate or small cake stand. Truffles are best consumed at room temperature.
Truffle Variations
Plain chocolate with various coatings: Omit the Grand Marnier. Roll the truffles in finely chopped nuts, coconut, or chocolate jimmies.
Other liqueur flavors: Change the Grand Marnier to Irish Cream, Brandy, Amaretto, or Raspberry Liqueur, Roll in cocoa powder or ground chocolate cookie wafers.
Kahlua Espresso Truffles: Stir in½ teaspoon of instant espresso powder to the cream and swap the Grand Marnier for Kahlua. Roll in a mixture of ½ cup powdered sugar plus ½ cup cocoa powder and ½ teaspoon instant espresso mixed together.
---
Mother's Day Chocolate Bar Wrapper Printable
For a really simple and easy gift, just purchase a bar of chocolate in your mom's favorite flavor and wrap it in this Mother's Day chocolate wrapper. Simply save the image to your local drive and print it out using the color setting, trim the edges, wrap it around a foil-covered chocolate bar, and secure the back with clear tape. Voila!