Ditch the worn out plastic pumpkin buckets and make your own fun and spooky trick-or-treat bags this Halloween. With just a little bit of paint, glitter, and panache, you'll have some snazzy new treat bags to hold lots of loot and be the envy of your neighborhood.
Spooky Tote Bag (or Pillowcase)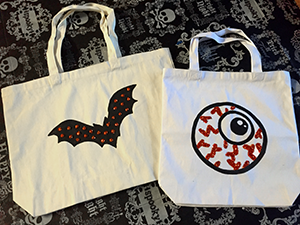 Materials
Plain canvas tote bag or light colored, plain pillowcase
Fabric paint
Paint brush
Scrap paper
Pencil
Crafts knife and cutting mat
Glue and glitter (optional)
Pattern
Instructions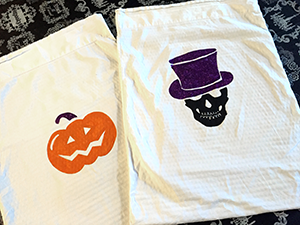 Download and print out the Halloween designs. Choose a pattern and using scissors, cut pattern into pieces for transferring. Use cutting board and craft knife for smaller areas.
Lay pieces on fabric and trace outlines with pencil. Insert scrap paper into tote underneath patterned area. Following drawn pattern, paint the fabric. Use a little bit of water added to the paint if it is too thick. Let dry. If using glitter, mix glue with water 2:1. Paint glue over area to be glittered. (If area is large and might dry too quickly, paint in sections.) Sprinkle glitter over wet glue. Shake off excess into pan or tray and using a funnel, return excess glitter to container. Let dry.
Spiderweb Tote (or pillow case)
Draw a large spiderweb on the tote or pillowcase with black Sharpie or black puffy fabric paint. When it's dry, glue on some plastic spiders. Voilà!
Mummy Bucket
Materials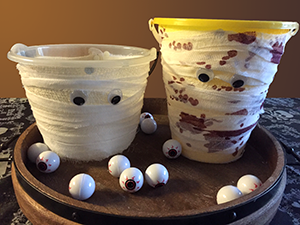 Bucket Gauze or cheesecloth Wiggle eyes
Tacky Glue or hot glue
Clear tape
Scissors
Instructions
Cut strips of gauze. Attach first piece to back of bucket with clear tap or glue. Wrap around the bucket as desired to create a mummy, adding daps of glue as you wind the gauze to hold it in place. Leave a small space open for eyes. Once wrapped, attach wiggly eyes with glue.