Are you puzzled by your underperforming clothes dryer? Is it simply a case of the dryer not drying your clothes fully? Or is the dryer heating but not drying anything at all? Either way, your dryer has one job: to consistently dry clothes, bedding, towels, and more.
When you take your items out of the dryer and they're not dry, it can be disappointing. After all, one of life's greatest joys is popping on your favorite T-shirt fresh out of the dryer, or sliding into warm, dry bedsheets on a cold winter night. Luckily, if you're dealing with a clothes dryer not drying, it doesn't necessarily mean a new dryer is on order.
In this guide, you'll find a few tricks you can try anytime you encounter a dryer not drying situation. So, don't let a malfunctioning clothes dryer dry out your enthusiasm. Here are nine causes and solutions for the dryer not drying efficiently, many of which you can do using your DIY prowess!
1. Check and Clean the Lint Filter
When you have the problem of a clothes dryer not drying, the first place to check is the lint filter. The lint filter saves you from consistent dryer vent cleanings by preventing fabric lint, dust, and hair from entering the vent system. The more loads of laundry you do without cleaning this filter, the quicker the vent filter clogs up.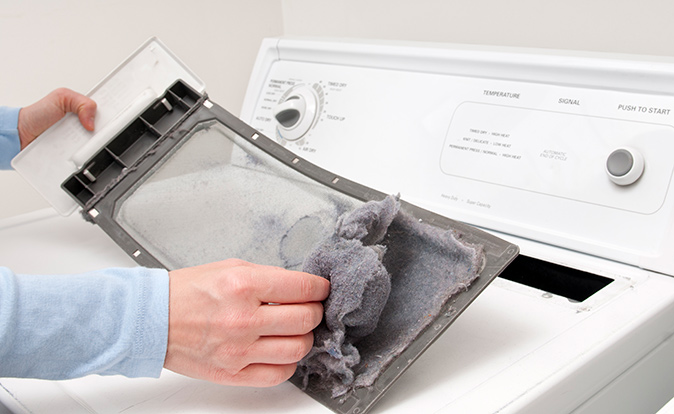 To clean, pull out the lint filter and brush off all the lint into the garbage. You can also deep clean this filter with hot water and dish detergent and a toothbrush to scrub with if necessary. Ensure the filter is completely dry before securing it back into the housing.
While certain clothing sheds more than others (looking at you, socks), even a little buildup will create a logjam of debris that inhibits proper airflow for the dryer. Getting into the habit of cleaning the filter after each use is an easy, regular maintenance routine that can help prevent fires.
Pro tip: You have heard this before, but it really is important that you clean out the dryer's lint filter after every use. According to the U.S. Fire Administration, failure to clean the dryer's filter is the leading cause of clothes dryer fires.
2. Clean the Lint Filter Housing
Once you have cleaned the lint filter, the inner reaches of the vent might need cleaning. With the lint filter pulled out, you might see a buildup of lint at the bottom of the filter housing. This is common, but it can also disrupt airflow and make your dryer not dry.
While most home maintenance stores carry brush kits made for dryer vent cleanings, this cleaning job is not as comprehensive as you may think. A vacuum with a small enough attachment would make the job fast and easy. Slide the small attachment into the crevice and suck up the lint.
Another way to extract the lint is to take a straightened wire coat hanger and create a small bend or loop wide enough to fit within the housing. Carefully push this bent end into the housing and hook some lint by sliding the coat hanger around and up. Repeat until the housing is lint-free.
3. Check the Vent Pipe
It is important to keep the exit vent from your clothes dryer as straight and as short as possible. A dryer exerts a lot more energy trying to force the hot air out with a long vent run or having sharp turns. This extra work leaves you with a dryer not drying your clothes, and when it takes longer to dry your laundry, it also wastes energy.
Overall, shortening the pipe may not come easy. You may have to consider repositioning your dryer in an area that allows for a shorter hose. When you examine your pipes, also check for any pinches, kinks, or sags in the line and straighten those out if necessary.
4. Tape all Joints in the Dryer Vent
Stopping all air leaks within your vent pipe will really help prevent lint buildup. Wherever there is tape has a chance of becoming an air leak and any loose lint that sneaks past the filters could build up in these areas causing airflow restriction. Ensure all interior and exterior joints are well taped and sealed to prevent air leaks.
Remove any old floppy tape and apply new heat-resistance duct tape. Start by taping the seam and continuously lap over the edges with each rotation. No need to go too crazy with the tape. Only a few laps of tape around the seam should hold and last a long time.
Warning: There are differences between duct tape and heat-resistant aluminum duct tape. Duct tape can melt when exposed to heat. This causes the tape to peel back and become a magnet for lint. However, the heat-resistant aluminum tape can handle the temperatures necessary to do the job.
5. Inspect Where the Dryer Vent Exits Your House
If all is good with the piping, inspect the exterior exit vent pipe. Standing outside there should be a steady volume of warm air passing through the vent exit when the clothes dryer is running. If it feels weak, you should check around the exit vent.
Often, people will have mesh screening stretched across it to prevent critters from entering. If you have this mesh screen, you'll want to remove it as this can catch lint and obstruct the airflow. If you have a louvered door that opens only when the dryer's running, that is the less intrusive solution to the mesh screen. However, if the airflow still feels weak even with the louvered door, then it's time to consider a dryer vent cleaning.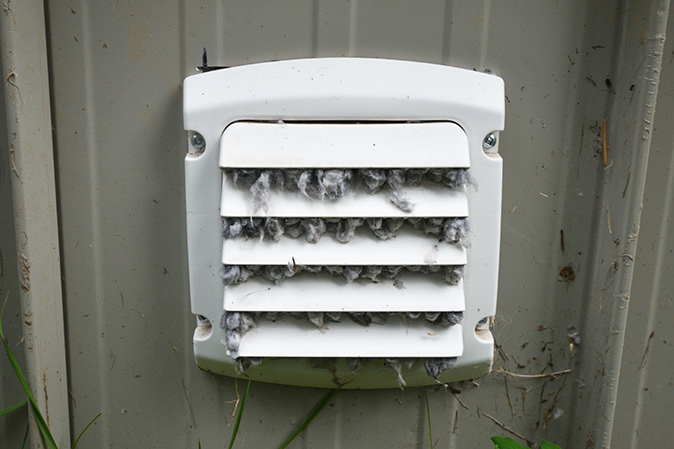 6. How to Clean a Dryer Vent
If airflow from the pipe is weak, lint buildup could be blocking it. You can clean the vent pipe with a dryer vent cleaning kit (sold at home maintenance stores), cleaning brush, vacuum, and screwdriver. Begin the cleaning by moving your clothes dryer a couple of feet from the wall to give you ample room to work. You may need a helper to move the dryer.
After you have moved the dryer out, you will want to detach any clamps with a screwdriver and remove the tape from the wall connection to the dryer. If you have a rigid solid pipe, this step may have to come first before you pull out the dryer. Set the clamps aside and start cleaning the interior dryer vent.
Using any cleaning brush, including one from a dryer vent cleaning kit, gently brush all debris and lint from the back of your dryer. Grab your vacuum with a hose attachment and clean the inside of the back vent. Get into the crevices and turns, including the hard-to-reach spots in the vent, and collect all the lint.
Next, you will want to clean the exterior dryer vent. Head outside and take off the vent cover. Clean out the pipe with your cleaning brush and vacuum hose again until it is lint and debris free. Once the cleaning is complete, secure the cover back in place.
Don't forget to connect the interior pipes and move back the dryer in place, ideally with a shorter dryer vent pipe length.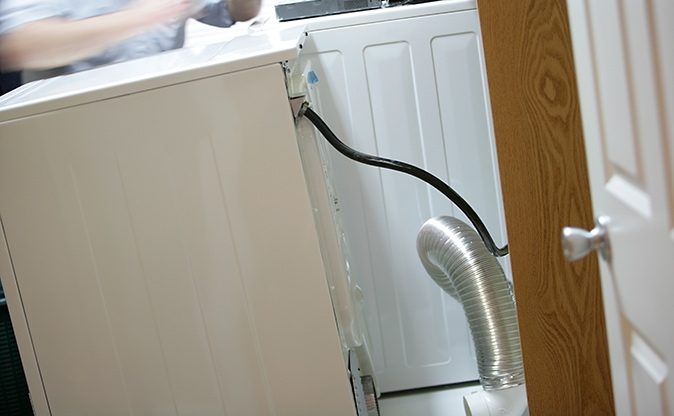 7. Examine Your Dryer Settings and Sensors
If all the major venting restrictions are confirmed clean, then you might need to check the dryer's settings next. Your dryer preset options make laundry day quick and easy, but if your clothes are not drying, the first thing to check is whether someone has changed the settings. Check your dryer settings and make sure you are not in a lower setting, which can increase drying time.
Another reason for a dryer not drying could be a dirty moisture sensor. Anti-static dryer sheets can coat the metal sensor strips with a waxy substance. The sensor becomes restricted with this buildup and cannot properly detect how wet your clothes are. The sensors usually are two little metallic strips on the drum side and can be cleaned with a soft rag and a little rubbing alcohol.
8. Use These Tips When the Problem is a Dryer Not Spinning
Another common issue you may run into is your dryer not spinning. If you open the dryer door after a cycle where you have still-wet clothes, your dryer drum may not be turning properly. These troubleshooting tips cover some of the possible reasons why your dryer is not spinning including checking for a faulty door switch, obstructed drum, damaged dryer belt, or more.
9. Check the Power Source
The dryer's power can be either gas- or electric-powered, and issues with power for either could be to blame for the dryer not drying.
Gas-Powered Dryers
If you have a gas-powered dryer, the first step is to ensure the gas is fully on. Without gas coming to the dryer, it will not dry the load.
Make sure the valve knob is parallel with the gas line to allow gas into the clothes dryer. Scope out the gas line for any kinks, which would stop the gas flow and prevent your dryer from drying. If kinks do exist in your line, check them for leaks as well. A good way to test a leaky hose is to apply soapy water to the entire hose, including the connecting points, using a spray bottle. If you see bubbles or smell rotten eggs, you have a leak.
Warning: When you suspect a gas leak, immediately leave the house, shut off the gas at your home's main valve and call your utility provider.
Electric-Powered Dryers
If you have an electric dryer, it should be plugged into a 240-volt electric outlet with two circuit breakers installed to control its power. If one of these breakers flips to the Off position, the clothes dryer only gets partial voltage, so the dryer will spin but not facilitate heat.
Check the circuit panel to see if there's a tripped breaker. Turn both breakers for your dryer to Off, then back to the On position. Run your dryer for a few minutes and see if there is heat. If there is no heat, a professional appliance technician may need to inspect the issue.
Home Warranty Protection Can Help
Protect all your home's appliances, including the dryer, from unexpected breakdowns with a First American home warranty. You can rest easy knowing the appliances you rely on in your home are covered. Learn more about home warranties, what appliances and systems our home warranties can cover, or simply get a quote.