Laundry is an essential day-to-day chore, and your dryer likely sees a lot of use. It's one of the most commonplace home appliances, yet it's easy to overlook maintenance for this essential device. Unaddressed issues, such as a clogged dryer vent or lint filter, can cause a host of problems, some as serious as house fires. Bottom line: It's important to spot and address malfunctions with your dryer.
A common issue is the dryer not spinning. You'll know instantly if your dryer stopped spinning when you open the door after a cycle and discover a load of still-wet clothes. There are many possible reasons why your dryer won't spin, but don't panic. It could be a small issue that you can try to fix yourself before contacting a professional.
Safety note: Be sure to unplug any failing appliance before you attempt to repair it.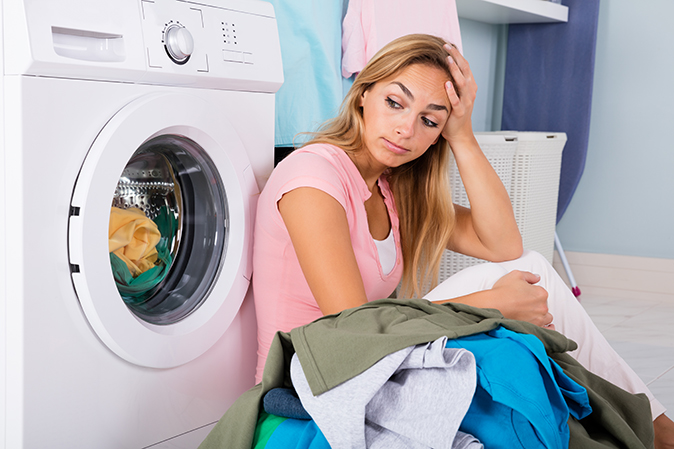 Reasons Why Your Dryer Won't Spin
What would cause a dryer not to spin? Here are the most common reasons why your dryer won't tumble:
Electrical
If your dryer won't turn on at all, check whether the dryer has become unplugged and make sure that the outlet is functioning. Dryers require a 240-volt electrical outlet and sometimes these receptacles can fail. If you suspect that could be the issue, check the voltage using a simple electrical current detector.
Faulty Door Switch
Dryers come equipped with a door switch or sensor. The door switch is a safety feature that prevents the dryer from running when the door is open. So, if the dryer won't spin when the door is closed, it could be an indication the door switch or sensor has failed. A technician can determine if that is the problem and replace the door switch.
Obstructed Drum
If your dryer is on but not spinning and you can't move the drum manually, a small object might be the reason the dryer stopped spinning. Inspect the inside of your dryer closely because when a dryer won't spin, the culprit may be loose change, a button, or a house key stuck between the drum and the dryer housing.
Damaged Dryer Belt
The dryer belt is what rotates the drum. Wear and tear can fray or loosen the rubber dryer belt over time, causing it to snap. To check, manually spin the drum from inside the dryer. If the drum does not move at all, your dryer belt is most likely broken or loose. If you are confident in your DIY skills, you can learn how to change a dryer belt. But if you're not the handy type, check your clothes dryer home warranty coverage and contact First American to be connected with a qualified service provider to diagnose the issue.
Faulty Thermal Fuse
All dryers have a thermal fuse, and the location may differ based on model type. The thermal fuse is a safety feature that monitors the dryer's temperature to prevent overheating. If the temperature inside the dryer becomes too high, the thermal fuse trips, shutting off power to the dryer. This may be the reason your dryer doesn't turn on.
Dryer Drive Motor Failure
A drive motor turns the dryer belt, which causes the drum to spin. If your dryer won't spin and tumble, or it runs intermittently, the drive motor could be overheating. Overheating is typically a sign that the motor is failing, which means the dryer will need to be repaired or replaced.
Faulty Drum Support Rollers
Drum rollers provide support for the drum while it spins. Wear and tear can cause these rollers to wobble, and if they are completely worn out, your dryer won't spin. Experienced DIY types can find instructions online for replacing a drum roller, but this is typically a bigger job. If you're new to home maintenance, call in a professional to have the rollers repaired or replaced. Note: Even when only one roller is worn, it is recommended that you replace both rollers.
How to Fix a Dryer That Won't Spin
If your dryer stopped spinning and you suspect the issue is related to one of the reasons described above, these next two steps may help you to get it running again.
1. Reset the Dryer
When your dryer is not spinning, the solution is sometimes the obvious one. Many types of dryers have a reset button. Typically, you can find it on the dryer's control panel. Consult your owner's manual or look online for your model number if you cannot locate the button easily. If you reset your appliance, and still your dryer won't spin, you may need to replace a part.
2. Replace Faulty Parts
Drive belts, drum rollers, and drive motors, along with other small parts, don't always last as long as your dryer. Ask the manufacturer where you can get replacement parts, or if the dryer is still under warranty, whether you can get parts through the warranty company.
Don't forget: if your dryer or its parts break, it may be covered under a First American Home Warranty.
Benefits of Dryer Maintenance
Another way to help prevent problems with your dryer is regular maintenance. It can play an important role in keeping your dryer, and other appliances, from breaking down or wearing out. Simple attention, like clearing lint from the filter after each load and cleaning the dryer vent every six months, helps lengthen the life of your dryer and its parts.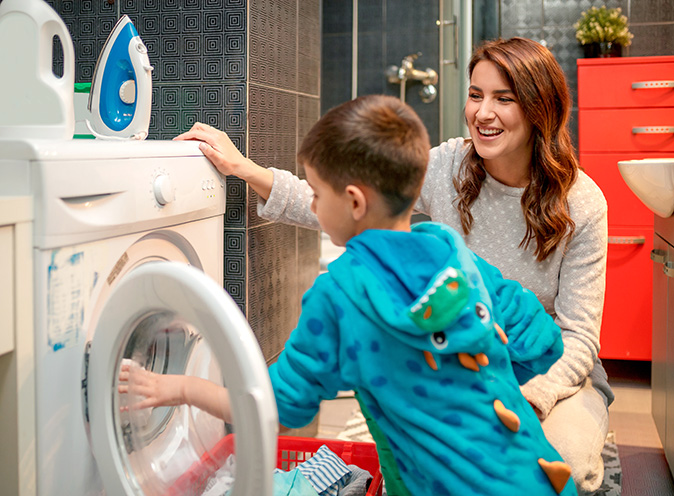 Safety is a key component, too. When you neglect to clean the filter, lint buildup can prevent the dryer from properly exhausting hot air, which can cause it to overheat and even catch fire.
Learn more ways to maintain your washer and dryer and read our nine tips to fix dryer issues. Knowing you have a safe, working dryer gives you one less thing to worry about.
When to Contact a Professional
If you're not confident in your ability to replace broken parts yourself, bring in a professional. Attempting to fix your dryer on your own could cause injury or result in more damage to the dryer. You can avoid spending money on repairs or buying a new dryer by first contacting a trusted pro.
Protect your home's appliances, including the dryer, from unexpected breakdowns with a First American home warranty. Whether your dryer won't spin, or another appliance stops working, you'll know that coverage can protect them and your budget from costly repair and replacement bills. Contact us to learn more or get a quick free home warranty quote.
---
The contents of this article are provided for general guidance only. First American Home Warranty does not assume any responsibility for losses or damages as a result of using this information.