Often, especially as a new or first-time homeowner, your primary focus is on making changes or updates to the inside of your home. You may really want to tackle the backyard, but whether you have constraints due to budget or time, or both, with a just a few easy, inexpensive updates and additions, you can turn your backyard into a place to enjoy these summer days and nights.
Dress Up Your Back Yard in 5 Easy Steps
Get started with your outdoor flooring and work your way up to decorating:
Patio
Depending on the square footage and material type of your patio flooring, a quick cleaning can greatly improve the look. Cleaning should take no more than an hour and you can rent a power washer for under $40 per hour from most local rental centers to wash away the dirt and grime from outdoor flooring materials.
After a light power wash, depending on the material for your patio flooring, you find there are easy, low-cost cleaning options that can improve the look even more:
Flagstone: usually flagstone will only need a quick spot clean with dish detergent and water, then just rinse thoroughly
Concrete: once dry, pick up a concrete repair mix for $10 at hardware store to fix any cracks; then research online for tips to paint or stain the concrete to give it fresh look
Brick: use a vinegar and water solution and a nylon-bristled scrub brush to clean spots; add sand to fill in joints where water washed it away
Pavers: dish detergent works great for spot cleaning, then add polymetric or 30-mesh sand to restore sand in between stones
Shade
Outdoor umbrellas often can be expensive, depending on the size you need; they range in price between $100-$150. Plus their shade coverage is limited. Instead, consider installing a sail. With a quick internet search, you will find they come in multiple colors, and sizes range from 10 by 10 by 10 to 30 feet, or more. And for even the largest coverage sail, your cost will typically be under $100. You just need to be sure you have three spots available to securely anchor the sail, so do your research and measure the area carefully.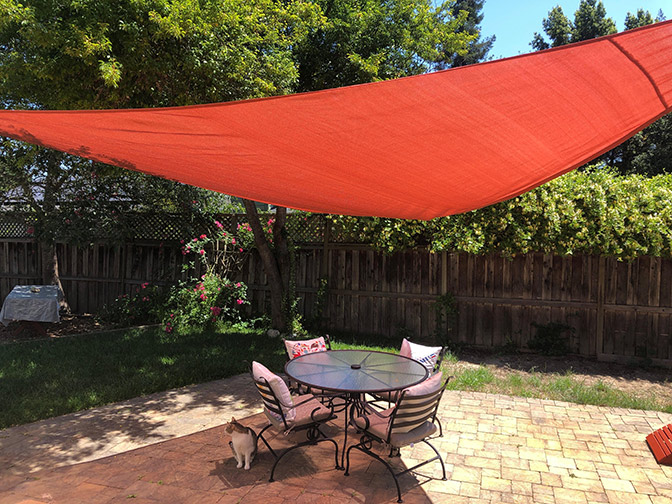 Seating
Don't spend thousands on a new outdoor couch set. A quick search online of "DIY outdoor furniture" gives you ample instructions, videos, and tips for inexpensively building your own comfy outdoor couch. You can pick up reclaimed wood or wooden pallets at a local salvage yard to keep wood costs down. And with a little DIY, some paint, and throw pillows that you get to choose, you'll have a place to hang out. And you'll have the satisfaction of knowing you saved hundreds of dollars or more on the cost of a new set.
Lighting
There is no shortage of DIY lighting ideas online. And you can use many materials you can find at a secondhand store. Mason jars, PVC pipes, wine bottles – let loose your creativity and web search skills to look for DIY ideas that fit your style. Even string lights are inexpensive with 50-foot strands for under $40. Other outdoor lighting ideas include solar lights, old lanterns with candles, and tiki lamps. Even battery operated tea light candles come in packs of 24 for under $10 online. Add lighting in layers and spread the placement of lighting around to give the backyard a glowing, peaceful look.
Decor
You'd be surprised what you can find, often for free, via local websites. You can also visit a local salvage or landscaping yard for ideas. Look for unique finds at a secondhand store to use for decorations that match your personality or hobbies. Love a bit of kitsch? Add sentimental pieces that can withstand the outdoors, or can rust or age without worry or maintenance. Love to bike? Add an old rusty bike as a decoration and surround it with flower pots. Speaking of flower pots – look for old milk jugs to create your own planters. Love boating? Add nautical-themed décor. You get the idea – decorate with the things that reflect you and/or your family's interests and bring you peace and joy. You and your loved ones will spend the most time in your backyard – it should feel uniquely yours.