When you consider all the things to do when moving into a new house, it may seem overwhelming. But luckily, there are many DIY home improvement upgrades you can do that can make a big difference in giving your new home your own personalized stamp. Best of all, these top DIY home projects can typically be done in an afternoon, and they're some of the best home upgrades you can make without spending a fortune.
1. Update Light Switches and Switch Plate Covers
Believe it or not, nothing ages a home more than timeworn light switches and plates. Remember the old beige flip-style switches? That's why updating light switches and plates is one of the most impactful of all home improvement ideas out there, and one of the first you should make when moving into a new home.
For a modern look, go with a rocker-style switch in white: it always looks crisp, clean, and contemporary. Also, consider a dimmer switch in areas like dining rooms where ambient lighting is enjoyable. It's a good idea to replace all the switches and plates in your home, rather than doing a room here and there, to achieve a sense of continuity throughout your living spaces.
Replacing switch plates is as simple as unscrewing the old plate and affixing a new one in its place. To swap out the switches, you may feel more comfortable calling in a professional electrician, although if you're handy, this is a DIY home improvement project you could likely tackle with a little help from YouTube. You'll find many tutorials there that will help you master the process. Just remember to turn off the power at the circuit breaker box before replacing any switches.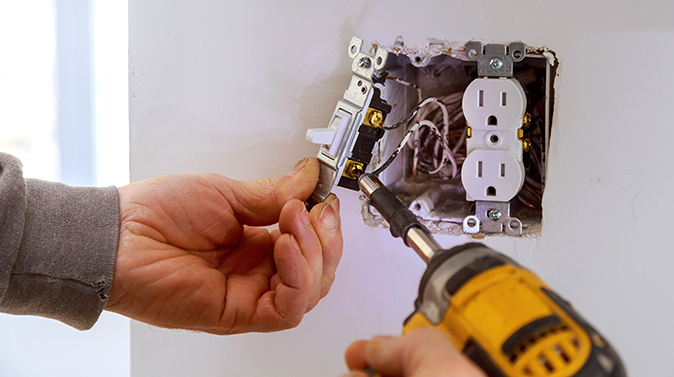 2. Replace or Paint Baseboards
On your list of things to do when moving into a new house, baseboards may not be near the top, if they're on the list at all. But like light switches and plates, they can make a dramatic difference in their own subtle way. In fact, no matter your home's design, replacing outdated baseboards will instantly bring a refreshed touch to a room.
Older baseboard designs were thin and low to the ground, with decorative molding trim that often rounded up to meet the wall. Today's baseboards are higher, thicker, and usually sit at a right angle to the wall (a flat-skirting board) for a simple no-fuss appeal. You may also find sculpted baseboards suitable for traditional or vintage homes.
To remove the old baseboard, carefully cut it where it meets the wall and then gently pull it away using a trim puller tool. Clean up the area, plug any visible nail holes with builders putty, and sand lightly. Installing new baseboards requires careful measuring, especially at corners, but if you're handy, it's a worthwhile DIY home improvement project.
When you're ready to paint your new baseboards, or if you're happy with your existing baseboards but want to spruce them up, you've got many color options to choose from. Select white paint with a satin finish if you want them to pop and brighten a room. This is an especially eye-catching look when paired with dark walls. You can also experiment with a slightly darker colored baseboard in the same hue as your walls, again in a satin finish, for less contrast.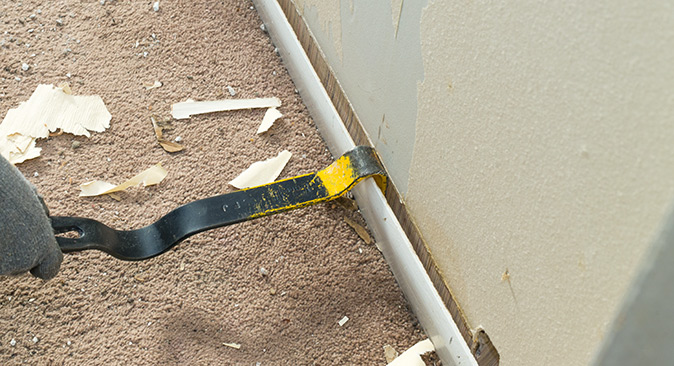 3. Replace Toilet Seats
Some home improvement ideas are more pleasant than others, and this isn't one of the most enjoyable you'll want to tackle, but it's one of the most sanitary. If you type "home improvement stores near me" into your web browser, you'll immediately see a list of places you can visit for toilet seats. Most home improvement stores are packed with them, and you'll find a wide selection to choose from.
Toilet seats come in rounded or elongated styles so be sure you purchase replacements that match your particular toilet. Look for bumpers on the bottom of the seat to help protect the toilet bowl and prevent the seat from shifting during use. You may notice that some toilet seats come with plastic bolts and others with metal ones—metal is more durable, offering added stability and strength. Additional options include heated seats and a soft-close feature that includes controlled hinges that gently and quietly lower the seat.
Once you've found a toilet seat model you like, installation starts with removing the old bolt caps, nuts, and bolts and tossing the old seat. Give your toilet a good cleaning, and then secure the new seat in place using the new hardware that comes with it, according to the manufacturer's directions.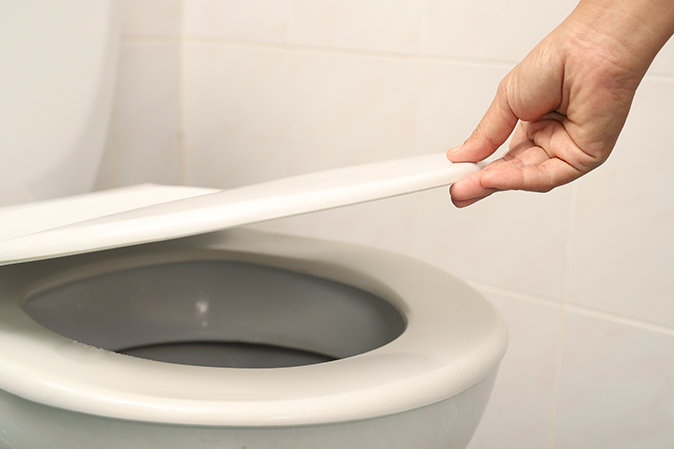 4. Update Window Coverings
Updating your window coverings is one of the most rewarding DIY home projects when first moving into a new home because it can dramatically alter the look of your space. Gone are the stuffy heavy draperies of the past that required professional measuring and hanging. Whether you choose curtains, shades, blinds, or even decorative window film or another alternative covering, you can generally find what you want locally or online, in an infinite range of colors, designs, and textures.
Some of today's most popular window coverings are no-fuss curtains with hanging rods that are easy to install and come in a variety of designs. Look for finials (the decorative portion of the rod on both ends that extends beyond the brackets) that fit with your décor: modern, Tuscany, farmhouse… whatever suits your decorative whims. What makes this whole DIY home improvement project so appealing is that you can tackle it in less than an hour—simply attach the brackets that come with the rod onto your wall, and then slide your new curtains onto the rod.
Besides curtains, shades and blinds are some of the best home upgrades you can make to refresh a home. They come in a variety of colors and thicknesses, can be purchased off the rack in most standard window sizes, and are easily installed using the mounting hardware included. If you have a large sliding glass door, consider privacy sheers. They let light in yet still allow for privacy, and many are adjustable so you can control the amount of light/privacy. Like curtains, privacy sheers are hung on a long horizontal rod and come in white and a range of tints.
Window film is an appealing option when you want privacy but don't want to cover your window. It affixes to glass with water, is completely removable if you change your décor later, and still allows light to come through. You'll find the film in an endless array of interesting designs and colors that can blend in nicely with a room's theme.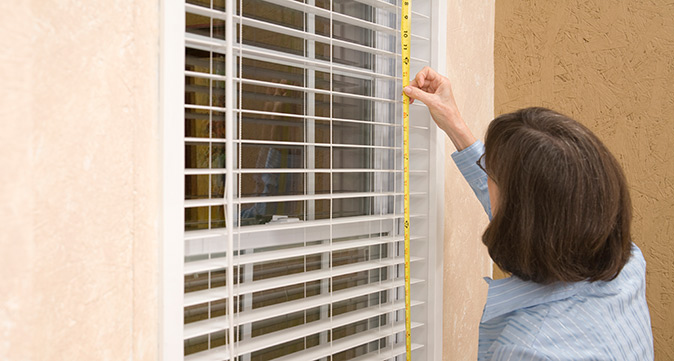 5. Replace Kitchen and Bathroom Hardware
Another popular DIY home improvement project when moving into a new house is swapping out the worn cabinet hardware in your kitchen and bathrooms for something new and unique. Even if your hardware isn't particularly dated, replacing it with a knob, pull, or handle that's more "you" can freshen up a space and give it a whole new look. Switching a brass design to a sleek nickel or pewter gives any room an instant makeover. Or go with small glass knobs for a vintage feel. And while you're at it, replace those drab, dated faucets with more efficient streamlined models—just like hardware, you'd be surprised at the difference it makes.
For best results, when selecting new cabinet hardware, use the same footprint as your old hardware. That is, measure the distance between the two screws on your existing hardware and make sure your new hardware is the same distance. That way, you don't have to patch the old holes and then measure and drill new holes. It makes the job go faster, is a lot less work overall, and the effects can be equally amazing.
Looking for more home improvement ideas? Check out these DIY home projects you can do in a day or less—each one is a great budget-friendly way to upgrade and update your home.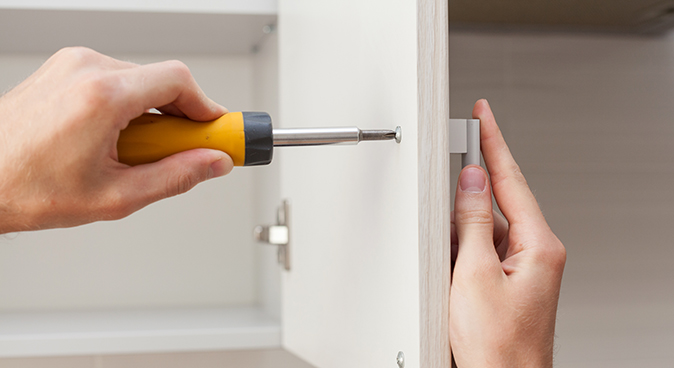 Consider Home Warranty Protection
Moving into a new home certainly keeps you busy as you redecorate and refresh rooms to suit your taste. But did you know one of the smartest things to do when moving into a new house is to make sure you have good home warranty protection? Coverage from First American provides the peace of mind of knowing that your budget is protected when covered home appliances and systems unexpectedly break down. Read more about our home warranty plans and available coverage and get a personalized home warranty quote.