If you're ready to spruce up your home but don't want to give up precious weekend time, we've got your perfect DIY home improvement list. Our top DIY home projects are quick, easy, and best of all, they shouldn't take more than an afternoon to finish—and some only take a couple of hours. They're also easy on your budget, don't require complicated tools, and can revitalize and refresh your home with a whole new ambiance.
1. Swap Out Light Fixtures and Bulbs
Small changes can truly make big differences. You'd be amazed how a room can suddenly transform with new lighting. That's why replacing your light fixtures tops our list of the best home upgrades you can make. Whether you opt for a ceiling mount fixture, an elegant chandelier, or a contemporary glass globe, your selection will dictate the feel and atmosphere of the entire space.
While you're at it, remember to upgrade to LED bulbs—their efficiency is worth the extra cost and will save you money in the long run by way of lower energy bills. They also last longer than traditional lightbulbs. LEDs come in different color temperatures, so it's important to consider the intensity and color of the light you want in particular rooms.
You'll find a LED bulb's color temperature listed on the packaging in a measurement of Kelvins (K). Soft white bulbs fall in the 2700–3500K range and produce a warm, soft yellow glow. Cool white bulbs are between 3500–5000K and yield a brighter light. Daylight LED lights are 5000K—6500K and produce a stark white light.

Quick tip: Visit your local home improvement store before purchasing LED bulbs. You'll find a display with various types of LED lighting—the color temperature differences can be quite startling.
Besides updating your interior fixtures and bulbs, the second part of this DIY home improvement project involves upgrading your exterior lighting. Often, these are filled with cobwebs and years of debris. Replacing your fixtures with clean new designs and LED bulbs can significantly increase your home's curb appeal.
2. Upgrade Your Kitchen Backsplash
One of the best DIY home projects for rejuvenating your kitchen is updating your backsplash. You've got so many options to choose from today. Replacing your tired backsplash with one of today's peel-and-stick alternatives is perhaps the easiest and fastest technique. You'll find an endless choice of colors, textures, patterns, and designs, and there's a solution for virtually every budget.
Today's options come in vinyl, decorative tin, tile, metal, glass mosaic, stone, and much more—and done right, they can be luxurious and long-lasting. Best of all, there's no mess to clean up, and installation is as easy as measuring, cutting, and pressing the material in place.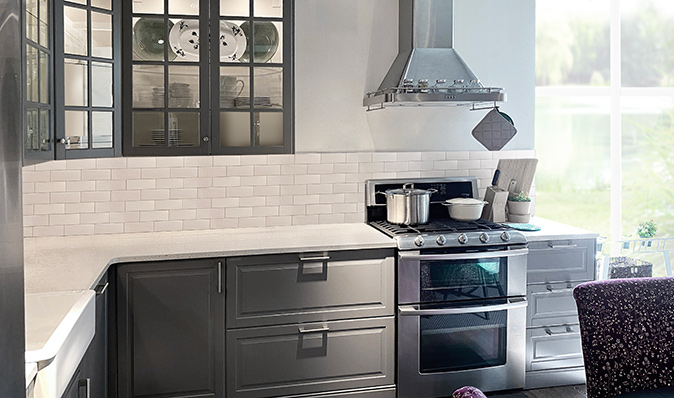 3. Refresh the Grout
If your grout has seen better days, you don't have to replace it. Instead, restore it to its original luster with one of the many refinishing kits on today's market. They come in a range of popular grout colors so you can match your existing grout, or change the color to something entirely new.
This DIY home improvement job can make a dramatic difference in the appearance of your grout, giving it the look of "new" without the cost. What's more, in high-quality kits, the colorant also acts as a sealant to prevent dirt and grime from accumulating on your refreshed grout.
You'll find a variety of kits at your local home improvement store, and it's a good idea to check local tile stores as well. Keep in mind that some kits are more intricate than others. The easiest involves using a paintbrush or toothbrush, depending on the manufacturer's instructions, to work the colorant into the grout, wiping off any excess, and allowing it to dry. Be sure to research a few different brands to decide which tint and application process is most appealing to you. When you have completed this upgrade, be sure to check out our guide to care, cleaning, and maintenance of grout so you can enjoy your work for years to come.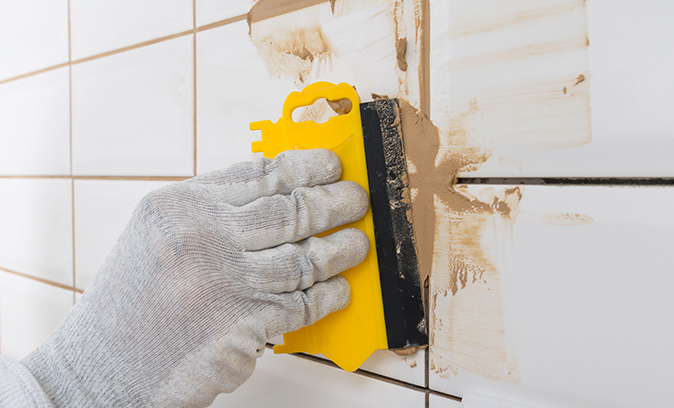 4. Add Floating Shelves
Floating shelves are one of those home improvement ideas that take only minutes to install yet have a lasting impact on a room. Purchase several floating shelves in different lengths to create a collection on a bare wall. Or stack two or three of the same length underneath each other, the same distance apart, for a clean, sophisticated look. However you choose to arrange your shelves, they're a perfect way to fill blank wall space, adding interest and allowing you to display cherished items in an attractive fashion.
You'll find floating shelves at most home decoration stores, and some home improvement stores stock them, too. Ready-made sets are also available that include a number of shelves in varying lengths, making it easy to create your own wall collage. Choose from a variety of wood tones, go with clean white, or paint them any color you like.
A nice benefit of these shelves is that you never see the hardware. Most shelves come with a paper template you line up against the wall that tells you where to insert the mounting hardware. The shelves have indentations in the backs that slide into the mounting hardware, so all you have to do is carefully line up the indentations with the hardware to secure each shelf. Of all the easy do-it-yourself home improvements, adding floating shelving is one of the easiest. In an afternoon, you can transform a plain wall into a stunning showstopper.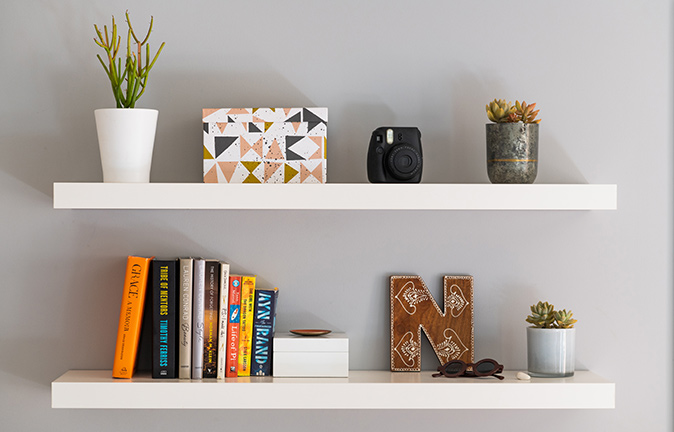 5. Power Wash Your Walkways and More
The entrance to your home is a defining factor in your home's overall curb appeal. Dress it up and make the entryway more welcoming with a quick power wash. You'll remove years of mildew, stains, and other debris—and you may even discover that your walkway is actually a different color than what you originally thought.
While you're at it, consider power washing your whole house to brighten it up. Clean grime off your gutters, and gently spray your windows, garage doors, and more. You can also power wash your home's soffits (the exposed siding underneath a roof's overhang) and eaves (the edge of a roof that extends over the side of a home). Remember to keep your water pressure on the mild side; too much pressure can leave your attic space wet or cause exterior damage. You can rent power washers at your local home improvement store or you can purchase one, but either way, the difference you'll see will be worth the effort.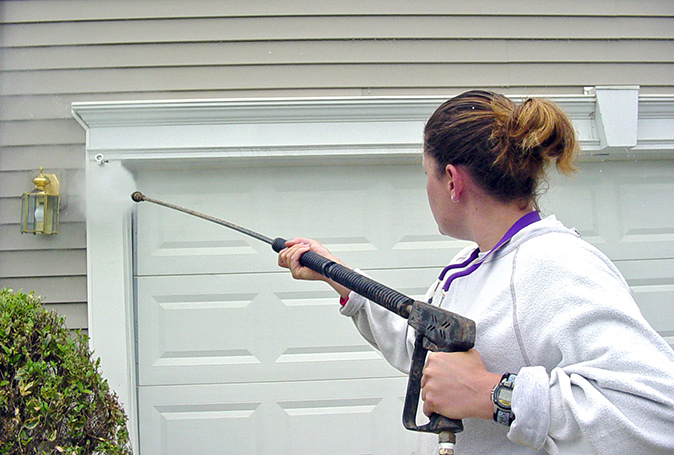 6. Paint Your Front Door
With curb appeal top of mind, when was the last time you painted your front door? This is an easy DIY home improvement project that can refresh and personalize your home. Opt for a lively playful shade to send a friendly, inviting message to the outdoors, or choose a calmer hue that subtly blends in with your house's paint color. It's always a good idea to begin your selection process by applying samples so you can see how different shades look in the morning, afternoon, and evening light. And make sure the color you choose harmonizes with your interior space since your door will open into your home's entry.
Consider paint durability, outdoor suitability (make sure the paint you select is clearly labeled for exterior use), and the finish (glossy or matte or somewhere in between). Try to find an exterior paint that also includes the primer because that will save you both time and money. However, if you're painting over stained wood, switching from a darker to a lighter color, or covering oil-based paint with water-based paint, use a separate primer and paint. If your current door is peeling or flaking, after sanding it down you'll also want to apply a separate primer and paint.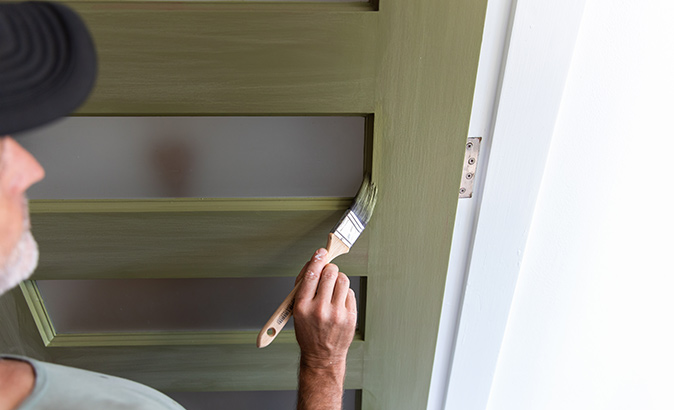 If you recently moved into a house, check out our list of DIY home projects covering some of today's best home upgrades to put your own stamp on your new home and add a personalized touch.
Protect What You Rely on Everyday
DIY home projects don't have to consume entire weekends—sometimes the most impactful home improvement ideas take just a few hours to finish. After all, you want to spend your time enjoying your home, not working on it. That's what makes home warranty protection from First American so valuable when covered home appliances and systems suddenly break down—we provide an easy solution. Read more about our home warranty coverage and available options, and get a personalized home warranty quote.