Whether yours is built into your cooking range or is a standalone model, electric cooktops are well-known for providing precise, consistent heat at optimum efficiency. But like any other home appliance you rely on for everyday use, they have their own set of intricacies, and components can malfunction at any time.
Fortunately, if you're faced with an electric stove not working properly, there are many clues you can use to help determine the issue(s) behind the failure. Read on for explanations on several common issues—plus some electric range repairs you can make yourself.
Cooktop Won't Turn On
If your electric stove won't turn on, the first step is to check that it's correctly plugged in. (You'd be surprised how many stove top repairs are immediately solved by this simple step!) It's also a good idea to check that the outlet you're using for your cooktop is operational, either by using a multimeter or by plugging another appliance into the outlet. If your cooktop is connected directly to a circuit breaker, make sure the switch for the cooktop is in the "ON" position.
Burner Temperature Won't Adjust
If you cannot adjust the temperature on a burner, a faulty switch may be the culprit. The switch is connected to the dial that controls the power levels, and a malfunctioning switch can force your burner to heat only to a particular temperature, no matter how many times you try to change it. You may also have a faulty internal ignition switch, and this type of cooktop repair is best managed by a professional.
Cooktop Is Sparking
While a gas cooktop often sparks the moment it's ignited, an electric cooktop should never emit sparks. If you see sparks radiating from your electric cooktop, it's a good indicator that your heating element is damaged, and you should stop using your cooktop immediately.
Often, a heating element becomes damaged if a very heavy item is placed on a burner. Your cooktop may also have loose wire connections that are causing the sparks, but because sparks indicate a potentially dangerous situation, it's best for a qualified electrician to inspect your cooktop, diagnose the issue, and make the necessary electric range repairs.
Indicator Lights Don't Work
Modern cooktops feature electronic displays and indicator lights that provide convenient information at a glance—making it easy to clearly see each burner's temperature setting and make adjustments throughout the cooking process so your dishes are properly cooked.
If you notice that your cooktop's indicator lights aren't functioning as they should, the likely cause is a defective control switch, which provides power to the lights. In some cases, burned-out bulbs may be behind the failure.
Luckily, both a control switch and bulbs are easily replaceable with professional help—or if you're handy with electrical repairs, you may be able to replace them yourself. And of course, it goes without saying that in any electric cooktop repair, always turn off power at the source and the circuit breaker.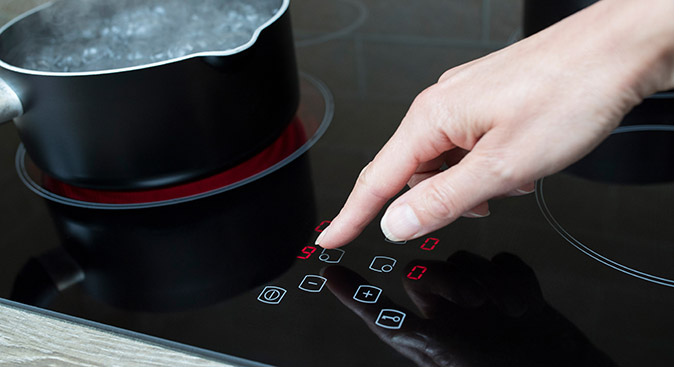 Burner Blowout
Each burner in an electric cooktop functions separately from the others, with independent wiring and individual connectors and sockets. That's why you'll commonly experience the problem of one burner not heating properly instead of all four burners malfunctioning simultaneously. That said, if you find your electric stove burners and oven not working, or only the burners on your electric stove not working, it's likely because of a severe electrical issue and a professional should be brought in to resolve the issue.
Common reasons for electric stove burners not working include a bad connection in the burner socket, or a malfunctioning switch. To investigate and make the proper cooktop repair, start by making sure that all burners are off, and that your electricity supply is also turned off.
Carefully remove the burner from the socket and inspect the receptacle (what the burner is plugged into) for rust, corrosion, debris or particles, or any signs of wear and tear. If all looks good, plug it securely back in and see if it works. If not, try another burner and see if that one works. If it does, your solution is as simple as replacing the bad burner with a new one.
If it doesn't work, you can surmise that either your socket or switch is bad, or possibly both, or there could be an issue within the wiring. In this case, unless you're comfortable making the stove top repair yourself, enlisting the help of an experienced electrician is your safest option.
If your burner only partly heats up, you could have a faulty receptacle box. Here, you'll want that replaced, and just to be safe, the burner as well. Any damage to the connectors or the coil itself necessitates a complete replacement of the heating coil.
Cooktop Maintenance
Thankfully, keeping your electric cooktop in good working order and avoiding stove top repairs doesn't require a lot of maintenance. When cleaning your cooktop, be careful not to disrupt any connections or misalign any components from their proper placement. To avoid surface scratching or discoloration, always follow the manufacturer's recommendations for the best cleansers to use.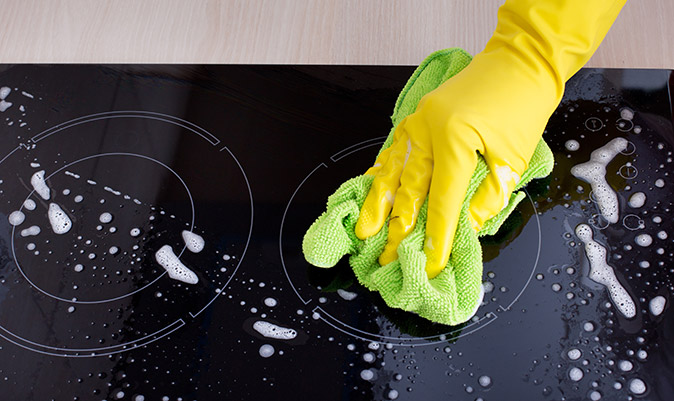 Another smart move is to make sure you're using the cookware materials your manufacturer recommends for your specific stove top—after all, aluminum, cast iron, copper, stainless steel, and others perform differently. Some are known for their superior heat conductivity, others for their nonstick prowess and durability, and still others for their ease in cleaning.
Consider Home Warranty Coverage
When you find your electric stove not working as it should, you can try to determine the issue and make the appropriate cooktop repair yourself—or if you have a First American home warranty, you can simply contact us. We'll send a qualified contractor from our professional network to your home to diagnose the issue and perform the stove top repair. Read more about our home warranty plans and available coverage, and get a personalized home warranty quote.