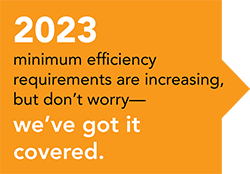 Starting in January 2023, minimum efficiency requirements for HVAC equipment increased, but don't worry—we've got it covered. With home warranty coverage from First American, homeowners can rest easy knowing that we'll provide support throughout this transition and will match the new requirements when covered HVAC equipment needs to be replaced.
Inside:
What's SEER/SEER2?
Long ago, the Department of Energy (DOE) devised a rating system to measure efficiency in air conditioners and heat pumps, using three common metrics:
SEER (Seasonal Energy Efficiency Ratio)—measures cooling efficiency throughout an entire cooling season.
EER (Energy Efficiency Ratio)—measures cooling efficiency.
HSPF (Heat Seasonal Performance Factor)—measures a heat pump's efficiency in heating mode.

SEER, the most commonly known metric, measures cooling efficiency in central HVAC systems. It measures the total heat removed from a home during the annual cooling season divided by how much total energy the system uses.
SEER ratings work similarly to a car's gas mileage, where the higher the number, the greater the efficiency. This number helps homeowners compare efficiency when shopping for a new HVAC system. Every air conditioning unit has a SEER rating on its packaging label that tells consumers how efficient the unit is. The higher the SEER rating, the more efficient the HVAC unit.
What's Changing?
As part of an ongoing effort to improve HVAC efficiency and minimize the impact of global warming, the DOE increased HVAC efficiency minimums for 2023. The HVAC testing and rating system that was used to determine efficiency has been replaced by a new protocol, which has more stringent testing requirements. Starting in January 2023, all newly manufactured equipment must meet these more rigorous testing requirements.
New Names and Metrics: SEER2, EER2, and HSPF2
When the DOE updated its efficiency rating system for 2023, it also updated the names of these metrics by adding a "2" to the end of each: making them SEER2, EER2, and HSPF2. Because the new testing is more demanding, the ratings are lower to account for this. So for example, if the SEER rating on an air conditioning unit is 15, the SEER2 rating on the same unit under the new test conditions is 14.3.
The test conditions for the new efficiency standards more closely match a real-world environment in an actual house, which may have less-than-ideal conditions. By better mirroring this type of setting, SEER2 ratings give homeowners a more precise idea of an HVAC system's true efficiency.
Important Regional Differences
The DOE divides the country into three regions (Southwest, South, and North), based on climate.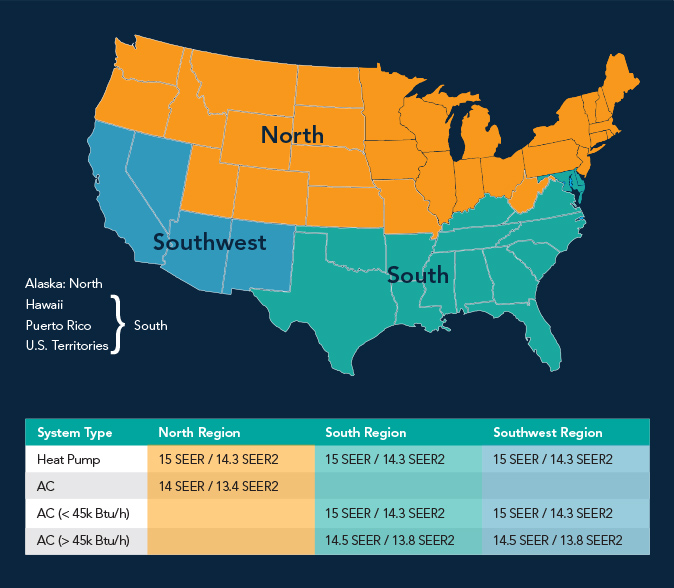 The minimum efficiency requirements differ based on region:
For AC Units:
North—the minimum requirement increased to 13.4 SEER2.
South and Southwest—the minimum requirements increased to 14.3 SEER2 for systems below 45,000 BTU and to 13.8 SEER2 for systems using more than 45,000 BTU. As a very general estimate, an air conditioner that produces 45,000 BTUs could cool a 2,000 square foot house, depending on the climate and other factors.
For Heat Pumps:
All regions—increased to 14.3 SEER2 throughout the entire country.
Timeline Differences
In the North, pre-SEER2 split-system air conditioners can still be installed after January 1, 2023, as long as they were manufactured prior to January 1. However, in the South and Southwest, split-system air conditioners cannot be installed after January 1, 2023, unless they are SEER2-compliant.
Nationwide, pre-SEER2 heat pumps can be installed after January 1, 2023, if they were manufactured prior to January 1.
Why It Matters
When buying or selling a home with an older HVAC system, our home warranty coverage can provide significant reassurance when covered equipment fails.
For home sellers, it ensures that covered HVAC equipment that needs to be replaced during the listing period or after closing will be compliant with efficiency requirements. Likewise, home buyers with our home warranty coverage can feel confident that we'll match the new requirements should their covered HVAC equipment require replacing.
As a current homeowner, there's no need to replace an HVAC system if it's working properly. If you're in the market to replace your HVAC system, however, a new unit can be far more efficient, saving energy and reducing your utility bill.
How First American Home Warranty Coverage Helps
For homeowners, buyers, and sellers with an older HVAC system, having a First American home warranty can provide significant protection when the system fails. With our home warranty plans, when a covered item breaks, you contact us for help. If we determine that an HVAC system can't be repaired, we'll replace it with equipment that meets the updated efficiency requirements for the appropriate region—which could provide savings on energy usage and costs.*
We Support 2023 Efficiency Standards
More efficient HVAC systems save energy and are good for our planet. However, they are typically larger and more expensive than less efficient systems. In addition, recent supply shortages and inflation have increased the cost of these systems even more. While these factors could potentially cause out-of-pocket costs to rise, rest assured that we'll continue to provide protection for HVAC equipment as we transition to the new regulations, whether it's a repair or replacement.
We've Got Homeowners Covered
When equipment is replaced to meet SEER2 regulations, modifications may be needed to make the new equipment work with a home's existing system. In this case, we'll cover the equipment needed for compatibility.
---
*In some instances, Homeowner and First American may agree to payment of cash in lieu of repair or replacement. Payment will be made based on First American's negotiated rates with its suppliers, which may be less than retail. Please review the sample contract for specific coverage, terms and limitations.