How many varieties of apples can you name? If it's less than three, it's not your fault. After all, many supermarkets carry no more than McIntosh, Granny Smith, and Red Delicious. But in the real world of apples, there are actually more than 7,000 varieties, each with its own unique history, flavor, and beauty. If you're interested in learning about apple varieties, OrangePippen.com is an amazing resource.
In the U.S. we have some apple varieties that are in danger of extinction. Slow Food USA has added these varieties to their Ark of Taste. By promoting these apples, the organization helps to keep them in production and on our plates. If you really want to appreciate fresh apples, get to know the apples that grow in your region.
The Apples in Your Fridge
Apples will continue to ripen if left at room temperature. To keep them crisp, place them in a plastic bag in the coldest part of the refrigerator, where they will keep up to two weeks.
Apples can also be stored in a cellar with temperatures between 32 to 40 degrees. Place them in a container with a damp towel to prevent moisture loss.
Freshly picked apples unmistakably signify fall. Cooking and eating seasonally means using apples in countless ways: eating one out of hand, making apple treats, baking them in pies, cakes, crisps, or tarts, pressing them for juice and sauces, and cooking them in savory foods, like cabbage and apples, or salads of apples, endive, walnuts, and grapes.
When you are cooking with apples, use flavors and spices that they have an affinity with, such as allspice, cinnamon, clove, curry, ginger, green onion, apricots, celery, poultry, and vanilla.
Here are a few of our favorite apple recipes:
Homemade Caramel Apples Make a Special Treat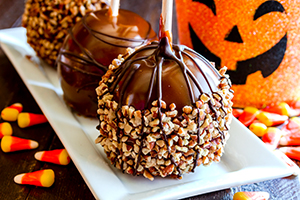 Give your friends and family—or even trick-or-treaters at Halloween—a deliciously sweet caramel apple treat that's also just a skosh healthier to eat! Here's everything you need to make a batch of caramel apples from scratch:
Kitchen Tools You'll Need
Non-stick saucepan
Wooden spoon
Candy thermometer
Pastry brush
Non-stick baking mat (preferred) or parchment paper
Ingredients
8-10 chilled, smaller-size apples (Tart is better than sweet: think Granny Smith, Pink Lady, or Jonathans)
1 and ¾ cups heavy cream
1 cup light corn syrup
2 cups light brown sugar
¼ cup unsalted butter
½ tsp salt
½ tsp vanilla extract
Directions
Wash apples thoroughly to remove wax, dry them, and chill in the fridge for 24 hours. The next day, combine all ingredients, except vanilla, in a small saucepan and cook on the stove over medium heat, stirring constantly until caramel is smooth. (Do not double the ingredients when making caramel.)
Next, let the mixture cook for approx. 10-15 minutes -- do not stir -- but maintain medium heat. If the mixture bubbles up the sides of your pan, lower heat slightly and use a moistened pastry brush to wipe splashes back into the mixture. Frequently check the temperature of caramel; when the candy thermometer reaches 235° - 240° your caramel mixture will be able to stick to apples.
Remove pan from heat and gently stir in vanilla and let caramel thicken for approx. 10 minutes. Take apples out of the fridge and remove stems; skewer each apple at least halfway down with a caramel stick. You can slice up an extra apple to test thickness—if caramel slides off, let mixture stand longer.
Once ready, hold the end of a caramel stick and dip the apple, applying the mixture lightly but fully coating each apple. Be sure to let excess drip off into the pan otherwise, the mixture will pool at bottom of the apple when you place it on a baking mat. For a thicker coating, double-dip!
If you plan to decorate your caramel apples, add toppings immediately. (Edible, spooky eyeballs make for fun toppers for Halloween.) If toppings are not your thing, this treat will be set and ready to eat in about an hour.
Sharing your treats with neighbor kids or friends for Halloween? Shop for holiday-themed cellophane treat bags to wrap your caramel apples -- just be sure the caramel is fully set first, before wrapping.
---
Apple Crisp Makes a Classic Dessert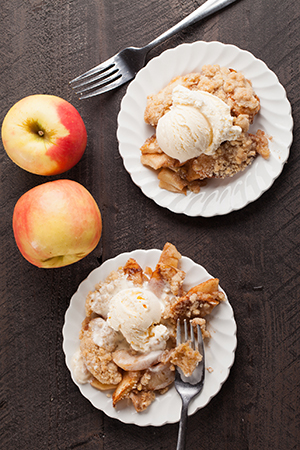 Ingredients
Fruit Filling
6 baking apples, peeled, cored, and cut into wedges
1 tablespoon lemon juice
1/4 teaspoon ground cinnamon
1/2 cup sugar
2 tablespoons flour
Topping
1 1/4 cups flour
1/2 cup rolled oats
1/2 cup dark brown sugar
1/2 teaspoon ground cinnamon
1/4 teaspoon nutmeg
1/4 teaspoon salt
12 tablespoons butter (1 1/2 sticks), chilled and cut into small pieces
1/2 cup nuts, coarsely chopped and toasted
Directions
Preheat the oven to 350 degrees F.
For the fruit filling In a large mixing bowl, toss together the apples, lemon juice, sugar, cinnamon, and flour. Pour the apple mixture into a buttered 2-quart baking dish and set aside.
For the topping In a large mixing bowl, mix the flour, rolled oats, brown sugar, cinnamon, nutmeg, and salt. With a food processor, a pastry blender, or your fingers work the butter into the flour mixture just until it comes together and large clumps form. Fold nuts into mixture. Sprinkle the topping evenly over the fruit. Bake the apple crisp until the fruit is bubbling and the topping is golden brown and crisp, about 45 minutes. Serve warm with vanilla ice cream or fresh whipped cream, if desired. Make 6 to 8 servings.
---
Caramel Apple Mousse Cake for Any Celebration
Ingredients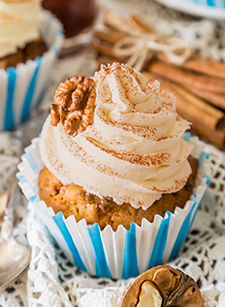 Apple Cake
1 spice cake mix
¾ cup apple sauce
½ cup milk
4 eggs
⅓ cup oil
2 apples, peeled and chopped
Caramel Mousse
8 oz cream cheese, softened
1 cup powdered sugar
16 oz whipped topping, thawed
1 cup Dulce de Leche (I use Nestle La Lechera Dulce de Leche brand)
Topping
½ cup toasted walnuts or pecans (optional)
Directions
Apple Cake Prepare 2 8 or 9-inch pans or a 9 x 13-inch baking pan by spraying with PAM or line a cupcake pan with papers. Preheat oven to 350°. Combine cake mix, apple sauce, milk, eggs and oil. Mix for 2 minutes on medium speed. Stir in chopped apples. Divide batter between two greased, round cake pans. Bake at 350° for 25-30 minutes for cakes, 18-20 minutes for cupcakes. Cool completely.
Caramel Mousse In a large bowl, beat the cream cheese til smooth. Add the Dulce de Leche, beat until smooth. Beat in powdered sugar. Fold in whipped topping.
Assemble Caramel Apple Mousse Cake Cut round cakes in half. Spread ¼ of the caramel mousse on each of the 4 layers. Top the cake with toasted walnuts or pecans.
---
Quick Pork Chops with Rice and Apples for Dinner
Ingredients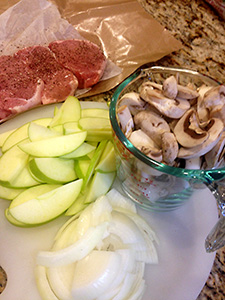 4 boneless pork loin chops (6 ounces each)
Salt and pepper
2 tablespoons olive oil
1 large green apple, cored and sliced, lightly sprinkled with cinnamon
2 cups fresh crimini mushrooms sliced
1 small yellow onion, thin sliced or chopped
1 box rice pilaf mix (and ingredients on box)
Directions
Sprinkle pork chops with salt and pepper. Heat olive oil in a large skillet, over medium-high heat. Quickly brown pork chops on both sides then remove from pan. In same skillet, add onion (and more oil if needed) and cook over medium heat for 2-3 minutes.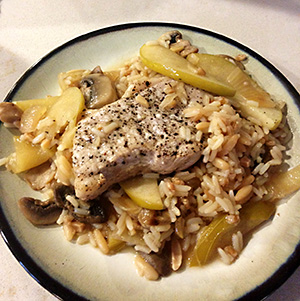 Add mushrooms and apples and cook for another 2-3 minutes. Add pilaf ingredients (rice, water, butter, seasoning) carefully to hot pan. I recommend heating the water in the microwave first. Stir and bring to a boil. Add pork chops, cover, and reduce heat to medium low. Cook until rice is tender and pork chops are done.
The pilaf mix I used cooked in 15 minutes which was just right for the pork to be done. If your rice mix has a longer cooking time, let it cook for a while before adding chops.
Makes 4 servings