If you're like most homeowners, you have a love-hate relationship with the fiery colors of fall leaves. From planning vacations based on where to find the best fall foliage to making landscaping decisions based on which plant varieties give the most striking fall color show, Americans have long been in love with this eternal sign of the shift in seasons. Yet along with the beauty inherent in showy deciduous plants, comes a measure of work to counteract the mess and potential for destruction.
Leaves and Your Gutters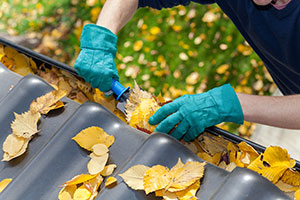 Your gutters protect your home by redirecting rain away from your roof and siding. However, as most of us know, gutters can become clogged, causing water to back up and spill over the edge and exposing your roof and siding to potential water damage and mold. Fall leaves are usually the biggest contributor to rain gutter blockage.
For most homeowners, clearing out the gutters twice a year is necessary to keep gutters free flowing year round. However, it's important to consider the foliage surrounding your home. If you have large deciduous trees overhanging or near your roof, you should consider cleaning your gutters more frequently. Keep an eye out for water spilling over the edges of your gutters for a sign that a gutter cleaning is overdue.
Lawn Leaf Removal
For many of us, our parents' chore of raking the front yard, creating huge piles of unadulterated joy for children everywhere evokes a Norman Rockwell-ish, sentimental feeling of more simple, bygone days. While raking and disposing of leaves is still a good option to keep a healthy lawn, there are several other options to consider that can be less work and provide added nutrients for your lawn and landscaping. Consider these options:
Composting – Leaves make a great additive to your compost pile to create a nitrogen-rich additive great for use in your garden
Mulching – Whether you have a leaf shredder, use a mulching lawn mower, or simply run over your leaves with a traditional lawn mower, a thin layer of leaf mulch on your lawn, or surrounding your plantings in your garden or around your trees and flower beds can insulate the ground from heat and cold and add back nutrients to make your lawn plants and trees thrive.
Fall Leaf Fun and Home Couture
While fall leaves can mean extra work, they can also provide an opportunity for great décor and fun craft projects. From adorning your home, to creating fun activities, to making memories with your children, fall leaves pack a lot of punch.
Fiery Home Decorating
Nature in all of its elegance has never been more fashionable than the fall. Warm-colored vibrant leaves add a warm feeling to any décor, preparing us for the shorter days and cozy evenings of the fall season. Here are a few ways to bring the beauty of fall into your home:
Kids Crafts
What better way to keep your kids occupied on these crisp fall days than with a leaf collecting expedition followed by a fun (and beautiful) craft project! Try a few of these to fill your fall with fun: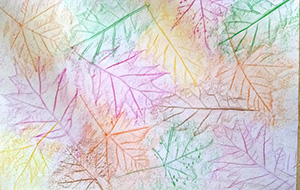 Preserving Your Fall Leaf Treasures
These fun crafts and home décor projects will add so much color to your home that you'll want to make sure that they last. Here are a few ways that you can preserve your fall leaves either before using them in your projects or after your projects are complete: