Fill Santa's plate with these delicious and fun Holiday and Christmas cookies gathered from our collection of favorite holiday cookie recipes.
---
Meringue-Chocolate Chip Cookie Bars
Topped with a luscious layer of brown sugar meringue, these chocolate chip cookie bars are a delightful slice of heaven during the holidays, or any time you're craving sweet, chewy goodness.
Ingredients
2 cups all-purpose flour
1 teaspoon salt
1/4 teaspoon baking soda
1 teaspoon baking powder
1/2 cup butter, softened
1/2 cup granulated sugar
1-1/2 cups brown sugar, divided
2 large eggs, separated
1 large egg white
1 tablespoon water
1 teaspoon vanilla
12 ounces of chocolate chips
Directions
Preheat the oven to 350°F. Make the cookie dough: Whisk together flour, salt, baking soda, and baking powder in a small bowl and set aside. In a mixer, cream together butter, granulated sugar, and 1/2 cup of brown sugar until smooth. Separate the 2 eggs, reserving the whites for later. Mix yolks into butter-sugar mixture one at a time, then mix in water and vanilla. Add flour mixture and beat gently until the dough looks crumbly. Press cookie dough into a 13 x 9 greased pan.
Sprinkle chocolate chips on top of the dough and press them slightly into the dough. Then make the meringue: In a mixer, beat the 3 egg whites at medium-to-high speed. When the egg whites are frothy and resemble loose foam, start gradually adding the remaining cup of brown sugar. Increase the mixer speed to high and continue whipping the meringue until it looks stiff and glossy. Spread the meringue gently over the chocolate chips to make an even layer.
Bake the bars for 28 minutes. The meringue should look dry and very lightly toasted. Do not overbake. Cool and cut into bars.
---
Pecan Crescent Cookies
The delectable pecan crescent is a favorite treat for kids and adults alike that is sure to disappear quickly from your holiday plate or cookie jar. Just be sure you chill the dough overnight before using a cookie cutter to shape and then bake a batch or three.
Ingredients
2 cups all purpose flour, sifted
1 cup pecans, toasted
1/2 teaspoon salt
1 cup (2 sticks) unsalted butter, room temperature
3/4 cup powdered sugar
2 teaspoons
vanilla extract
Additional powdered sugar
Directions
Preheat oven to 325°F. Combine 1 cup all purpose flour, toasted pecans, and salt in processor. Using on/off turns, finely chop pecans. Using an electric mixer, beat butter, 3/4 cup powdered sugar and vanilla extract in a large bowl until well blended. Add pecan mixture and remaining 1 cup flour and mix thoroughly. Divide dough in half. Wrap each half in plastic and refrigerate overnight.
Working with 1 tablespoon dough at a time, shape dough into 3-inch-long logs. Pinch ends of logs to taper and turn in slightly, forming crescents. Place cookies on ungreased baking sheets, spacing 1 inch apart (cookies will not spread).
Bake cookies until light brown around edges and firm to touch, about 18 minutes. Cool cookies for 10 minutes on baking sheets. Roll cookies in additional powdered sugar. Cool completely on racks. (Cookies can be prepared 2 weeks ahead. Store in an airtight container.)
Makes about 3 dozen cookies
---
Chocolate Peppermint Crinkles
Peppermint in anything instantly conjures thoughts of candy canes; just add some chocolate and you'll find yourself in a holiday mood! These delightful cookies are sure to liven up your holidays.
Ingredients
1 1/3 cups chopped bittersweet chocolate or chocolate chips
1/2 cup unsalted butter
2/3 cup sugar
3 large eggs
2 teaspoons vanilla
1 teaspoon peppermint extract
1/2 teaspoon baking powder
1/4 teaspoon salt
1 2/3 cups all-purpose flour
Confectioners' sugar for coating
Directions
Place the chocolate and butter in a small saucepan or microwave-safe bowl and heat on low or microwave on half-power till the butter melts. Be very careful not to burn the chocolate. Remove from the heat and stir until the chocolate melts and the mixture is smooth.
Preheat the oven to 325°F and lightly grease, or line with parchment, 2 cookie sheets. In a separate bowl, beat together the sugar, eggs, vanilla and peppermint extract. Stir in the chocolate mixture, baking powder and salt. Add the flour half at-a-time. Wrap the dough in plastic wrap and chill the dough for 2 to 3 hours or overnight until firm.
Put about a cup of confectioners' sugar into a shallow bowl. Using a teaspoon-sized cookie scoop a spoon, scoop out heaping teaspoon-sized portions of the dough - about 1 1/4 inches in diameter. Roll lightly between your palms and drop into the bowl of sugar. Once there are about five or six in the bowl, shake and toss the bowl to coat the balls with the sugar.
Place the coated dough balls on the prepared cookie sheets, leaving about 1 1/2 inches between each ball. Bake the cookies for 10 to 12 minutes, switching the position of the pans (top to bottom, and front to back) midway through the baking time. As the cookies bake, they'll flatten out and acquire their distinctive "crinkle" appearance. Remove the cookies from the oven, and allow them to cool on a wire rack.
---
Zimsterne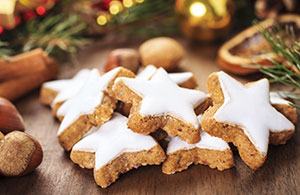 These are delicious "cinnamon stars," slightly crunchy, slightly chewy. A favorite from our family's German background.
Ingredients
4 egg whites
390 grams powdered sugar, about 3 1/2 cups
400 grams raw almond meal, about 4 cups
2 tsp. ground cinnamon
1 oz. Kirschwasser (optional)
Directions
Beat the egg whites until soft peaks form. Add powdered sugar, 1/2 cup at a time, beating for 1 minute between each addition. Continue beating for 5 minutes after the last addition. The mixture should be very stiff, like the icing used to hold a gingerbread house together.
Remove 1/2 cup of meringue and set aside for icing.
Fold in the raw almond meal and the cinnamon. Add the Kirschwasser, if you are using it, and incorporate. Chill the dough for about 1 hour.
Using ample powdered sugar on your baking board or clean countertop, pat the dough into a square and roll out to 1/2 inch thick. Cut out stars with a cookie cutter. Powder the cookie cutter between each cut. Place stars on a non-stick cookie sheet or a cookie sheet lined with parchment paper.
Cutting out the stars is a sticky process. Wash off the cookie cutter as often as necessary to achieve sharp star points.
Brush or spread the icing on each star, working it out to all the points.
Let the stars dry overnight (about 24 hours, if you can), the oven is a good place. Don't forget they are there and preheat for something else!
The next day, heat the oven to 325°F. Bake each tray for 10-15 minutes. This is to dry out the cookies a little more and bake the egg whites. Try to remove the cookies before the icing turns brown, although a little brown tint can look nice.
Store these cookies in a dry place at room temperature.
Notes: You can make almond meal yourself in a blender or buy it in the baking aisle of many grocery stores or natural food stores.
---
Apple Pie Cookies
Ingredients
1 box of frozen Pillsbury Pie Crust (2 sheets per box)
1 can of Apple Pie
1 cup of Caramel Sauce
1 egg
2 tablespoon cinnamon sugar
Fresh nutmeg for grating
Flour
A round cookie cutter
Directions
Sprinkle your first sheet of pie crust with some flour and slightly roll it out to increase its surface area. Pour just enough caramel sauce onto the crust for a thin layer and evenly spread it around.
Coarsely chop the apple pie filling into small pieces. Top the caramel layer with a thin layer of the apple pie filling – do not overfill.
Roll out the second sheet of pie crust the same size as the first sheet, then slice it into ½-inch wide strips. Create a lattice crust (just like on a pie) on top of the pie filling.
Dip your cookie cutter into some egg wash and cut out your cookies. Brush the tops of them with some egg wash and sprinkle them with the cinnamon sugar and nutmeg. Transfer cookies to a parchment-lined baking sheet and bake at 350°F for approx. 20-25 minutes, until they're golden and firm.
---
Holiday Breakfast Cookies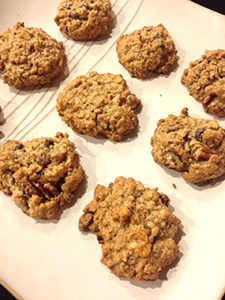 Packed with oatmeal, nuts, and dried fruit, these cookies are a delicious morning treat during the holidays or any time.
Ingredients
3/4 cup all-purpose flour
3/4 cup whole wheat flour
1-1/2 teaspoons ground cinnamon
1 teaspoon baking soda
1/8 teaspoon ground cloves
1/2 teaspoon salt
1 cup butter, softened
1/2 cup packed light brown sugar
1/2 cup white sugar
2 large eggs
1 teaspoon vanilla extract
3 cups rolled oats, quick or old fashioned
3/4 cup raisins
1/4 cup chopped dried dates
1/4 cup chopped dried apricots
3/4 cup chopped pecans
Directions
Preheat oven to 350°F. Combine flours, cinnamon, baking soda, ground cloves, and salt in a bowl. Set aside.
In a large bowl, beat softened butter and sugars with an electric mixer until smooth and creamy. Beat in eggs one at a time, continue beating and add the vanilla extract. Blend in flour mixture from other bowl. Fold in oats until evenly combined. Fold in raisins, dates, apricots and pecans. Place by spoonfuls on ungreased cookie sheet and press down slightly. Bake in preheated oven until light and golden, 8 to 9 minutes. Let cool for 2 minutes before removing and placing on a wire rack to cool. Store in airtight container. Yield 4 dozen.
---
Anise Almond Biscotti
Ingredients
1 cup sugar
½ cup butter or margarine, softened
2 teaspoons ground anise
2 teaspoons lemon peel, grated
2 eggs
3 ½ cups all-purpose flour
1 teaspoon baking powder
½ teaspoon salt
¾ cup whole almonds
Directions
Preheat oven to 350°F.
Beat first 5 ingredients in large bowl. Add flour, baking powder and salt. Stir to combine. Stir in almonds. Divide dough into two parts. Shape into two one-inch think rectangles approximately 10" × 3". Place on ungreased cookie sheet.
Bake approx. 20 minutes or until toothpick inserted in center comes out clean. Cool 15 minutes. Cut crosswise into 1/2-inch slices. Turn cut sides down on cookie sheet.