February can feel like the off month of the year--you've been through a few months of winter, but spring still feels a little ways off. Need something to do? How about ticking these tasks off your home maintenance checklist to keep your home clean, organized, and warm. Then you can just hunker down and wait for warmer weather.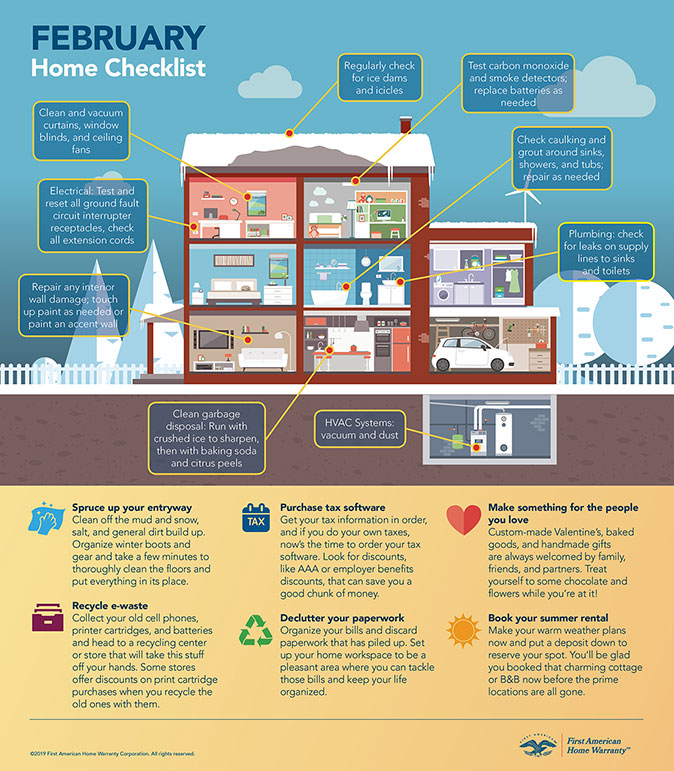 Your February Checklist
Home Maintenance Tasks
Check caulking and grout around sinks, showers, and tubs; repair as needed
Regularly check roof and gutters for ice dams and icicles
Clean and vacuum curtains, window blinds, and ceiling fans
HVAC system: vacuum and dust
Clean garbage disposal: Run with crushed ice to sharpen, then with baking soda and citrus peels
Test carbon monoxide and smoke detectors; replace batteries as needed
Plumbing: check for leaks on supply lines to sinks and toilets
Repair any interior wall damage; touch up paint as needed or paint an accent wall
Electrical: Test and reset all ground fault circuit interrupter (GFCI) receptacles; check all extension cords for wear and tear
Home Care Tips
Spruce up your entryway
Clean off the mud and snow, salt, and general dirt build up. Organize winter boots and gear and take a few minutes to thoroughly clean the porch, floors and put everything in its place.
Declutter your paperwork
Organize your bills and discard paperwork that has piled up. Set up your home workspace to be a pleasant area where you can tackle those bills and keep your life organized.
Purchase tax software
Get your tax information in order, and if you do your own taxes, now's the time to order your tax software. Look for discounts, like AAA or employer benefits discounts, that can save you a good chunk of money.
Recycle e-waste
Collect your old cell phones, printer cartridges, and batteries and head to a recycling center or store that will take this stuff off your hands. Some stores offer discounts on print cartridge purchases when you recycle the old ones with them.
Make something for the people you love
Custom-made Valentine's, baked goods, handmade gifts, and homemade dinners are always welcomed by family, friends, and partners. Treat yourself to some chocolate and flowers while you're at it!
Book your summer rental
Make your warm weather plans now and put a deposit down to reserve your spot. You'll be glad you booked that charming cottage or BnB now before the prime locations are all gone.