In a natural disaster like an earthquake or flood, or when doing major plumbing, electrical, or home maintenance projects and repairs, it's vital to know where your gas shutoff valve, breaker box, and main water shutoff valve are—and how to turn them off. Take some time now to locate and learn how to use these home safety features so you can act quickly when needed. Here's some guidance to help you.
Turning Off Your Home's Main Water Shutoff Valve
The main water shutoff valve supplies water to your entire home, and is usually located below the outdoor water faucet, or hose bibb, in the front of your home, or in the enclosure that houses an outside water heater.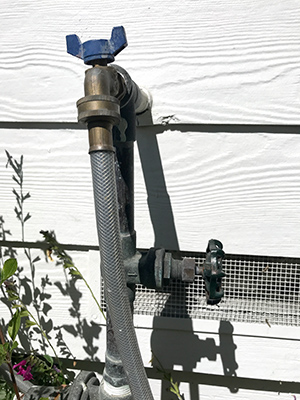 Shutting off your water supply depends on which kind of main water shutoff valve you have: If yours is a gate valve (a round knob), turn it clockwise several times until it stops. If your water shutoff valve is a ball valve (a straight lever-like handle), turn it 90 degrees so it's perpendicular to the pipes (the closed position); in the open position, it's parallel to the pipes.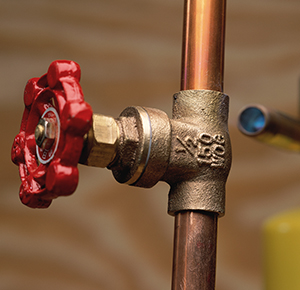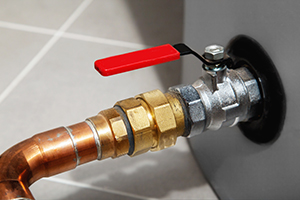 In some cases, your main water shutoff valve may be housed in a covered cement box labeled "water" in the ground near your front curb. When you open the box, you may find two valves. Turn the water shutoff valve that is closest to your house (the house-side valve); it may have a gate or ball valve. These curb boxes, as they are commonly called, often require a special curb key to operate, which you can find at your local hardware store. Or you could use a large adjustable wrench.
Don't tamper with the meter itself, or the city shutoff valve (the curb-side valve). If you're unclear about which valve to touch, you may wish to simply contact your municipal utility company if you have a curb box. At no charge to you, a city employee will come out and turn off your water for you.
Quick tip: It's not uncommon for a home to have both a main water shutoff valve attached to the front of the house below the outdoor water faucet as described above, as well as a curb box. If you have both, and you need to turn off water to your whole house, it's preferable—and easier— to choose the water shutoff valve that's attached to your house instead of the curb box.
If your home is not connected to a municipal water supply; for example, you rely on well water, you may also have multiple water shut off valves. One is often next to the pump, and another is where the water leaves the pressure tank.
Turning Off Your Drip Irrigation System
Your home likely has its own separate water supply line for its drip irrigation system and/or sprinkler system. The water shutoff valve for most irrigation systems is next to a home's main water shutoff valve. The shutoff valve could be either a gate or ball type, so turning off your drip irrigation system is simply a matter of twisting the valve clockwise (a gate valve) or turning it perpendicular to the piping (a ball valve).
Quick tip: In many homes, the water shutoff valve on the drip irrigation system is so close to your main water shutoff valve that it can be confusing to know which valve is which. Some home builders use valves that are different colors to help differentiate the two, but if you're unsure, test both valves yourself and then label them. That way, you won't fumble in an emergency, and you'll have peace of mind knowing that you're shutting off the correct valve when you need to.
Turning Off a Specific Water Shutoff Valve
Sometimes, turning off water to your whole house is overkill; you may only need to turn off an individual water shutoff valve for a specific appliance. Replacing or repairing a toilet, sink, or washing machine, for example, doesn't require a whole house shutoff. Small remodeling or maintenance jobs are additional situations where a whole house shutoff may not be necessary. In these instances, you can turn off water just where you want, without affecting other areas of your home.
The valves on most home appliances are typically small round or oval handles that you turn clockwise to stop the water supply.
Toilet: Your water shutoff valve is located behind the toilet, at the bottom, where the plumbing apparatus connects to the wall.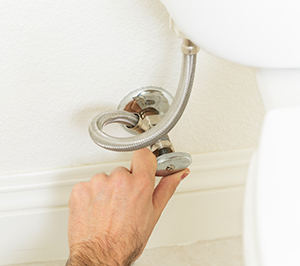 Washing machine: The water supply lines are located behind the washer, so you may need to slide your washer out from the wall to find them, especially if your machine is on a pedestal. There are two valves, one for hot and one for cold, so during maintenance work, or if your washer hoses leak or your machine overflows, you'll need to turn both off.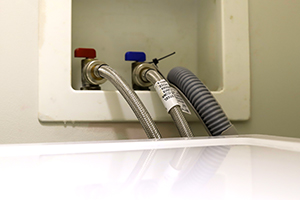 Sinks: You'll find two sink valves in the piping under each sink; again, one for hot and one for cold. It may seem obvious, but remember to turn off both valves before starting any plumbing work or if there is a leak.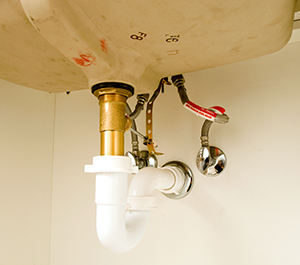 Dishwasher: Under your kitchen sink, look for a secondary hot water shutoff valve that controls the water supply hose connecting to your dishwasher. In some homes, there may be a two-way water shutoff valve that controls the water supply to both the sink faucet and the dishwasher.
Bathtub, shower, and water heater: If any of these appliances begin leaking, turn off the main water supply to your home and call a plumber immediately.
Turning Water Back On
Whether you turn off water to your entire home or just to a portion, don't rush to turn the water back on. You may think that doing so is as simple as turning the water shutoff valve counter-clockwise, or quickly releasing a ball valve back to its parallel position. But the trick is to take your time and turn the valves very slowly. You want to re-introduce the water flow gradually, not all at once. At first, it may sputter and spit out from the faucet, sink, or other apparatus you've just opened, so allow the water to run until it streams smoothly.
Shutting Off Your Home's Gas Supply
If you ever smell gas or suspect a leak, it's important to know how to turn off your gas shutoff valve. Like your water supply system, your home has a main gas shutoff valve, as well as individual shutoff valves for your furnace, stove, clothes dryer, and any other gas appliances you have. However, in an emergency situation, you'll want to turn off the main gas shutoff valve to your home.
Typically, you'll find your gas shutoff valve near your gas meter, on the side of your home. In some cases, it's on an outside wall in a basement or garage. You'll find the gas shutoff valve on the supply pipe that rises from the ground and connects to the meter. You may see two valves; one before the meter and one after it. Turn off the valve before the meter, nearest to the ground, so that the gas is turned off before it reaches the meter. The gas shutoff valve is typically ball style (straight lever), so turning it perpendicular to the pipe stops the gas flow. A large adjustable wrench is handy for this maneuver.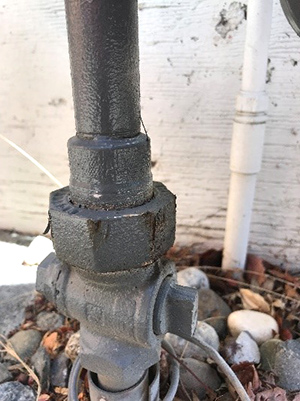 If you've turned off the gas, do not turn it back on yourself. Call your utility company or another qualified professional to turn it back on for you. They will do a pressure test and make sure your system is safe by checking for leaks and verifying that any gas appliances with pilot lights are safely re-lit.
Shutting Off Power at Your Breaker Box
In most homes, the main circuit panel, commonly called a breaker box, is located on an exterior wall on the side of your home, next to your electric meter. In some newer homes, however, it's often found in the garage. A breaker box is usually covered with a solid protective panel that can lock at the bottom using a standard U-lock. You simply open the panel to reveal the row (or rows, depending on how your breaker box is organized) of individual circuit breakers that serve different areas and appliances in your home.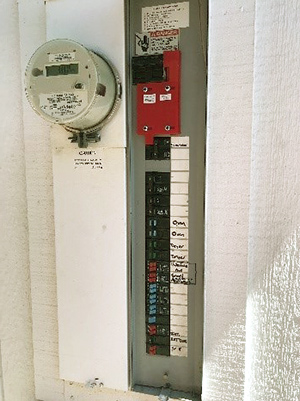 If you need to turn off power to the whole house, start by shutting off each circuit breaker, one at a time. Then turn the main circuit breaker to the "off" position. The main circuit breaker is typically located at the top of the panel, but in some cases it's at the bottom or along the side of the breaker box.
If you don't need to stop power to the whole house, simply turn off the individual circuit breaker that corresponds to the room or appliance in your home that you're working on. For ease and convenience, many homeowners like to label each circuit breaker with the area or appliance it serves. Remember that after you turn off the power, always take a moment to test for power in the wires and any other devices you're working on, using a non-contact voltage tester, just to be safe.
Quick tip: Shutting off the main circuit breaker does not inactivate the wires running to your electric meter. These are always hot—and only your utility company can turn them off.
When you're ready to turn power back on, start by turning the main circuit breaker to the "on" position and then turn each individual circuit breaker back on, one by one.
If your home is older, it may have a fuse box instead of a breaker box. A fuse box is a type of panel that's more dangerous to tamper with. If you have one, it's a good idea to have a certified professional come out to turn off/on the power for you.
And remember, First American home warranty plans offer coverage for many plumbing, electrical, heating, and other whole-house systems, as well as coverage for many popular appliances. Optional upgrades are also available, so you can customize your coverage to fit your needs.