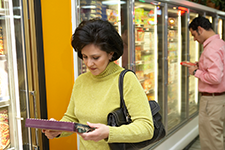 While human history is replete with evidence of creativity around freezing foods to preserve them, the glacial gleam over the modern-day frozen food phenomena melted away when TV dinners were revealed to be neither wholly nutritious nor mostly delicious.
In recent years, however, as consumers increasingly demanded better, healthier foods, frozen food products also improved, with more and more companies offering healthy frozen food meals using nutritious, appetizing, and often organic, ingredients. In addition to better taste, the benefits to buying and storing frozen foods include:
Less food waste
Foods stay fresh longer
Convenience
Often less expensive than the fresh alternative
More organic choices
Fruits and vegetables preserved at peak of season, helping to retain more nutrients
No preservatives needed and more food companies excluding them (read labels)
Foods That Freeze Well
Most baked goods freeze very well. Other baking ingredients that can be frozen include flour, sugar, granola, chocolate, and nuts.
Most berries freeze well for creating smoothies, as do bananas (hint: take peel off bananas before freezing).
Most meats, whether cooked or raw, freeze very well, as do freshly caught fish and poultry.
Make-ahead meals, such as baked ziti, mac 'n cheese, lasagna, and enchiladas, are great to freeze, as are soups and broths, sauces, and casseroles.
Don't Freeze These Foods
Dairy foods that do not do well frozen include milk, sour cream, yogurt, cheese, custards, and mayonnaise.
The list of fruits and veggies to never freeze is long and includes potatoes, celery, cucumbers, watermelon, apples, oranges, grapes, tomatoes, salad greens, cabbage, lemons and limes.
In the miscellaneous category, foods to never freeze include any fried foods, cooked, sauceless pasta or rice, and fresh eggs from the carton.
Random Tidbits
The shelf life for frozen foods varies widely, so label containers with dates in permanent marker.
Be sure to let hot food cool before freezing, but if it contains meat or dairy, do not wait very long.
Once a frozen food is thawed, give it your best smell test – if it doesn't pass, toss it.
Never freeze anything in an open metal can; the best containers for freezing are glass or plastic containers with lids, freezer bags, and foil.
Don't forget to regularly clean your freezer to keep it running efficiently.
Sources:
The Do-Not-Freeze-These-Foods List
11 Foods You Should Never Put in the Freezer
Freezing Prepared Foods – Can This Be Frozen?