When it's chilly outside, nothing beats the cozy comfort of a well-heated home. But if your furnace isn't working properly, or not working at all, you risk not only your comfort but also a host of additional issues like burst water pipes, mold, and mildew. That's why it's important to keep an eye on your furnace and try to resolve any problems as quickly as possible.
Fortunately, before contacting a furnace repair technician or furnace repair service, there are a few things you can try that could put your furnace back in working order. If you're handy, you'll have no trouble performing these furnace repair checks yourself. Keep in mind, however, that these are common furnace fixes, so if your furnace is still underperforming after you've tried them, there could be other issues at play. In that case, your best bet is to hire a local heating repair professional to perform a comprehensive diagnostic assessment.
Common Furnace Fixes
First, replace the air filter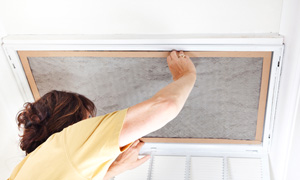 Before tackling any furnace repair task, take a moment to replace the unit's air filter (if you haven't done so in the past three months) and check whether that clears up any issues. This is the single most important step in troubleshooting furnace malfunctions since the quality of your air filter influences the performance of many other components within your furnace.
Here's a good guideline to follow: If you can't see through the air filter, or if it smells dusty and dirty, it's time to replace it. Most HVAC specialists suggest changing your air filter at least twice per year as part of your household maintenance routine—once in the spring and again in the fall—to protect your furnace's mechanical components and enhance the air quality in your home. If you suffer from allergies or you live with someone who does, you'll want to change your air filter every three months.
Thankfully, changing your air filter is a simple furnace fix that takes just a few minutes. Check your manufacturer's manual to locate the air filter; some are located on the intake, while others are in the furnace itself, inside the blower compartment. Once you've removed your old air filter, simply use the airflow arrow markings on your new one to position it in place, and you're done.
Insufficient or Uneven Heat Flow
Clean the furnace burner(s) and blower wheel
Dust and debris accumulating on your furnace's burner (or burners, as some furnaces feature multiple burners) can reduce the amount of heat your furnace produces, forcing it to work harder. A good way to check your burner(s) is to inspect the flames (some units have peepholes for this purpose; otherwise, you'll need to open the service door). If the flames are blue, they're clean. A yellowish hue, on the other hand, means it's time to clean the burner(s).
A vacuum cleaner works nicely for this task, and while you're at it, take some extra time to clean the burner assembly, the area around the blower, and the blower wheel. The blades in the blower wheel circulate air through your furnace and into your home. If your furnace's blower wheel is dirty, it can't work efficiently and may even stop working altogether. Luckily, there's a simple furnace fix to prevent this: Regularly replacing your air filter is the key to keeping your blower wheel spinning cleanly.
Relocate obstructions or blockages
Uneven heat flow can leave some rooms feeling frosty while others stay warm and snug. Your first line of defense in tackling this issue is making sure that nothing is blocking your vents and floor registers, and that they're set in the "open" position. Large furniture pieces are notorious for impeding or obstructing airflow when placed in front of a register. Likewise, long flowing drapes that puddle fashionably near a register can inhibit the optimal distribution of heat flow throughout a living space (not to mention being a fire hazard).
Outside, if your furnace vents to the side of your home, be sure to clear any obstructions that might be blocking the intake or exhaust, such as leaves and other debris.
Blocked, disconnected, leaky, or crushed ducts are also common causes of low airflow. Consider scheduling a furnace repair technician or furnace repair service to inspect your ductwork and perform a thorough duct cleaning if necessary. Added bonus: By systematically cleaning your furnace and ductwork, you're eliminating dust, mold, and other particles that circulate through your furnace and into your home.
Check the thermostat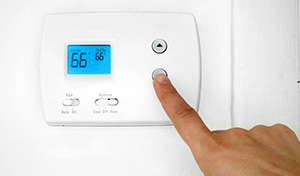 You control your furnace settings with your thermostat, so if your thermostat malfunctions, your furnace will stop functioning accurately. To help mitigate thermostat issues, place yours in a cool area of your home, away from sunny windows or warmer areas where it could be susceptible to inaccurate temperature readings. If it requires batteries, change them regularly. Double-check that your thermostat is set to "HEAT." (You'd be surprised how often they're not.) And finally, check any programmable settings to determine whether a preset schedule may be interfering with your thermostat's routine operation (such as daylight saving time vs. standard time settings).
Quick tip: If your thermostat is old, consider upgrading to a Wi-Fi-enabled thermostat, which you can control and adjust with your smartphone and other Internet-enabled devices.
Furnace Shuts Off
Check the flame sensor
A dirty or faulty flame sensor could cause your furnace to shut off when it stops detecting a flame. That's why it's a good idea to check your flame sensor and, if necessary, give it a good cleaning. Over time, oxidation and carbon buildup can affect the flame sensor's ability to do its job properly, causing a furnace malfunction.
The flame sensor looks like a rod and you can generally find it in the back of the furnace, near the burner assembly. If the sensor is removable, do so carefully and then gently scrub it with steel wool to remove dirt and debris; otherwise, clean it in place. You can also remove the burner heads and soak them in warm soapy water for half an hour for a good cleaning. Scrub the heads with a non-abrasive cleanser and use a small object like a needle to unblock the port openings.
Inspect the pilot control light
Some heating systems ignite electrically, but if yours operates with a standing pilot light, it goes without saying that checking it is an important step in any furnace repair process. It could be out, or your furnace could have a faulty thermocouple (which regulates the presence of the flame and turns off the gas supply to the pilot light if it cannot detect a flame).
Traditional units have standing pilot systems, meaning that the pilot light produces a constant (always on) flame. On modern furnaces, the pilot light is off when the furnace is off, so the furnace must ignite the pilot light. When the pilot light is ignited, the furnace opens the main gas valve and the gas flows to the burner(s). The pilot light ignites the burner(s), and the furnace begins to create the heat that ultimately circulates inside your home.
Sometimes you'll find that your furnace isn't working even though the pilot light is on. Or the pilot light has a hard time staying lit. If these things happen, be sure your air filters are new, and that you've cleaned the flame sensor and burner(s). If your furnace still won't turn on, you'll want to enlist the help of a furnace repair technician or furnace repair service.
Blower Constantly Runs
Adjust the thermostat
If your blower doesn't seem to be shutting off, your thermostat could be set to "CONTINUOUS FAN." Try changing the setting to "AUTO" instead. If that doesn't solve the problem, try temporarily turning the temperature down from your thermostat to see if the blower turns off.
Reset the fan limit switch
Your fan limit switch, which controls your furnace blower, could be set to the "OFF" position. You can find your fan limit switch under your furnace hood. If the small (usually white) button on the bottom side of the switch is pressed in, then your switch is set to "MANUAL" (always running) mode. Resetting the switch to "AUTO" is simply a matter of carefully pulling the button out. If the button is not pressed in, your switch is likely faulty and in need of replacing. In this case, a local heating repair specialist is your best bet for resolving a failed switch.
Noisy Operation
When your heating system is working properly, you barely notice it's there. That's why rattles, squeaking, and other unusual noises are clear signs of furnace trouble. Fortunately, many common sounds typically correspond to specific furnace issues:
Excessive vibrating: a skewed or off-center blower wheel, which can cause the motor to misalign
Squeaking: a loose fan belt, or a blower motor in need of lubrication
Loud popping or banging: a delayed gas ignition, or metal ducts flexing, which could mean that your furnace's air filter is clogged or the vents are closed
Rattling: loose components
Rumbling: faulty burner(s)
If your furnace is exhibiting any of these noises, or others that are inconsistent with your unit's normal functioning, it's best to turn it off and call in a furnace repair technician or local heating repair professional for a comprehensive furnace inspection and precise diagnosis.
To troubleshoot other simple heating issues, check out these tips when the central heat is not working.
Consider a Home Warranty Plan
Like most home appliances and systems, your furnace requires a bit of TLC every now and then to keep it running optimally. But sometimes, that isn't enough. That's why many homeowners invest in First American home warranty protection for their major household items. Our plans offer HVAC coverage options including twice-yearly tune-up service and customer benefits like Filterjoy's air filter home delivery service. Learn more about our home warranty coverage and get a home warranty quote.