Your garbage disposal does more than grind food scraps—it reduces food waste in landfills, lessens the risk of clogged pipes and kitchen odors, and eases mealtime cleanup. It's a convenient and environmentally friendly addition to any kitchen when well-maintained, but problems can arise when regular cleaning doesn't occur.
Learn how garbage disposal cleaning can help prevent kitchen sink odors, clogs, blockages, and bacteria, and keep your unit running smoothly.
How Often Should You Clean Your Garbage Disposal?
Garbage disposals are effective at cleaning themselves when operated properly, but you can help by running them a few times a week. Try adding citrus peels and ice cubes to clean and deodorize your disposal. In addition to daily maintenance, clean your garbage disposal thoroughly at least once per week to keep it fresh and odor-free. Let's break down how to clean a garbage disposal.
Step 1: Manually Remove Large Objects
Large items like pieces of garbage, bottle caps, and silverware can end up in the disposal by mistake. Trapped items can cause lingering smells or damage disposal parts, so it's important to remove them promptly by completing the following steps:
Turn off the fuse that powers the garbage disposal to reduce the risk of injury if the machine turns on during the removal process.
Grab some rubber gloves and remove the rubber baffle (it may also need to be cleaned).
Use a flashlight and a pair of pliers or tongs to reach and remove trapped objects.
Step 2: Deodorize the Garbage Disposal
If you notice an unpleasant garbage disposal smell coming from your sink, deodorize and kill bacteria with one of these methods:
Make a diluted bleach solution with 1/3 cup bleach and 2/3 cup warm water. Wearing protective gloves and eyewear, gently and slowly pour the solution down the drain and then run warm water for several seconds.
Add thinly sliced citrus peels to freshen a disposal that doesn't need to be disinfected - the citrus oils will help eliminate odors and add a pleasant, clean scent.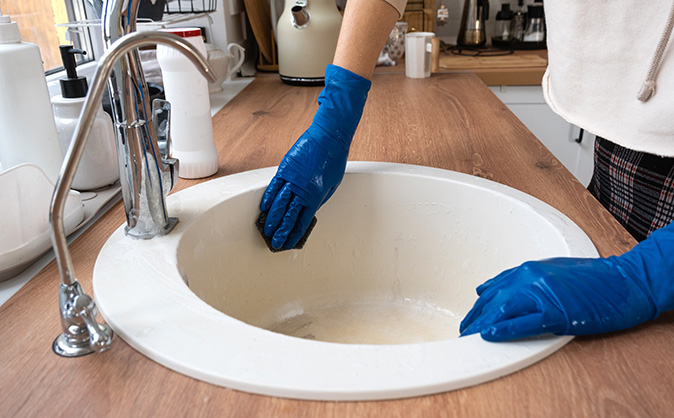 What else can go in a garbage disposal?
Step 3: Regular Cleaning Protocol
If you need to do more than deodorize, there are a few methods to get a deeper clean. There's some debate over the best way to clean a garbage disposal, so you may want to try a few methods to decide which works best for you.
Hot water and dish soap: Run hot water through the disposal and add a few drops of dish soap to loosen stuck food particles.
Baking soda and vinegar: The process of how to clean a garbage disposal with vinegar and baking soda is simple and a great way to use materials you already have at home. Mix equal parts baking soda and vinegar and pour the mixture down the disposal. This method can help neutralize bad odors as it cleans.
Ice and salt: Clean a garbage disposal with ice by putting a handful of ice cubes and a tablespoon of rock salt in your disposal and turn it on. The ice and salt will help clean the disposal and remove stubborn food scraps.
Cleaning brushes: Use a long-handled brush to clean the interior of the disposal, making sure to reach food particles that weren't removed by other processes.
It's recommended to complete one of these methods at least once per month in addition to weekly maintenance. After the cleaning process, run hot water down the disposal to ensure the cleaning mixture has been washed away.
Step 4: Deep Cleaning (Optional)
If your garbage disposal stinks even after completing the previous steps, it may be time for more in-depth cleaning. If you're comfortable with DIY plumbing tasks, you can try cleaning the disposal piping. (If not, call a plumber to take care of this for you.)
Start by running hot water down the disposal drain for at least one minute. Then turn off the water at the shutoff valve under the sink. Place a bucket below the rubber cap and pipe to catch excess water and disconnect the pipe from the garbage disposal under the sink using a wrench. Soak the pipe section with one of the previously mentioned DIY garbage disposal cleaners to remove stubborn gunk, bacteria, and odors.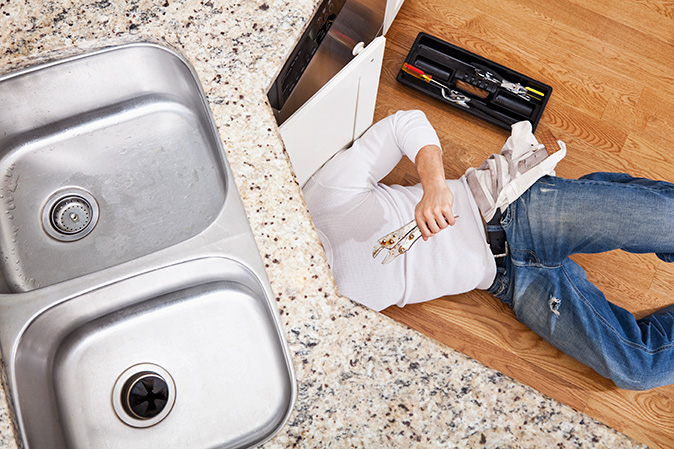 It's easy to forget to clean and maintain some kitchen appliances, but keeping a clean garbage disposal can help prevent clogs and other issues down the line. You can also protect your garbage disposal, along with many other appliances and home systems, with a First American home warranty. Get a free home warranty quote today and learn how to protect your appliances, and your wallet, from unexpected repair or replacement costs.
---
The contents of this article are provided for general guidance only. First American Home Warranty does not assume any responsibility for losses or damages as a result of using this information.