No one likes to weed their garden or yard. And you'd be hard-put to get even the most ardent plant-loving homeowners to say they like weeds. What most homeowners would say, however, is they'd rather spend more of their time gardening than weeding. So here are five simple things you can do to help to keep your weeding time to a minimum
Crowd Out Weeds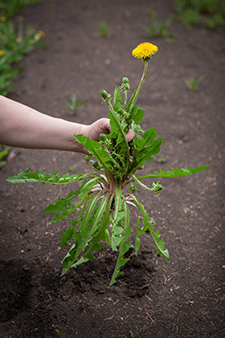 When it comes to weeds, the best defense is a good offense. If you have a lawn, keeping it healthy and thick will go a long way to helping keep out weeds. Similarly, thick plantings in your garden beds, including groundcovers, will help crowd out weeds. When planting annuals, consider staying on the lower end of the spacing range (for example, if the range is 8 to 12 inches, go with 8), especially if you have a shorter growing season.
Keep Your Soil Healthy
Weeds will thrive almost anywhere, but they can definitely take over in compacted or poor soil. Taking care of your soil will help you grow the plants you want–and not the weeds you don't. Keeping your garden beds healthy might mean adding compost, while your lawn might need aeration. Need help? Your local garden store or Master Gardener program can help you determine what your soil needs.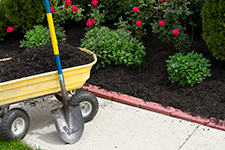 Mulch, Mulch, Mulch
Like other plants, weeds need light to grow, so keeping the ground around your plants covered with several inches of mulch will help prevent weeds. It doesn't matter what you use: wood chips, bark, leaves, or straw. Many people start with a layer of weed cloth, cardboard, or other biodegradable material, and then add the mulch on top to help really smother out the weeds. Mulch also helps keeps your soil cool and moist, so you'll need less water to keep your garden green.
Dig Sparingly, Till Early
Weed seeds are everywhere, and digging and cultivating brings the seeds to the surface, where they get enough light to sprout. So dig only when and where you really need to, and immediately cover the spot with mulch or plants. If you need to till or turn a garden bed, do it a few weeks before you want to plant and let the weeds sprout so you can pluck them before you plant.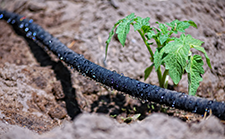 Be Water Wise
Excessively wet or dry soil, or poor drainage can all encourage weeds. Lawns like deep, infrequent watering, which lets the soil dry out between waterings and encourages deep root growth. For your garden beds, consider using drip irrigation and grouping plants with similar water needs. You'll also typically water and spend less time on maintenance if you choose native plants that are adapted to your area.