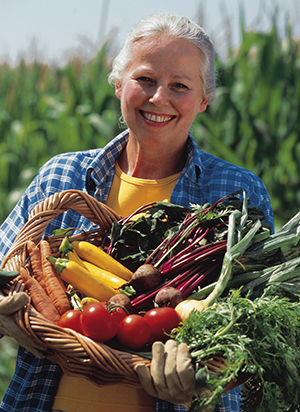 Community Supported Agriculture (CSA) has become a popular way for consumers to buy local, seasonal food directly from a farmer. For over 25 years it's been a way for a community of individuals to support a farmland operation, sharing both the risks and benefits of food production. Usually, a farmer offers a certain number of "shares" to members ("share-holders" or "subscribers"). These members of the farm have pledged in advance to cover the anticipated costs of the farm operation and the farmer's salary. In return, they receive shares in the farm's bounty of seasonal produce each week throughout the farming season.
Benefits of CSA
There are many advantages for the farmer: They get to spend time pre-marketing the food early in the year, before their usual 16-hour days in the field begin. They also receive payment early in the season that helps to support with the farm's cash flow. And just as important, the farmer has an opportunity to get to know the people who eat the food they grow.
Consumers also benefit from participating in a CSA: They're eating ultra-fresh food with all the flavor and nutrient benefits, they're given exposure to new vegetables and new ways of cooking, and they're building a relationship with the farmer who grows their food and learning more about how food is grown. But there are also risks involved. Members share with the farmer the risk of poor harvests due to unfavorable weather, pests, and the like. This is an important concept of the CSA model that takes the arrangement beyond the usual commercial transaction. The idea of shared risk creates a sense of community among members and the farmers. If the idea of "not getting what you paid for" makes you uncomfortable, then shared risk may not be for you. Stopping by your local farmers market might be a better choice.
To Thine Own Self Be True
Besides the benefits - and the risks - community supported agriculture is not for everyone. Before you decide to join a CSA, a good self-evaluation is in order. Do you truly like and consume vegetables – 20 pounds of them a week? These are a few questions that you might consider before you commit:
Do I love cooking and is there time in my schedule for homemade meals almost every night?
Do I like trying new foods and am willing to find new ways of cooking?
What will I do with excess produce? Do I have neighbors, friends, or family who would be happy receiving my excess? (Feeling bad about wasting food is one of the top reasons former CSA members don't renew)
Am I willing to accept what might come with "shared risk"?
Various Types of CSAs
An increasingly common variation on the "box" model is the mix and match or market-style CSA. Rather than a standard box of vegetables, the members create their own boxes of personal choice.
Some CSAs also team up with local farmers to offer add-ons (usually for an additional fee). This means you can get lettuce, beets and apples alongside dairy products, eggs, meat, fish, herbs, and flowers in a single stop.
But CSAs aren't confined to produce. These days CSAs go far beyond fruits and veggies. For example, there are coffee CSAs, community-supported breweries and wineries, and if you need a cheese CSA to pair with your wine CSA, there are a few of those too.
How about something sweet? There are numerous maple syrup farmers that will ship their products directly to you. There are also CSAs that deliver savory herbs and spices right to your doorstep. The list continues: how about a gluten free bakery CSA, or an exotic tropical fruit of the month CSA? You can also find non-food CSAs like the nations first fiber CSA – Juniper Moon Farm in Virginia who produce hand-made yarns.
How to Find a CSA
You might have only one or two near you locally, or be lucky enough to live where you have plenty to choose from. The idea is to look around, check out what each CSA offers, how the fees are paid and how they farm their produce. You might want to visit the farms you're interested in and be sure to ask the farmer lots of questions before you join. Here are a few questions you might ask:
How long have you been farming?
How long have you been operating as CSA?
Are there items in my box grown only at your farm? If not, where are they grown? Is it certified organic (if that is important to you)? Are members are told which items come from off-farm.
How did last season go?
How many members do you have?
Resources
Below is a list to help you find a CSA farm:
AgMap Search the Business category for the term Community Supported Agriculture or use the Advanced Search to find a local CSA.
Wilson College Robyn Van En Center CSA Farm Database
Search State and regional farm directories
Local Food Directories: ATTRA - The National Sustainable Agriculture Information Service
Another good resource: your local farmers market. Some of the vendors may do their own CSA shares. At the very least, the managers usually have good relationships with local vendors and can point you in the right direction.