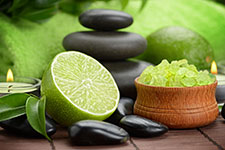 Colors have so many associations for us. For example, we associate the color green with spring, and ideas of growth and renewal. It is also the color of money, as green relates to prosperity and abundance. Green is also associated with emotions like jealousy and envy.
In 2017, Pantone's Color of the Year was "Greenery." Pantone.com says Greenery (Pantone 15-0343), is "a refreshing and revitalizing shade… symbolic of new beginnings. Greenery is a fresh and zesty yellow-green shade that evokes the first days of spring when nature's greens revive, restore, and renew." Perhaps it's the tough winter some areas have endured that's part of what excites and inspires us when we see green being celebrated. Take some time, look around, and see if you should add a little, or a lot, of green to your life.
Decorating with Green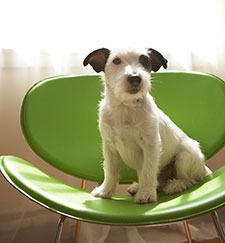 Use green to freshen your interiors. Psychologically, the color green is perceived as calming and reassuring. Many spas and doctor's offices use soft shades of green to evoke relaxation, calm, and mindfulness.
If you want to add green to your interior with paint, try a soft green tone as a neutral, or if you prefer to go bold, you may want to limit the color to an accent wall. Other ways to add pops of green are with upholstery, painted accent furniture, area rugs, art, throw pillows, and plants. It doesn't take much to brighten a neutral palette by adding the freshness of green to any room.
Foods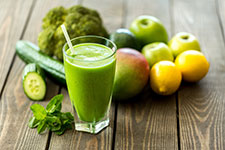 Let's face it, green rules when it comes to its association with healthy foods. It's the color of many delicious vegetables, herbs, and fruits. Avocados, kale, spinach, and most leafy greens, as well as apples, pistachios, and green tea are just a few green superfoods. Don't forget to add the Green Goddess dressing to your greens! On the flip side, green is also a color found in fruit flavored sweets, candy, and of course, mint ice cream and cookies. Yum! (More Green Food)
Well-Known Green Icons
Here are some of the more famous or historical green icons of our culture:
Frankenstein
Godzilla
Gumby
Kermit the Frog
Leprechauns
Oscar the Grouch
Shrek
Statue of Liberty
Teenage Mutant Ninja Turtles
The Emerald City
The Grinch
The Hulk
Wicked Witch of the West
Yoda
Common Sayings
The color green has also inspired language. In one of Robert Frost's most famous poems, he declares unequivocally that green is most valuable, if short-lived, because it is nature's first sign of Spring:
"Nature's first green is gold,
Her hardest hue to hold."
We use green in many other common phrases and expressions as well, including:
Green with envy
Green thumb
Green Room
Going green
Give the green light
The grass is always greener
Greenhorn
Green-eyed monster
Hope you find fun ways to go green!