The jack-o'-lantern pumpkin may be the most well known type of squash, but did you know there are more than 100 genera and 700 species of squash and gourd in the living world? Large pumpkins that you find at the grocery store for carving tend to have watery and stringy flesh, so they're not always the best choice to cook with. Try some of these lesser-known winter squash varieties for both cooking and decorating.
Knucklehead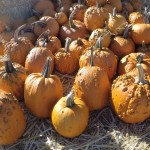 These pumpkins are medium sized, ranging from about ten to twenty pounds. Like a traditional pumpkin, they ripens from dark green to deep orange and have a very sweet flavor that is great in a variety of recipes. Fun fact: they were specifically bred for the purpose of being carved into especially eerie, ghoulish jack-o'-lanterns.
Blue Hubbard Squash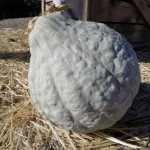 This squash ranges from twelve to twenty pounds. They are a sweet tasting winter squash and taste similar to a sweet potato, and get their name from their bluish hue.
Banana Squash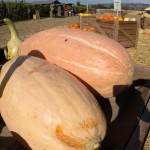 This is one of the largest squashes available, growing up to 35 pounds and up to three feet long. These cream colored squashes are available year round and are great for cooking sweet or savory dishes.
Red Kuri Squash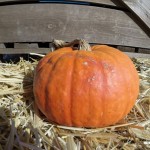 A small, burnt orange to bright red pumpkin with hardly any ridges, usually weighing less that five pounds. Inside the hard outer skin you'll find the meat which is very delicate with a mellow savory chestnut-like flavor.
Acorn Squash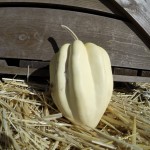 Also called the "Table Queen", this squash gets its name from its acorn-like shape. It is a small squash, usually weighing one to two pounds and measuring four to seven inches long. The most common variation is green, but you can also find orange, gold, and white ones. Sweet and nutty, it is very versatile and can be used in savory dishes or desserts.
Spaghetti Squash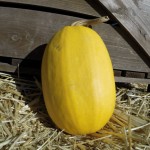 This bright yellow medium-sized squash is the most common of the bunch and weighs two to five pounds. When cooked, the squash earns its name by shredding into thin and translucent strands of "spaghetti". It doesn't have a strong unique flavor, and instead absorbs the flavor of what you season it with. Try it with pasta sauce for a low-carb "pasta".
Peanut Pumpkin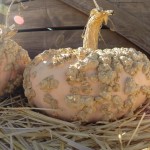 This warty pumpkin ranges from ten to twelve pounds. Its pink skin is covered with distinctive beige bumps, which are caused by the fruit's sugars seeping out and hardening on the surface. This means the more "peanuts" the pumpkin has, the sweeter the fruit is.
One Too Many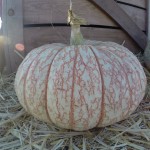 This pumpkin gets its playful name because it looks like a bloodshot eyeball (get it?) They're typically twelve to twenty pounds and have a sweet and slightly nutty flavor, making them great for pies.
Carnival, Heart of Gold, and Sweet Dumpling Squash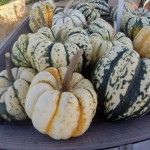 These three squashes are very similar in shade, size, color, and taste, which is why they are often grouped together. They are small in size, usually weighing only about a pound. They typically are yellow or cream in color with green and orange stripes. Their sweet and nutty flavor make