Get inspired with green St. Patrick's Day recipes. These recipes are perfect for making all your meals green this St. Patrick's Day.
Chocolate Cupcakes with Matcha Cream Cheese Frosting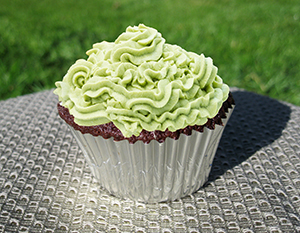 Even if you're not a green tea drinker, matcha is becoming a popular flavoring for desserts. These dark chocolate cupcakes pair nicely with the tangy flavors of matcha and cream cheese. Matcha comes in different qualities: ceremonial grade and food or culinary grade. Matcha—especially ceremonial grade—is much more expensive than other forms of tea, but it is a great source of antioxidants and has the nutritional equivalent of 10 cups of regular green tea.
Ingredients
2 cups sugar
1 3/4 cups all-purpose flour
1 cup milk
2 eggs
1 1/2 teaspoons baking soda
1 1/2 teaspoons baking powder
1/2 cup (1 cube) butter
3/4 cup dark or dutch process cocoa powder
1 teaspoon salt
2 teaspoons vanilla extract
1 cup boiling water
Directions
Heat oven to 350°F. Line 30 muffin cups (2-1/2 inches in diameter) with baking cups. Stir together sugar, flour, cocoa, baking powder, baking soda, and salt in large bowl. Add eggs, milk, butter, and vanilla; mix at medium speed for 2 minutes. Stir in boiling water (batter will be thin). Fill baking cups about 2/3 full with batter. Bake 23 to 25 minutes or until wooden pick inserted in center comes out clean. Cool 10 minutes; remove from pans to wire racks. Cool completely.
Matcha Cream Cheese Frosting
Note: If you like a lot of frosting or want to decorate your cupcakes with piping or swirls, consider doubling the frosting recipe.
Ingredients
5 tablespoons butter
8 ounces cream cheese
2 cups powdered sugar
1 teaspoon vanilla
1 to 2 tablespoons matcha powder (to taste)
Directions
Combine butter and cream cheese and beat on high until smooth. Add powdered sugar 1 cup at a time and beat until full mixed. Add vanilla and then match powder and mix on high until completely combined. Makes 30 cupcakes.
Adapted from Hershey's "Especially Dark" Chocolate Cake recipe.
---
Green Mac 'n Cheese with Peas and Ham
Ingredients
1 pound elbow macaroni, green spinach variety or other small green pasta
1 tablespoon salt for the pot
3 cups whole milk
1 cup packed fresh spinach
3 tablespoons unsalted butter
3 tablespoons flour
2 cups grated white cheddar cheese
1/4 chive flavored cream cheese
1 teaspoon salt, or more to taste
Black pepper to taste
1 tablespoon butter
2 cups frozen peas
5 green onions, white and green parts sliced thin
1 cup diced ham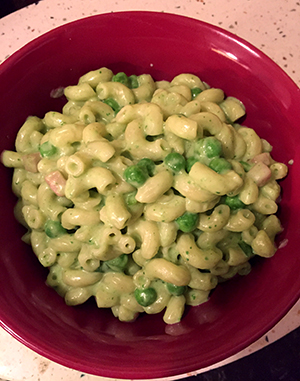 Directions
Fill a large pot with water according to package directions for macaroni, add salt. Cook macaroni al dente. Do not overcook. Drain and set aside.
While macaroni is cooking, place the milk and spinach in a blender and blend on high speed until mixture is smooth.
In large pan, melt butter over medium heat. Add frozen peas, green onions, and ham. Cook 3-4 minutes just until peas are cooked and heated through. Remove from heat.
In a large pot, melt butter and sprinkle in flour. Whisk together over medium-low heat. Cook mixture for 4 to 5 minutes to make a roux, whisking constantly.
Slowly mix in the milk mixture and bring to a boil. Reduce heat and simmer, whisking occasionally, 3 to 4 minutes, or until sauce is gently bubbling and starting to thicken. Stir in salt and pepper.
Add cheeses and whisk until melted. Stir in the macaroni and pea mixture. Adjust seasoning and serve immediately.
If desired, you can transfer to a 13" x 9" baking dish and bake for 20 minutes at 350 degrees or until cheese is bubbling.
---
Tokyo Tea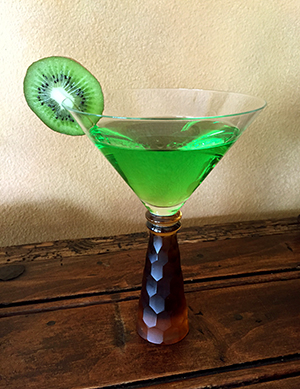 Ingredients
1 ounce green apple vodka
1 ounce gin
1 ounce rum
1 ounce tequila
2 ounces kiwi liqueur (or midori)
1 teaspoon superfine sugar
Lemon-lime soda
Kiwi slice
Directions
Pour all ingredients (except the soda) into a chilled glass filled halfway with ice. Pour soda on top to the rim and stir gently. Strain into a cocktail glass. Garnish with kiwi slice.
---
Creamy Broccoli Soup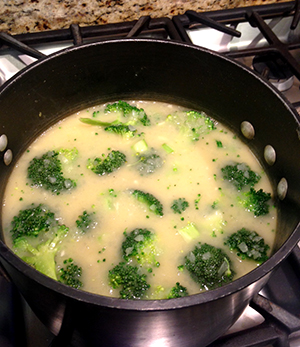 Ingredients
1/4 cup butter
1 medium to large yellow onion, chopped
2 large cloves fresh garlic, finely chopped
1/4 cup all-purpose flour
6 cups low-sodium chicken broth
1 1/2 to 2 pounds broccoli; cut into small florets, peel and chop remaining stems
1/4 cup heavy cream (use half and half or milk if you prefer a lighter soup)
Salt and ground pepper to taste after puree
Directions
In a large saucepan, melt butter over medium heat. Add chopped onion and cook until softened, stirring occasionally, about 10 minutes. Add garlic and cook for two minutes more. Add flour, stirring until combined, and cook a minute or so, making a roux.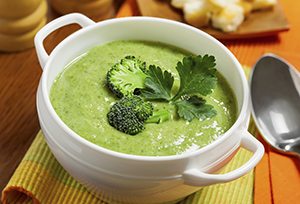 Add the broth, whisking constantly while bringing to a boil over high heat. Reduce heat to low, and simmer for 10 minutes whisking occasionally. Add broccoli and bring back to a simmer and cook until broccoli is very tender, about 20 to 30 minutes.
Puree mixture by transferring batches into a blender. It will be very hot so don't fill the blender more than half full and remove cap from the top, or tip the lid so steam can escape while blending. Start on slow speed, then increase to puree. Place pureed batches in a large bowl. Transfer back to saucepan when complete. Add cream or milk and heat over medium heat until heated through. Season with salt and pepper.