When you are installing new tile for a backsplash, countertop area, or floor, it is those clean, straight grout lines that ensure your beautifully laid-out tile looks finished. So, if you see what used to be light, bright grout lines looking aged, dirty, or mildewy, you know it's time to clean them. Tile flooring also will get the most traffic in your home, making those grout lines the toughest to keep clean. So how can you avoid constant grout maintenance while keeping those lines clean? Two words: grout sealer.
The final step to finishing your tile floors is sealing grout and it's a step that is easy to overlook when you're ready to be done with a tiling project. However, sealing tile floors can prevent dirt buildup, stains, and eroding of grout and tile. Thus, using a floor tile sealer to seal that grout will help enhance the life of grout lines and floor tiles.
Sealing tile floors may be a tedious and time-consuming process, but even a novice DIYer can quickly begin refreshing and sealing grout. This article will focus on cleaning and sealing grout on tile floors, but you can use also follow these steps if you are learning how to seal grout in showers, backsplashes, and other tiling projects.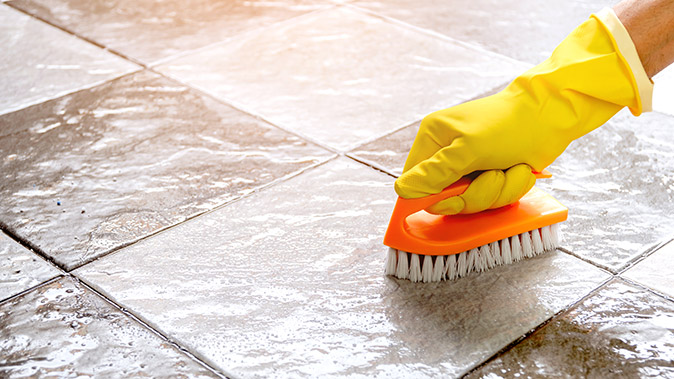 The following tips help you to learn how to seal grout in a few quick and easy steps, and help seal your DIY skills!
How to Seal Grout in Three Simple Steps
Keeping your environment clean is the most important part of sealing tile floor grout. Any dirt or debris in the area has a good chance to cling to the grout and ruin all your hard work and time on sealing grout. So be sure to thoroughly sweep or vacuum and mop the floor to rid it of all dirt or debris.
1. Clean the Grout Lines
You can choose to purchase commercial grout cleaner, but a simpler way to clean grout and get good, professional results is by combining some ingredients you already have around your home.
A common and effective grout cleaner solution is to dilute the vinegar with baking soda and use it on the grout. Wait five to ten minutes, then scrub the grout with a toothbrush and rinse with warm water. If your skin irritates easily, be sure to wear gloves while working with any chemical, including homemade solutions.
Grout stains can be stubborn and may require a little more elbow grease. If a toothbrush is not lifting the stains, use a floor scrub brush to clean the grout thoroughly. If you're having trouble, reapply your cleaning solutions and let them sit a little longer before scrubbing again.
Pro Tip 1: If your grout is not clean enough after a few attempts, using a manual grout saw with a removable carbide blade is a fast way to remove a thin layer of grout. If you have straight grout lines, this process can go quickly. You may need more than one carbide-tipped blade on hand as it is common to go through one blade for every 100 square feet of grout.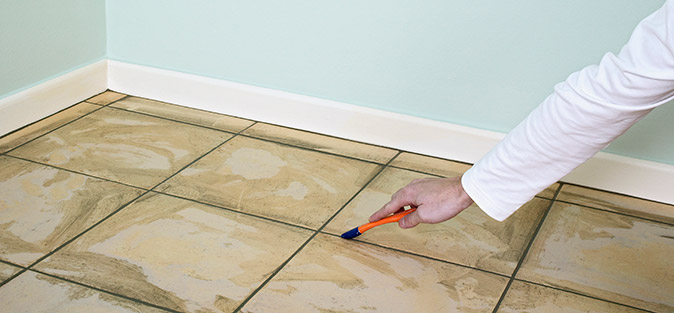 Pro Tip 2: If the grout is not as clean as you would like after multiple applications (or you want to outright replace the old grout), you can remove grout in short order using a diamond grout removal blade paired with an oscillating multi-tool. Be careful when using the multi-tool as you could chip and damage the tiles as you remove the grout. Grout removal and replacement lets you reapply a new layer of grout, giving a freshly laid look without a total bathroom remodel.
When all the cleaning is out of the way, give your floor a solid wash with plain water, making sure the water gets into the tile grout. Let the floor completely dry before you grab the grout sealer.
2. Choosing the Right Materials for Sealing Grout
You are almost ready to apply a grout sealer. First, though, you'll need the sealer. There are many types of sealers, and each offers different benefits depending on your objective for grout maintenance. Aside from protecting your grout from dirt and grime, some of the sealants will block out moisture to prevent the development of mildew. Choose an appropriate grout sealer based on traffic or usage patterns for your tile floor.
There are two main types of sealers best for this project:
Penetrating sealer: This is a water-based formula that penetrates the porous nature of the grout to seal and keep moisture out. These sealers are the best choice for use in moist areas, such as bathrooms, and especially in showers.
Membrane-forming sealer: These sealers "coat" the surface of the grout and help resist water infiltration. These grout sealers work well for kitchen applications but should not be used in the bathroom. Membrane-forming grout sealers won't allow any water trapped underneath the tile to evaporate, which could lead to mildew in a shower. A benefit to membrane-forming sealants is they often feature pigmentation, so you can change the grout color to your liking.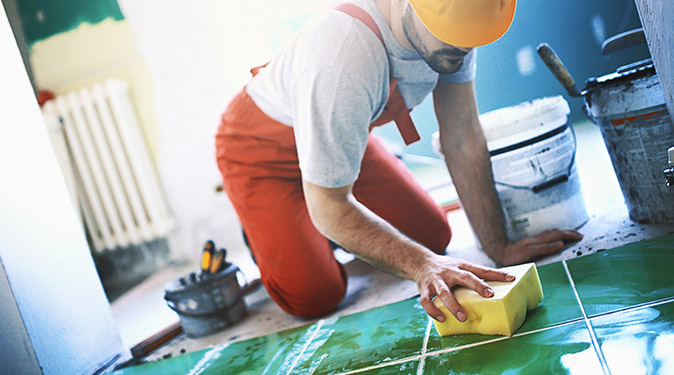 Once you have chosen your sealant, it's time to choose the applicator tool that's right for your situation. A brush or small paint roller is also useful but they have some drawbacks. A paintbrush can be inconsistent and cause you to brush over several areas multiple times to get a good coat. Rollers are not perfect, but they are better than brushes as the sealer remains relatively close to the seam line without slopping too far over onto the tile surface.
Typically, the best, cleanest, and quickest applicator is a sponge, which allows you to easily seal larger sections of thin grout lines and unsealed tiles by wiping over both surfaces at once. In areas where you'll need to seal only the grout lines (no tiles), an applicator brush or specialty applicator bottle with a rolling wheel works well. Whichever tool you choose, read the manufacturer's directions on which applicator to use when sealing grout before you begin.
3. Applying Grout sealer to Tile Floor
With the proper tools and materials picked out, you're ready to start sealing grout. To get consistent, clean grout lines and better protection, it is best to work slowly and deliberately in small areas at a time, working left to right. You'll also want to start your work in a far corner of the room so you can enter and exit the room at your leisure.
Use a dry cloth to clean up the excess sealer and any unwanted drips on your tile. If the sealer drips onto any tiles not suitable for the grout sealer, you will want to act quickly (within a few minutes of application) to remove the sealer from any tiles before it dries. Otherwise, you will be left with a cloudy film that's extremely difficult to remove.
Allow this first application of grout sealer to dry for an hour before doing a second coat. Yes, two coats are necessary. There is a possibility you missed a spot or two along the grout line in the first coat, which means that area is not protected. So, at minimum, two coats are necessary. In some instances, three coats of sealer may be necessary to achieve maximum protection.
Apply the second coat exactly as you did the first coat. Allow the second coat of sealer to dry for two to four hours, then test the seal by sprinkling a few drops of water onto the surface. The water should bead up leaving droplets on the surface if the grout is sealed properly. If the water does not bead, apply a third coat to obtain maximum protection. Let the sealer dry 24 to 48 hours before anyone walks on the floor.
Quick Tip: Some grout sealer brands require more time between coats, so be sure to read the manufacturer's instructions before sealing.
Tile Floor Maintenance Helps Keep Grout Clean
Keeping the grout clean is going to be much easier after you apply a grout sealer. Nevertheless, grout cleaning should be done regularly if you want to keep your hard-earned results.
It is good practice to give your tile floors a deep clean at least every two weeks. No matter how effective your daily efforts are, people-and-pet traffic carries in a lot of dirt and filth, which can potentially cling to the grout. So, biweekly cleaning is a necessary step in keeping your grout lines clean.
Even with the daily routine in the shower, it is good practice to give your tile floor in other rooms a deep clean at least every two weeks. No matter how effective your daily efforts are, people and pet traffic carry so much dirt and filth, which will still cling to the grout. So, biweekly cleaning is a necessary step in keeping your grout lines clean.
Fill a five-gallon bucket with hot water, a half cup of vinegar, and a half tablespoon of dish soap. Don't use too much dish soap as the bubbly residue may make your floors look dull and cloudy. Before you mop, rinse out the mop head under hot running water to remove any debris from the previous cleaning. Mop the tile floors with soapy water and let dry.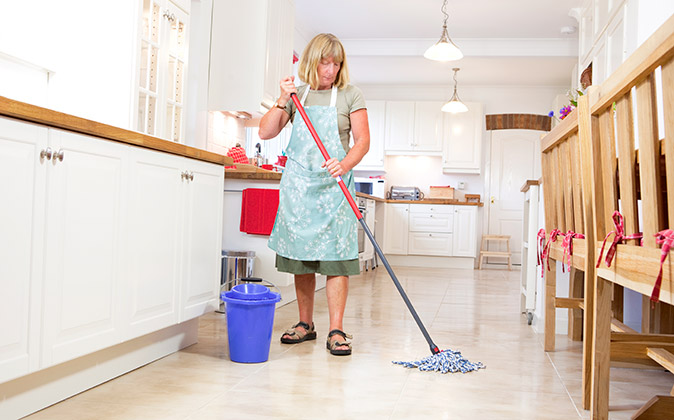 Cleaning the floors is one way to ensure your floors stay clean and fresh. However, resealing your grout once per year for well-trafficked areas will make them last. Resealing them after you have done your spring cleaning or are wrapping up house projects before the winter season comes is highly recommended. Areas with lower-to-no traffic still need cleaning and resealing every few years to remain effective.
First American Home Warranty Plans
As a homeowner, it's best to be prepared for the unexpected, especially when it comes to home repairs. Purchasing a home warranty is a smart financial move that can help you be ready when covered appliances or home systems fail.
With more than 35 years of experience, you can trust First American with your home warranty needs. We provide homeowners with peace of mind and offer plans for every home and budget. Contact us today to learn more or get a free quote.