Scented candles are a significant contributor to indoor air pollution. That pretty candle burning on your mantle is releasing chemicals considered just as dangerous as second-hand smoke.
What's in Those Candles You Buy?
Most candles are made of paraffin wax (a petroleum waste product), which creates highly toxic benzene and toluene when burned (both are known carcinogens). In fact, the toxins released from paraffin candles—petro soot—are the same as those found in diesel fuel fumes. The soot from these candles can contain a slew of toxic chemicals, including toluene and benzene as well as volatile organic compounds linked to cancer and neurological damage.
Other toxic chemicals that may be found in the paraffin mixture include Acetone, Trichlorofluoromethane, Carbon Disulfide, 2-Butanone, Trichloroethane, Trichloroethene, Carbon Tetrachloride, Tetrachloroethene, Chlorobenzene, Ethylbenzene, Styrene, Xylene, Phenol, Cresol, Cyclopentene. Add the name of any of these chemicals and the words "human carcinogen" into your browser's search bar at your own risk.
Another cause for concern is that the wicks in candles may contain lead cores, which, when lit, release a dangerous amount of lead into your home. Even a few hours of burning them can create levels of airborne heavy metals that are much higher than the acceptable limits. Legislation in the U.S. to ban lead in wicks passed in 2003, but lead can still be present in imported candles. Exposure to high amounts of lead has been linked to hormone disruption, behavioral problems, learning disabilities, and numerous health problems.
How to Avoid Toxins in Scented Candles
If you are not ready to give up on scented candles, here are few tips to avoid the worst offenders when buying candles:
Avoid super cheap or "dollar store" candles.
Buy only candles made in the USA.
Avoid candles with metal core in the wick. You can check by peeling back the cotton to see if there is metal at the core.
Avoid gel candles.
Tips for Staying Safer with Those Candles
Buy only high-end candles with safe wicks and natural fragrances.
Use taper candles as the wicks are less likely to contain lead.
Anytime you burn a scented candle, do so in an open space with a cracked window for ventilation; do not burn candles in a small closed-in bathroom, for example.
Healthier Options When Buying Candles
Soy-based candles are a great option. They burn clean with no harmful fumes and have a very long burn time. The only issue with soy is that almost all soy grown in North America is genetically modified, whether on purpose or because of nearby contamination.
The Bees Know Best
Beeswax is probably the best choice for many reasons. Not only is it safe, beeswax also has the benefits of helping clean indoor air.
Beeswax candles emit negative ions, which help reduce positively charged ions in the air. Scented, parrafin candles generate positive ions, as do electrical devices and even heating/cooling systems. Positive ions can carry everything from dust to pollen to toxic mold, so it is important to reduce their presence in the air in your home. This is where negatively charged ions (like those from beeswax) come in. They bind together and have a heavier molecular weight than positive ions to help keep them from floating around in the air, which can effectively reduce allergies, asthma, and hay fever symptoms as well.
Beeswax is simply a natural wax made by bees. It has a light honey scent but you can sometimes find beeswax candles scented with essential oils. Beeswax is naturally colored from off-white to yellow to light browns but is also available is many colors made with non-toxic dyes.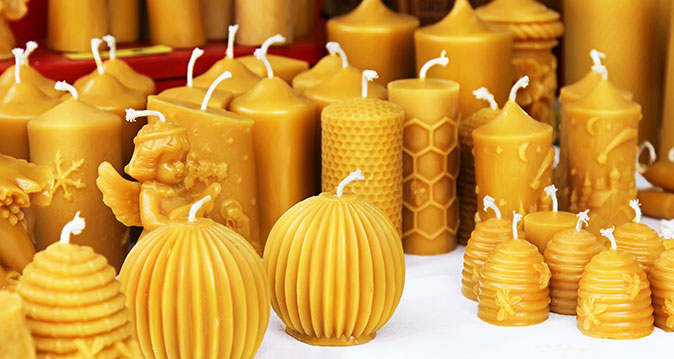 Make sure to look for 100% beeswax as some companies will only use a portion of beeswax mixed with regular paraffin, then label the candles as "beeswax."
It is also very easy to make your own beeswax candles from sheets of beeswax that you roll into various types of tapers or pillar candles. You can also easily melt beeswax granules into class containers to make your own votive candles.
If you are not the DIY type, or you want an alternative to beeswax, you will find that battery-operated LED candles come in every shape and size imaginable. You will lose the subtle scent of honey in a beeswax candle but keep the ambiance. Many battery-operated candles come with a flickering wick that makes the candle seem real and can produce that similar glowing effect as real candles. Some even include timers or come with remote controls.
Either beeswax or battery-operated candles are your best alternatives to candles with paraffin wax, but only beeswax can help reduce the indoor pollution in your home.
More Healthy Home Resources
5 Low-Maintenance Houseplants for a Healthier Home
DIY Household Cleaners and Safer Cleaning Products
12 Ways to Make Your Home Healthier