If you are looking to replace your home's heating or air conditioning system, or want to add an efficient way to heat or cool your home, a heat pump could be worth considering. This is especially true if you live in a milder climate, although new heat pump systems work even in areas with colder winters. Let our heat pump guide help you decide if it's time to make a switch.
Heat pumps have been used for many years in the U.S. — except for in areas that have harsh winters with periods of subfreezing temperatures. Now, heat pumps have evolved so that there are models specifically designed for colder areas. This, along with the push to reduce carbon emissions and move away from dependence on fossil fuels, has many people looking at, and moving to, heat pump systems. Depending on where you live, you may also find substantial rebates to help you cover the costs of making the switch in your home.
First, let's look at how heat pump systems work and the different types of heat pumps.
How Does a Heat Pump Work?
A heat pump is an energy-efficient way to use electricity to both heat and cool your home that works by transferring heat. To cool your home, a heat pump transfers (or "pumps") heat outside, and to warm your home, it transfers heat inside. Although it seem counterintuitive, a heat pump system can even extract heat from very cold, even freezing, air.

Unlike a gas furnace that has to burn fuel to generate heat, a heat pump only has to move heat, which is far more efficient. Heat pumps work in much the same way as your refrigerator, which creates a cold or freezing environment by transferring out excess heat.
Heat pumps are electric so they don't emit carbon dioxide (CO2). Plus, in areas where the power grid relies on greener ways of generating electricity, switching to a heat pump can be a winning choice for reducing greenhouse gas emissions.,
According to the U.S. Department of Energy, "Today's heat pump can reduce your electricity use for heating by approximately 50% compared to electric resistance heating such as furnaces and baseboard heaters."
Types of Heat Pumps
In the U.S., we primarily use air source heat pumps, as they are efficient and reasonably priced. Although geothermal heat pumps, also called ground-source heat pumps, are even more efficient, they are also far more expensive and require the installation of in-ground pipes.
Air-Source Heat Pump Types
There are several types of air-source heat pumps. Which type will work for your home depends on your needs and if you already have central heating or cooling that uses a duct system.
Central, split, or ducted heat pump: This type of heat pump system has an outdoor unit that looks almost exactly like an outdoor AC unit. It is connected to an air handler unit that moves warm or cool air throughout your home's duct system to heat or cool your home, similar to how central heating and air conditioning work. If you already have a furnace or central AC, this may be your best option.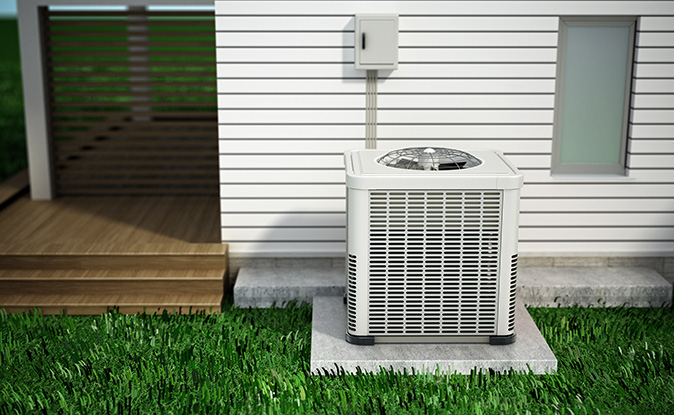 Mini-split ductless heat pump: Mini-split heat pumps (also known as ductless heat pumps) don't use ducting. This makes them a good choice for additions and homes where it isn't feasible to add ductwork. They feature an outdoor unit that gathers heat from the air and transfers it via refrigerant lines to one or more wall or ceiling units mounted inside, offering multi-zone heating or cooling.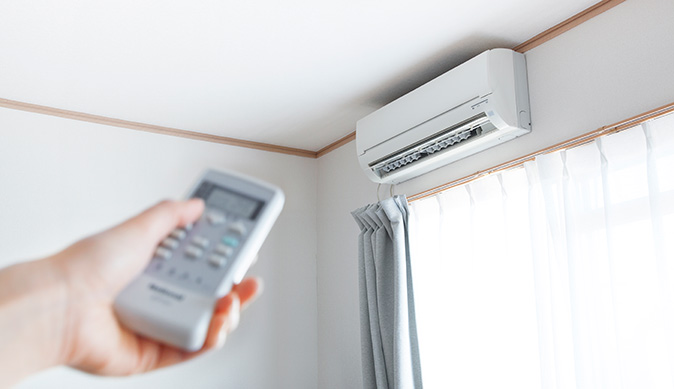 Mini-split systems are easy to install but can become less efficient with each wall or ceiling indoor unit that you add. However, because they don't use ducting, which can be a significant source of energy loss, this makes them more efficient than ducted systems.
Should You Switch to a Heat Pump?
The short answer is: it depends. If your furnace or air conditioner is getting older and needs more regular repair, then you should look at heat pumps. This is especially true if you live where electricity is cheaper than natural gas, or want to reduce carbon emissions by heating your home efficiently without gas. A heat pump system can be a good option if you don't have an energy-efficient way of heating your home, and you also need a cooling option.
Do You Have an Older HVAC System?
Is your gas furnace or air conditioning unit near the end of its useful life? Then consider replacing it with a heat pump system. If you have a newer, efficient heating system in your house and your air conditioning is working fine, then it probably doesn't make sense to switch yet. If your HVAC system has a few years left, plan to look at heat pumps soon.
Are You Using Less-Efficient Heating?
If you're looking to move from a less-efficient or non-clean burning heating system and you have a need for cooling as well, then it could be a good option. Unlike a gas furnace that has to burn fuel to generate heat, a heat pump only has to move heat, which is far more efficient.
Do You Want to Add AC to Your Heating System?
If you're using wall or baseboard heaters or another type of heating that doesn't use ducting, consider a ductless mini-split heat pump. This type of system is easier and usually far less expensive to install than a traditional central system that requires ducts. A mini-split system can also be a good option for older homes or for additional where installing ductwork isn't practical.
Pros and Cons of Heat Pump Systems
Here are some of the benefits and drawbacks of heat pumps.
Benefits of a heat pump
More energy efficient than other electric heat options
One system can heat and cool your home
Less expensive than both AC and a furnace
No carbon monoxide risk, since it runs on electricity
It doesn't use gas, so can have lower emissions running from a greener power grid
Most efficient in Climate Zones 1-3 (southern U.S. and coastal regions)
Requires less indoor space than a furnace
Heat pump drawbacks
Can be noisier than a furnace, but heat pump systems are about as noisy as AC.
Generally more expensive to install than either a furnace or an air conditioner.
Less efficient if you live where it is below freezing regularly or for long periods, and in these cases, you may need an additional source of heat to help when temperatures stay very cold.
Home Warranty Coverage for Heat Pumps
HVAC systems (including heat pumps, central heating, air conditioning, and ductwork) are one of the many important home systems that First American Home Warranty plans can cover. When a covered appliance or home system breaks down, we're here to help protect your budget from unexpected repair and replacement bills. Learn more about what a home warranty covers and how it works, or get a quick quote.