According to the Department of Energy (DOE), heating is the largest energy expense in the average home, accounting for about 45% of energy bills. This equates to the average household spending $700 or more per season if they heat their homes using natural gas, and $1,700 or more if using heating oil.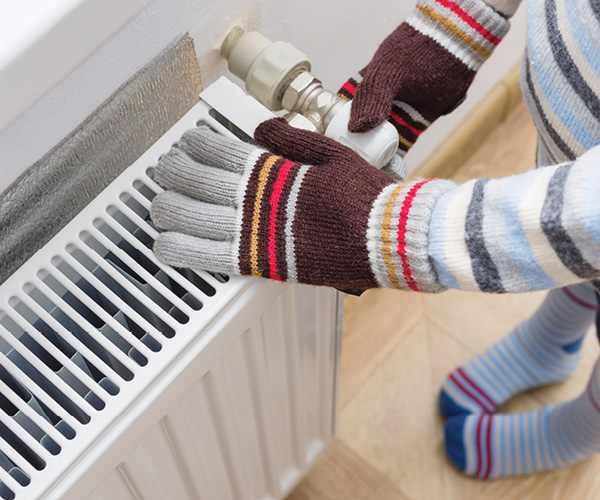 With today's higher energy efficiency requirements, you may be thinking it's time to upgrade your heating system. If you are planning to purchase a new unit, we have some important guidelines to help you later in this article. Keep in mind, however, that while installing a new unit may help you save money on your monthly utility bills, you will have a large, upfront expense. And purchasing a new, more energy-efficient unit won't do as much good if your home as a whole isn't also energy efficient.
Want to keep the heat on, the gloves off, and more savings in your pocket this winter? Start by trying these 10 practical and often easy maintenance tips to help you get through winter.
Energy-Saving Tips for Your Heating System
Install a programmable or smart thermostat. These types of thermostats can save an estimated 10% per year on heating and cooling costs, according to the DOE. Program your thermostat according to your daily schedule. When you are away or asleep, set it to automatically lower your home's temperature by at least 10 degrees. When you're home program it to a lower temperature that still feels comfortable.
Replace air filters consistently. We recommend replacing filters as frequently as monthly during high-usage months. If your system uses a washable filter, clean it regularly.
Change the direction of ceiling fans. Set your ceiling fans clockwise to push warm air down.
Open your curtains or window coverings during the day. Doing so allows natural sunlight to warm your home during the day. At night, be sure to close them to keep the cold out. If it's time to upgrade, look for window coverings that help keep your home comfy and save energy year-round.
Clear obstructions. Ensure air vents, baseboard heaters, and radiators aren't obstructed by furniture, long drapes, and so on.
Add insulation to your walls. Insulating the walls in your home and basement is a wise investment that can pay for itself within a few years.
Release trapped air in the radiator. If you have a steam radiator, regularly allow trapped air from hot water to escape to allow the system to function properly.
Check all air ducts, windows, and doors for proper seals. If you feel a draft, your warm air is escaping and cold air is coming in. Use a simple caulk, weatherstripping, or insulation to secure those seals.
Keep your heating unit clean of dust, soot, and corrosion. Clean heating coils and heat exchangers regularly to maintain efficiency and prolong life. Perform routine maintenance on your heating system annually or as frequently as recommended by the manufacturer's guidelines. We recommend having your system checked before the winter season begins to discover any problems before the temperatures drop.
Close the fireplace flue when not in use. When the flue is open the warm air generated from your heating system literally goes up your chimney. If you use it regularly, be sure the fireplace is ready for winter. Have a pro inspect the chimney once per year and clean it every other year.
If you're looking for more ways to make your home more energy-efficient this winter, you can also add these home winterizing tips to your maintenance checklist.
It Helps to Learn Some Heating System Lingo
If your bills are still high, it may be time to shop for a new unit. Before you do it's important to know the lingo:
AFUE stands for "Annual Fuel Utilization Efficiency" and is used to measure how energy efficient a furnace or boiler is. To find the AFUE of a system, take how efficient the appliance is at converting the energy in its fuel to heat and divide that by the annual fossil fuel energy consumed by the appliance. The higher the percentage, the more energy-efficient your unit is.
55-70% - Low efficiency
71-89% - Mid efficiency
90-100% - High efficiency
HSPF stands for "Heating Season Performance Factor" and is used to measure hour efficient a heat pump is. HSPF is measured by taking the total space heating required during the heating season and dividing it by the total electrical energy consumed.
3.0-6.8 – Low efficiency
6.8 – 7.9 – Mid efficiency
8.0 – 10.0 – High efficiency
COP stands for "Coefficient of Performance" and is another way to measure a heat pump's efficiency. COP is measured by taking the amount of heat provided and dividing it by the amount of energy input.
Rating ranges from 2-4, the higher the number the more efficient.
Types of Heating Systems
Now that you know what you're looking for, let's discuss what type of system is right for you.
Furnace
How it works: Heats air and uses a blower motor and air ducts to distribute warm air throughout the house.
Efficiency: 60-95% AFUE, depending on the age of the system
Life expectancy: 15-30 years
Fuel: Natural gas, propane, heating oil, electricity
Breakdown: Inexpensive, but can be loud
Boiler
How it works: Heats water to make steam for heating that is then distributed through pipes.
Efficiency: 50-90% AFUE, depending on the system's age
Life expectancy: 15-30 years
Fuel: Natural gas, propane, heating oil, biodiesel blends, electricity
Breakdown: Great for zone heating if you have unused rooms that you don't want to heat, but it is fairly expensive to install and isn't great in extremely cold areas where pipes are prone to freezing.
Heat Pump
How it works: Pulls heat from the surrounding air to warm the house. The opposite is done for cooling.
Efficiency: 6.8-10 HSPF
Life expectancy: 15 years
Fuel: Electricity, geothermal energy
Breakdown: One system to take care of both your heating and cooling needs, but it isn't great for places in extreme temperatures and can be expensive to install.
Solar
How it works: The sun heats a liquid or air in a solar collector to produce heat.
Efficiency: 100%, no energy needed
Life expectancy: 20-30 years
Fuel: Solar energy
Breakdown: By far the most energy-efficient, you will have little to no energy bill at all. However, solar often requires a second form of heating source for large homes and has an expensive initial purchase for the panels and system.
Electric
How it works: Converts electricity into heat.
Efficiency: 95-100%
Life expectancy: 20-30 years
Fuel: Electricity
Breakdown: Inexpensive equipment and high energy efficiency, but can be expensive to operate.
Source: www.energy.gov