Deck the Halls, Not Wreck the Halls
With the festive season quickly approaching, it's time again to dust off last year's holiday decorations and start transforming your home into a winter wonderland. When you're decorating for Christmas, you may like to hang up thick garlands, heavy strands of lights, glittery Christmas ornaments, bulky wreaths, and more. These holiday decorations can create stubborn messes and unsightly damage after the holidays are over, but we've got holiday decorating ideas that can help give your home a festive sparkle while minimizing the chance of damage to your home.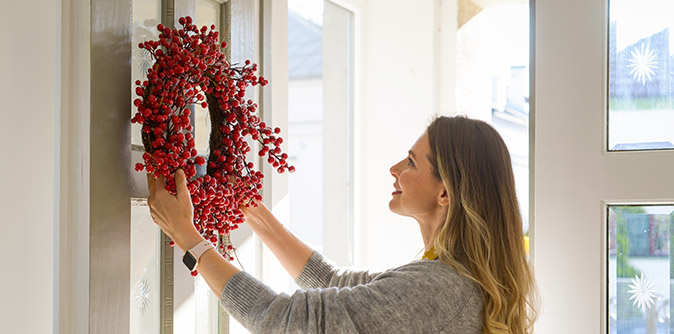 Up on the Rooftop
Holiday lights and outdoor Christmas decorations have limitless possibilities and can quickly transform a home into a magical space. Besides putting lights around your roof and on your trees, you can also bring your string lights inside and hang them from ceilings or wrap them around banisters and railings.
Hang outdoor holiday lights with adhesive clips. Yes, you can hang Christmas lights on your house without using nails. There are a number of Christmas light clips and hangers on the market today that will allow you to go all out with the sparkles without hammering and drilling.
Watch those shingles while you're up on the rooftop adding your Christmas lights and other holiday décor. Your shingles are your roof's first line of defense against the elements. Hanging anything from them is a bad idea because any nails that go through your shingles create tiny holes. Even if you use Christmas light clips or hooks, make sure you aren't connecting them directly to the shingles.
If you've got a brick home, you can use brick clips to secure your holiday lights. These attach snugly around the bricks, so you can place one at each end and slip the wire between the hooks. These clips can hold from 25-50 pounds so they're great for Christmas lights or heavy greenery. You can also use brick clips to secure holiday decorations and lights to a brick fireplace mantel.
When the holiday season ends, make sure you remove your holiday lights and other items carefully. Avoid pulling at the end of a string of lights to remove them, as that can damage your roof and gutters.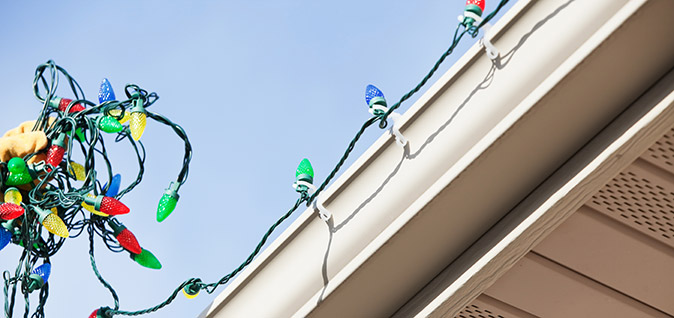 First Impressions at the Front Door
When it comes to decorating for Christmas, one of the best holiday decorating ideas is hanging a festive wreath on your front door. But while this might be traditional, your door may not be. In other words, it may be made from a more modern material like fiberglass or UPVC, so hanging a wreath with a nail isn't an option. Fortunately, you can still give your guests their first impression of the winter wonderland you've designed inside. A little bit of décor can go a long way toward creating a cozy home for the holidays.
A simple, effective way to hang Christmas decorations or other holiday ornaments on your door is by using adhesive hooks. These heavy-duty hooks will hold your wreath in place for the entire festive season and can be removed without leaving a mark.
If your door is metal or glass, you can use magnetic hooks. A strong set of magnets placed on both the inside and the outside of the door keeps holiday decorations in place. When using this option, it's best if your decorations are lightweight.
An over-the-door wreath hanger is a damage-free option for displaying your Christmas decorations. Choose one with a felted back to avoid scratching your door. You can also add an adhesive felt tab to the underside of a door hanger.
Hang Stockings with Care
There are plenty of ways to hang your stockings and other Christmas decorations without putting nails in the mantel or walls, or leaving behind permanent marks.
If you have a fireplace mantel or other shelving, use it to showcase your stockings. Use weighted stocking holders on the mantel or hang them with adhesive hooks that you can easily remove. You can also hang items on existing hardware you have, like cabinetry handles, or on furniture such as bookshelves, or the backs of chairs. For staircase banisters, consider using zip ties to easily secure stockings or garlands without damaging the railings.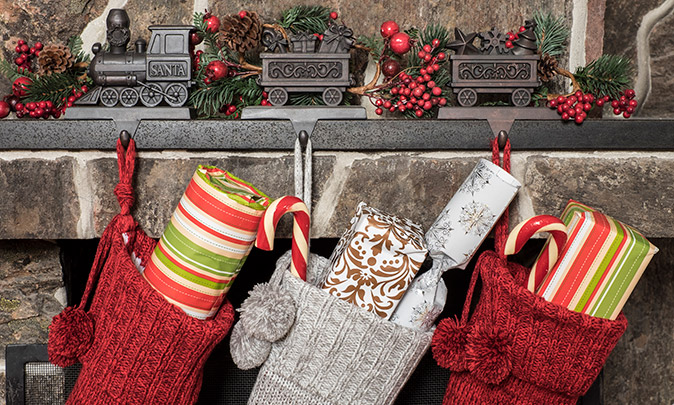 Decorate Windows Safely
Placing your decorations in windows is a wonderful way to create a festive atmosphere for both the inside and the outside of your home. If you plan to hang wreaths and other holiday décor safely, never use nails or screws directly around windows, as this can allow moisture or cold air to permeate through the frames and into your home.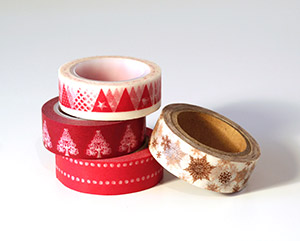 An easy, damage-free hanging method that adheres to glass is suction cups. You can buy suction cups with hooks at any hardware store. Loop wire or ties to your decorations and then hang the loops from the hooks. When you take the suction cups down, just stash them away until next year.
Another option is to secure self-adhesive, removable hooks above your window frames, then hang your decorations with a clear, heavy-duty fishing line.
For a modern, trendy look, try decorating with Japanese washi tape. It peels off surfaces easily without leaving a sticky residue. You can also use it for wrapping presents and making cards and Christmas ornaments.
Candles sitting on windowsills are traditional Christmas decorations; however, to avoid messy wax drips and a high possibility of fire, use battery-powered candles. The light will provide a warm and realistic glow, and your windows will be safe from harm.
Use curtain rods to hang garlands, Christmas lights, and any other lightweight holiday decorations and décor. You're only limited by the festivity of your imagination.
Deck the Walls
When decking the walls, avoid the hassle of nails or screws that leave behind unsightly holes. Try using the suggested products below for hanging wreaths, garlands, string lights, and other holiday decorations—and leave your walls immaculate.
Removable self-adhesive hooks. These peel-and-stick hooks and clips promise to leave behind no residue or damage to your walls. To ensure your decorations don't come crashing down, always use hooks that are rated for the weight of whatever you're displaying. Some ideas for these clever hooks:

Hang twine or holiday ribbon between two hooks, and hang holiday cards and photos along its length.
String holiday lights around a doorway or mantel—even around cabinets or shelves.

Removable mounting putty. This magical stuff is one of the most useful holiday decorating ideas when it comes to sticking decorations into tight spots; for instance, if you are stringing a long garland through a room.
Good-old hot glue. Crafting glue can be used to hang strands of garlands or holiday lights on most nonporous surfaces, and it peels off harmlessly when you're finished. You may want to test a small area to make sure it won't peel off your paint, but it works well on siding and glass.
Clear acrylic sealer. While glitter adds a festive touch to holiday decorations, its effect is less charming when you're still cleaning up stray sparkles months later. To avoid scattering glitter all over your home, seal your sparkly decorations with a clear acrylic sealer before hanging them up. A coat of hairspray can also work in a pinch. Be sure to let your decorations dry completely before displaying them.
Keep in mind that you should never use duct tape, double-sided tape, or other adhesive products that aren't designed for use on interior or exterior walls when securing your Christmas decorations or holiday décor. These can be difficult to remove and can leave behind a sticky residue or even peel off your paint.
Happy decorating – Now go forth and make merry!
More Holiday Decorating Tips
Ideas for Decorating in a New Holiday Color Palette
Holiday Decorating with Natural Themes
Last-Minute Holiday Decor Ideas
Create New Traditions with Homemade Holiday Wreaths
Use Your String Lights for a Little After-Holiday Twinkle
Consider a Home Buyer's Warranty
If you are a recent home buyer who is about to celebrate your first holiday season in a new home, remember that you can add home warranty coverage to protect your budget from unexpected breakdowns to appliances and home systems. You have up to 60 days after your closing date to set up coverage, so be sure to ask your real estate agent for the details, or get a free home buyer's warranty quote now.