If you are a homeowner, you know that paying for an unexpected home appliance repair is a real concern. Having home warranty coverage can help ease that worry. A home warranty provides budget protection for appliances so that when your oven suddenly breaks, for example, the cost to repair it does not have to blow up your budget.
A home warranty is a service contract that helps cover the repair or replacement of many home appliances you use every day.
Without home warranty coverage, dealing with a typical home appliance repair means dealing with the hassle of finding a qualified person to come out and fix the broken item, followed by a big hit to your wallet from a bill often in the many hundreds of dollars. Being a homeowner is expensive enough, without the added worry of unexpected, costly appliance repairs. And what if that broken appliance cannot be repaired? Without a home warranty, you could spend hundreds or even thousands to replace it.*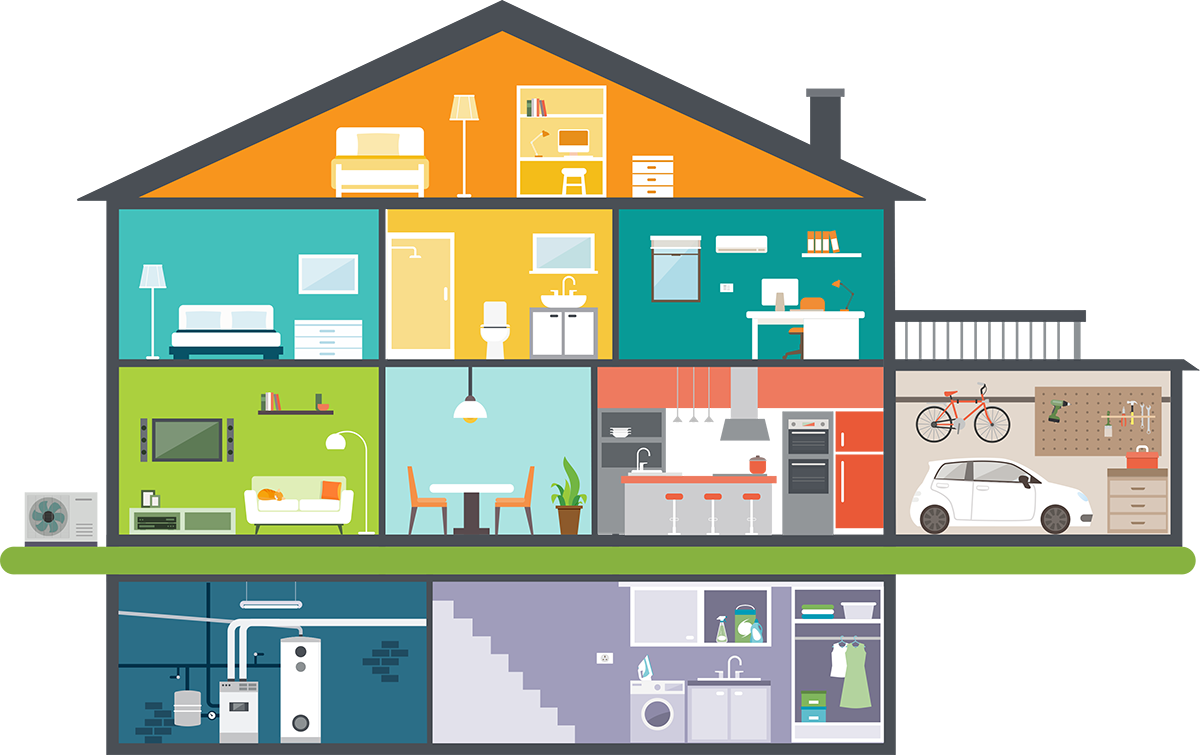 | Covered Items | Air Conditioner | Heating System | Plumbing | Electrical System | Oven/Range | Water Heater | Refrigerator |
| --- | --- | --- | --- | --- | --- | --- | --- |
| REPAIR | $915 | $823 | $505 | $480 | $1,134 | $1,388 | $1,074 |
| REPLACE | $3,842 | $3,634 | $1,407 | $2,496 | $3,460 | $2,051 | $3,500 |
Air Conditioner
Repair
$915
Replacement
$3,842
Heating System
Repair
$823
Replacement
$3,634
Plumbing
Repair
$505
Replacement
$1,407
Electrical System
Repair
$480
Replacement
$2,496
Oven/Range
Repair
$1,134
Replacement
$3,460
Water Heater
Repair
$1,388
Replacement
$2,051
Refrigerator
Repair
$1,074
Replacement
$3,500
When you choose First American Home Warranty, you are making a great choice when it comes to protection for your home appliances. We've been an industry leader for more than 35 years and have a large network of prescreened service professionals to back us up. We provide some of the most generous coverage limits in the industry. Also, unlike some other home warranty companies, we don't require home inspections or maintenance records to take care of covered items. And we don't disqualify appliances due to age when they fail from normal wear and tear.
Home Appliance Repair isn't Cheap
Have you totaled up all of the money you've spent on home appliance repairs over the last few years? Those repair bills may have been shocking to have to pay in the moment, but the amount of money Americans spend on home maintenance and repairs is equally stunning. In a 2021 Angi survey analysis found that:
…annual home maintenance costs Americans $3,018 on average. And most homeowners tackle an average of eight and a half projects each year.
State of Home Spending
Keeping more than $3,000 in discretionary funds available at any given time to cover home repairs and improvements is more than many homeowners can save. And when emergency appliance repair costs dip into those savings as well, homeowner budgets can take a hit.
A First American home warranty plan can be a good substitute for maintaining a hefty savings account, protecting your budget from many of the bills you would otherwise have to pay for home appliance repair. And if you had our home warranty coverage, some of the cited costs in the Porch survey instead may have been covered by us instead. See how much First American Home Warranty spent last year alone in fixing refrigerators, washers, dryers, and more, for homeowners just like you.
Home Appliances, like the Weather, Are Unpredictable
Whether you are a first-time homeowner or you have been in your home for 20 years, you know your home appliances are unpredictable beasts that you place heavy burdens on every day. Like every homeowner, you hope your appliances can handle the daily wear and tear. In fact, you may just hope they will keep on working forever.
The problem is, of course, that today's appliances do not last the way they used to. They are much more efficient than appliances of old and they come with a lot more nifty features, but these improvements do not correspond to longer lifecycles for most appliances.
Because no appliance can last forever, each one in your home will eventually have a problem. And once your home appliance has passed its average life, it's impossible to predict when a breakdown may happen. Regular maintenance can help, but home appliance repairs are inevitable.
That is why, even as you know your home's appliances have their limits, and you do your best to maintain them, a persistent little question remains on constant repeat in the back of your mind: what if one of them breaks?
That "What if" type of question is exactly why you have homeowners insurance. What if a hurricane, tornado, or firestorm suddenly strikes where you live? You pay for homeowners insurance to protect your home's structure from those kinds of unpredictable Mother Nature events and the damage that can occur from them, as well as from theft and other kinds of secondary damage that may occur. No matter where you live, damaging weather events can and do happen, and more often than not, they are unexpected. Having homeowners insurance lets you banish those kinds of "what if" questions from your mind.
Similarly, you can also banish the what-ifs of home appliance repair when you have the right home warranty plan from First American. When you make the choice for First American home warranty coverage, you are getting one of the best appliance protection plans from an industry leader in home warranties.
Having Our Home Appliance Repair Protection Plan
Just as you rely on homeowners insurance to protect your home from the unpredictable, you also need reliable home warranty coverage, providing home appliance repair protection for your budget when an appliance unexpectedly breaks down.
Here are some ways the two types of plans work both similarly and differently, and why you need both for the best home protection:
Appliance Repair Process
When you use your homeowners insurance you make a claim with your provider. When you use your home warranty for a covered appliance, you make a service request. First American provides a streamlined service request process often means you can get a covered item fixed in four steps:
When an appliance covered by your home warranty breaks, you can call 800.992.3400, or sign in any time day or night to place your request online using your account.
First American assigns a technician, who will call you to schedule an appointment.
At the appointment, the technician will diagnose the problem and report the findings to you and First American.
If the problem can be fixed, often the technician will be able to repair the item that day.
Sometimes, a part may be needed to complete the service. We will order any parts and do our best to procure them as quickly as possible. Once the technician has received the part, he or she will set up an appointment to complete the repair.
Appliance Repair Service Cost
Knowing how much it will cost to fix a broken appliance may be where home warranty plans differ from homeowners insurance, because the latter may include a deductible that you have to meet before a claim is paid. The cost to repair home warranty-covered appliances may only be a service fee each time you request a new service. However, home warranties are not a catch-all, and all providers have caps and limits that may leave homeowners with some out-of-pocket expenses on occasion.
First American is proud of our generous caps and limits and is always upfront and honest with our customers about the protection we offer. It's also worth noting that our customers use their home warranty often! In fact, more than two-thirds of First American home warranty customers made a service request in their first year.
Appliance Repair Protection
In certain cases, having a home warranty and homeowners insurance gives you two solutions for fixing one problem. An example of this is when your dishwasher leaks and your kitchen floor buckles from water damage. Your home warranty takes care of the home appliance repair or replacement of your dishwasher, and your homeowners insurance covers the costs to repair or replace your damaged floors. Another way of looking at this scenario? Maintaining a home warranty and homeowners insurance means you can twice banish the what-ifs that come with being a homeowner.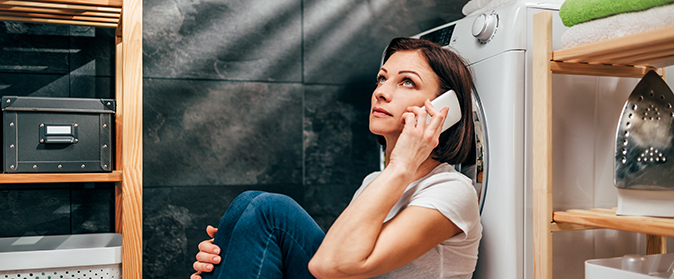 Which Home Appliances Does First American Protect?
You likely run the dishwasher and washing machine daily. You probably cook meals using your stove or oven five nights a week or more. Your water heater gets put through its paces at least once a day, and your refrigerator runs all day every day. These are just a few of the appliances that First American protects when you have our home appliance repair warranty. We know how much you rely on your appliances and when one of them needs repairs, it can throw many other aspects of your life into disarray.
Here are some of the appliances that a home warranty can cover.†
Kitchen Appliances
Kitchen Refrigerator
Oven Range & Cooktop
Dishwasher
Built-in Microwave
Trash Compactor
Other Home Appliances
Additional Refrigeration
Dryer
Garage Door Openers
Attic and Exhaust Fans
Here are other important advantages to our home warranty coverage:
We don't ask for home inspection reports or maintenance records when evaluating a claim.
We do not put a limit on the number of service calls you make to us in a year, which can save you money.
We have no limit on the age of the home.
If we have to replace an appliance, we replace it with similar features, efficiency, and capacity to your existing appliance.
First American also has some of the most generous limits on covered appliances in the industry. Dollar limits may vary based on where you live, but with our coverage, when you have a claim, we typically pay more than our competitors.
It's easy to compare plans and find out more about a home warranty plan for the appliances you want to protect.
A First American Home Warranty Protects Your Home Budget
Wouldn't it be great if every home appliance had indicator lights like your car has, so you would get alerts to potential problems? You could then get the appliance looked at by a qualified technician, as you do when you bring your car to the dealership when the check engine light comes on. Having those kinds of alerts on appliances would also let you address potential problems before they become costly ones.
Your car may have come with a warranty when you purchased it. If so, the warranty protects your budget by covering many types of mechanical issues that you would otherwise have to pay for.
While it's unfortunate that appliances do not have check engine lights, our home warranty can work similarly to a car warranty in that when you have coverage it can protect your budget. And when the inevitable breakdown occurs, covered items that start off in good working order can be repaired or replaced.
Here are some real-life examples of how our home warranty can protect your budget when your covered appliance stops working:
Your dishwasher, which cannot signal you that the door seal is starting to fail, suddenly starts leaking. First American can cover that.
Your clothes washer, which is ten years old, decides to stop spinning. The drive belts are busted. First American can cover that.
Your water heater, which may have been included when you bought your home a few years ago, stops heating water for your shower due to a mechanical failure. First American can cover that, too.
Having a home warranty plan means problems like these don't have to bust your budget.
Compare Our Home Appliance Repair Plans
We've made it easy to check out our home warranty cost comparisons. We have been an industry leader for more than 35 years and have some of the best home warranty coverage for protecting both your budget and your appliances from big-budget busters.
You know stuff always breaks when you need them the most and often breakdowns happen when you can least afford them. Take the worry out of dealing with a costly home appliance repair when you invest in a First American home warranty. Get covered today.
* Based on actual invoices paid by First American in 2022 prior to service fees, deductions and/or rebates; costs may vary in your geographic region. Items listed may be optional or not available on some plans; please review the sample contract for specific coverage, terms and limitations.
** Consumer Reports resource for appliance lifecycles.
† Please review sample contract for specific coverage, terms and limitations.