It's difficult to visualize our lives without the modern conveniences of today's household appliances. Imagine—what once required a washboard, a bar of soap, and 12 uninterrupted hours (drudgery commonly known as "laundry day") has been reduced to simply pressing the "ON" button of an automatic washing machine. So, when our home appliances unexpectedly break down, it can cause a noticeable disruption in our daily routine.
Is a Home Warranty Worth It?
Truth be told, we're dependent upon our home appliances and we use many of them daily—some several times a day. This naturally contributes to wear and tear, and eventual breakdowns. That's where the value of home appliance warranties comes in. They offer a budget-friendly repair/replacement solution when covered household appliances stop working properly.
So if you've ever wondered, "Is a home warranty worth it?" then the short answer is yes—because your appliances are worth it. But let's dig deeper and look at home appliance warranties for several common major appliances—machines that we rely on to make our lives easier and more enjoyable.
Refrigerator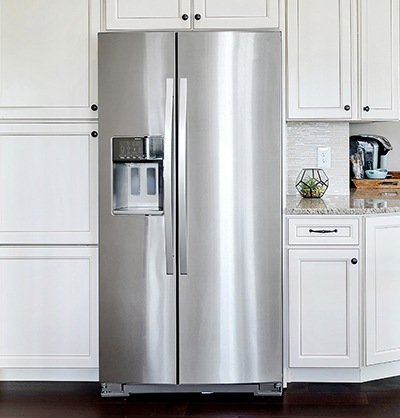 Before refrigerators, preserving food meant canning, pickling, and salting foods. Eventually, the concept of refrigeration (creating cooling conditions by removing heat) caught on, and in 1802, Thomas Moore received a patent for his ice box refrigerator. But it wasn't until 1899 that the first mechanical refrigerator patent was awarded—to Albert Marshall of the Automatic Refrigeration Company. Even Albert Einstein patented a refrigerator in 1930, an environmentally friendly model that had no moving parts and didn't use electricity.
Modern-day refrigerators have come a long way since earlier versions, and you can expect yours to last an average of 13 years. Regular refrigerator upkeep like consistently maintaining the proper temperature (in both the fridge and freezer sections), checking the gasket, and cleaning the condenser coils can go a long way toward extending your refrigerator's longevity.
Because these major appliances run virtually 24/7, home warranty companies try to do everything possible to repair or replace them quickly when they break. They understand that the best home warranty is one that gets your household back in business fast while protecting your budget. That's good news considering that the typical replacement cost for a refrigerator is around $3,200, and the average cost to repair one is about $1,000.
Learn about First American home warranty coverage for your refrigerator.
Oven/Range/Cooktop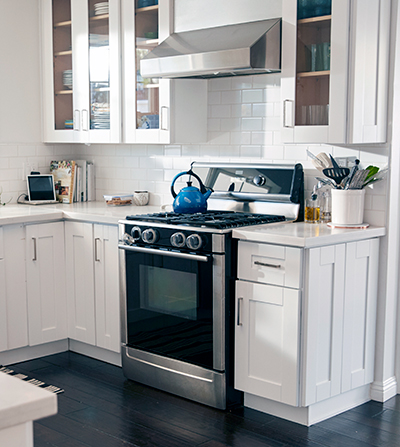 There were open fires and hearths, wood-burning ovens, coal ovens, gas stoves (first patented in 1826), and by the end of that century, electric ovens, first patented in 1896 by William Hadaway. Today's ovens, ranges, and cooktops are more convenient and luxurious than Hadaway could have ever imagined. But the intricate features and designs we love also make them more complex and expensive to repair.
Like refrigerators, modern ovens, ranges, and cooktops are home appliances you use virtually every day. An oven can last around 15 years if it's properly cared for and regularly cleaned. Considering that oven replacements on average cost over $3,000, and repairs about $1,300, performing basic maintenance is a smart move to help keep yours in good working condition.
If, however, your oven, range, or cooktop unexpectedly malfunctions, you may find yourself frantically trying to find a service professional at the last minute. That's where a big benefit of home appliance warranties comes in. Good home warranty companies have vast networks of qualified, prescreened service providers that can eliminate the need to find help on your own. And when suddenly faced with a broken home appliance, you'll appreciate the peace of mind that comes with comprehensive home warranty coverage.
Get more details on First American home warranty plans to protect your oven, range, or cooktop.
Dishwasher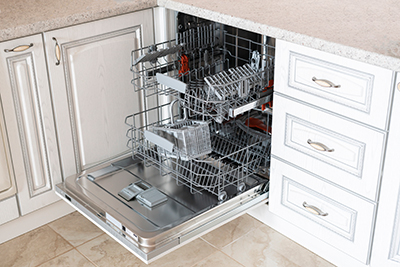 This handy home appliance was first patented in 1886 by Josephine Cochrane, a wealthy socialite tired of her servants breaking her costly china. Earlier, in 1850, Joel Houghton had patented a hand-powered dishwasher, but Josephine's was an electric model that was larger and could hold more items—and hers was the first to use water pressure as a method of cleaning.
Your dishwasher has certainly come a long way since Josephine's day. However, the idea behind her invention—using regulated pressure to automatically clean dishes—has become a mainstay in modern machines.
You can expect about 10 years of service from your dishwasher. The average replacement cost is around $1,200 and repair costs typically run about $700. Preventative measures like rinsing your dishes thoroughly before loading them, keeping your machine free of food scraps, cleaning the filter regularly, and avoiding overloading will help this useful household appliance run smoothly.
Find out more about the benefits of First American home warranty coverage for dishwashers.
Washing Machine and Dryer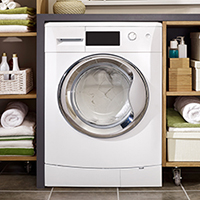 As early as the 1850s, the Shakers built and marketed wooden washing machines. And by the early 1900s, washing machines that could spin-dry clothes were being sold—naturally, they were eagerly snapped up.
Fast forward to today and it's hard to picture life without a washer and dryer. In terms of time-savings alone, your washing machine and dryer will beat every other major appliance you own, hands down (quite literally). Simply toss soiled clothing, towels, and linens into your washer, transfer them about an hour later into your dryer, and voila! You get clean, sanitized, fresh-smelling results with no hard labor—except for folding, but nobody has invented a machine for that, yet.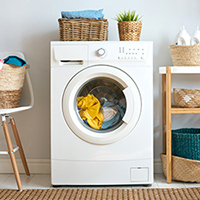 If regularly maintained, your washer can last a decade on average, and your dryer a few years more. Regularly cleaning the lint filter will extend your dryer's life, and you can help your washer last longer with routine tub cleanings to remove debris that works its way into the rubber gasket. Considering that a new washer/dryer costs on average about $1,200 and repairs around $700, home warranty companies can provide peace of mind when these essential home appliances suddenly break and you can't find your washboard.
Read about First American home warranty plans for washers and dryers.
Built-in Microwave Oven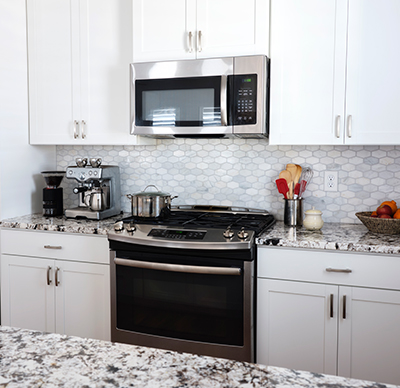 Microwaves are nifty little household appliances that were invented quite by chance. It happened in 1945 when Percy Spencer, an engineer working at a defense company, noticed that a chocolate bar in his pocket had melted when he was testing a new vacuum tube called a magnetron. And the rest, as they say, is history.
Built-in microwaves are one of the most convenient of all home appliances because of their ability to defrost, reheat, and cook food at lightning speed. And, of course, they're unbeatable at popping that perfect bowl of popcorn.
They can last a decade or more, but ongoing technological advancements make it tempting to upgrade to the latest features and designs. Whether yours is new or vintage, a comprehensive home appliance warranty is a convenient way to get it fixed when it breaks—without the hassle of finding a service provider on your own.
Discover the value of First American home warranty coverage for built-in microwaves and many household appliances you rely on every day.
Get the Best Home Warranty for You
So, are home warranties worth it? Absolutely! When one of your major appliances unexpectedly stops working, home warranty companies offer comfort, peace of mind, and budget protection. One quick service request made online or by telephone offers a convenient repair/replacement solution for many covered items. Plus, home warranty plans can often be customized with upgrades and options to suit your particular needs, budget, and lifestyle.
What's more, besides protecting your home appliances, home warranties also safeguard many commonly used household systems including your heating, air conditioning, electrical, and plumbing systems. Learn more about First American home warranty protection and our comprehensive coverage. You can also get a personalized home warranty quote.