The real estate closing process is when you sign the legal documents that make a house your home. Are you about to close on a new home, or have you found a home to buy? If so, your real estate agent has likely dropped the word "closing" in a recent conversation. Mostly, closings are straightforward affairs. This article will step you through a typical closing process, up to and including signing day. It covers what you might expect, from the moment your offer is accepted to the moment you get the keys to your castle. Your real estate agent will typically perform most of the following steps, although the order may vary. Ask your agent which steps you need to be part of to complete your transaction. Your agent should also help you with any steps you will need to complete.
Typical Steps in a Closing Process
Hire a real estate attorney (your state may require you to engage a lawyer)
Open an escrow account
Complete the title search and/or buy title insurance
Solidify your mortgage pre-approval (if not obtained already)
Negotiate closing costs
Order and schedule a home inspection
Get a pest inspection (as needed and/or if not included with home inspection)
Schedule a property survey (sometimes your lender will ask for an updated survey of the property to reveal any boundary issues)
Renegotiate your offer (as needed to agree on repairs if any are required before close)
Lock in your interest rate
Remove any contingencies
Fund your escrow account (often requires a certified check for the amount requested)
Purchase homeowners insurance (this is also a good time to request a home warranty)
Complete the final walk through (your last opportunity to check the property, ensure any agreed-upon repairs are finished, and ask selling agent about obtaining any warranty information or instructions for appliances and home systems such as HVAC and plumbing)
Schedule the closing day (typically, this is the day the deed is delivered, or certified by mail and sent for filing at your local county office)
Sign final papers (final papers can include a bill of sale; title transfer; the deed to your home, if the home is paid off and has no liens or mortgage; and loan documents, such as the note, mortgage, loan application, loan estimate at closing, disclosures, and so on*)
Get the keys, security codes, remotes for the garage doors, and possibly receipts from any work agreed to be done.
*Note: At signing, all monies are paid, including the down payment, mortgage payoff, and agent(s) commission.
The Closing Process Requires Patience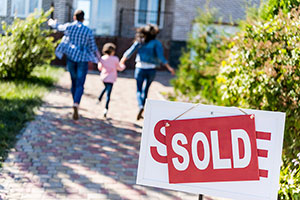 You may be thinking it will take months to complete all of the steps of a typical closing process. In fact, a closing can sometimes be completed in as little as two weeks. Most closings wrap up within 30-45 days. Although this may not sound like a long time, waiting for each step to complete often require patience. As you and your agent move through each step, you may spend a lot of time waiting on other people to complete their portion of that step.
During this time, you may not know where your closing stands until you hear from your agent again. While you wait, find other ways to occupy your time and control what you can. Diversions like trips to furniture stores, a local paint store, or an interior design shop can help you focus on the time after you get the keys. It's a lot easier to spend your time dreaming about what changes you want to make once you're in your new home than dwelling on what's happening during the day-to-day process of a real estate closing.